Last Updated on July 23, 2022 by Real Men Sow
A north-facing wall can be used to your advantage by growing a climber. While not all plants will thrive in these conditions, there are several that will. Thus, here are the best evergreen climbers for north-facing walls in the UK. This list surely changes your garden plans!
12 Unique and Evergreen Climbers for North-Facing Walls
Lonicera henryi 'Copper Beauty' (Honeysuckle)
Copper beauty honeysuckle can grow to a height of 10 meters and a spread of 2 metres. It is a semi-evergreen climber and will lose some of its leaves in winter, especially in colder regions or exposed areas. However, it will reseed itself each spring. It can thrive in either full sun or partial shade, and it prefers soil with high levels of humus. It flowers in June and July and grows quickly. After flowering, you can trim it and then place 5-7 cm of mulch around its base.
Clematis 'Bees Jubilee'
This plant is a deciduous climber and can reach about 3 meters in height. It offers free flowering at both the beginning and end of the summer. You can expect large, pink flowers that measure 18cm in height. The colour is pale pink with a pink center and exterior.
Growing Evergreen Clemantis Climbers
They thrive in moist, well-drained soil. You can do this by adding a layer of mulch, ground cover plants or pebbles to the base. To ensure that new shoots can grow underground, the crown should be planted at least 5-8 cm deep. Keep an eye out for caterpillars and aphids.
Hydrangea anomala subsp. petiolaris (Climbing Hydrangea)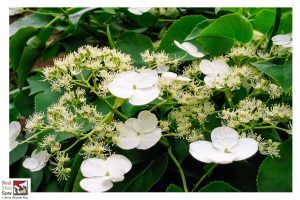 This climbing hydrangea is also known as the climbing hydrangea. It is a deciduous climber that self-clings and has beautiful oval leaves that turn green in spring and yellow in fall. You will find a variety of fertile flowers in the flower heads, which are approximately 20cm in width. These flowers are surrounded by larger, but sterile, white flowers that draw the eye, but are smaller in size. It thrives in full sun or partial shade and is tolerant to loam, clay or sand conditions. It will grow to a height of at least 12m in 10-20 years and spread between 4-8 metres.
Parthenocissus quinquefolia: (Virginia creeper)
This plant is also known as the Virginia creeper or American ivy. It has five ovate leaves that turn bright orange and deep red in Autumn and can climb vigorously and it can also be deciduous. The plant can be found with green leaves in spring and summer and small black and blue fruits during the autumn. It can tolerate full sun or partial shade and is suitable for most areas and will grow to a maximum height of 12 meters in 5-10 years, with a spread of between 4-8 metres. The plant can tolerate clay, sand and loam soils of any pH as long as they are moist and well-drained. It can be an invasive species and non-native to British gardens. You will need to take care of it and dispose of any unwelcome parts.
Hedera helix 'Glacier' (Ivy)
This evergreen ivy variety is a climbing shrub. It uses aerial roots to attach to the wall. It produces lobed, grey-green leaves with cream edges. Although it won't grow flowers, you can be sure that it will cover your walls quickly. It can tolerate full sun or partial shadow and all soil types, as long as it is well-drained and has a moist soil. It is great for cottage and informal gardens. You should be on the lookout for scale insects, leaf spot, and aphids.
Clematis 'Guernsey Cream'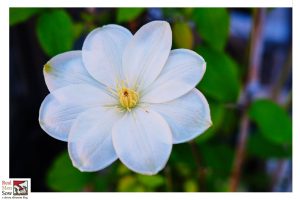 This version produces flowers from June to September. These flowers have a rich cream colour and a yellow cream strip at the center of each petal. The plant is a shade-loving climber that can reach 2.5m in height. When scented, you will enjoy beautiful flowers and a rich smell. To encourage secondary flushes, the plant should be deadheaded immediately after flowering. Regular pruning is necessary to maintain its size.
Euonymus fortunei 'Emerald n Gold'
This plant is also known as 'Emerald' 'n Gold'. It can be used as a specimen shrub or a wall shrub. It's beautiful throughout the year, with a variety of colours in Autumn and spring, as well as colourful fruits later in season. It spreads easily so it is great for climbing up walls. It has broad, green leaves with a yellow margin. In winter, however, they become pink. It is tolerant of exposed or sheltered north-facing locations. It can tolerate full shade, partial shade or full sun.
Best Soil for euonymus climbing plant
The plant can also tolerate clay, loam, clay, and chalk soils as long as they are well-drained. It can reach up to 1 meter in height and spread out 1.5 meters. However, it takes between 5-10 years to get there.
Trachelospermum jasminoides (Star Jasmine)
Star jasmine is commonly known as a vigorous evergreen and a woody climber. It produces dark green leaves with an oval shape. They grow to 5-8cm long and in winter turn deep red. Then, they produce fragrant white clusters about 2.5 cm wide. The flowers are brightly colored and become creamer with age. It's easy to care for and likes shelter from the cold winds. It can be pruned regularly and checked for red spider mites and mealybugs. Otherwise, it is healthy.
Jasminum nudiflorum (Winter Jasmine)
Originally from China, this jasmine plant has gained a lot of popularity for its spreading, climbing nature. The plant is also referred to as winter jasmine because of its trailing vines that produce winter white flowers which appear right after winter. It is for this reason that its Chinese name means "the flower that welcomes spring".
How Tall Does Jasmine Climb Up On Walls
The Winter Jasmine will grow upwards of 3 metres to 5 metres in height. The branches grow from a central crown with arching branches that will trail behind if not trained up your north-facing wall and root into the ground along the path. That said, you can grow it in the middle of your wall at the base, train the trailing branches along the length of the wall, and then train them up the wall so that you have rooted sections along the entirety of your north-facing wall.
Rambling Rose 'Albéric Barbier'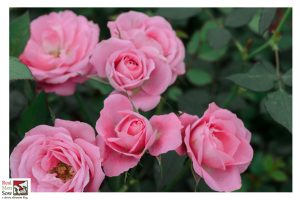 The rambling rose variety is a strong-growing rambling variety that can grow to 5 metres in full maturity. The rose is well-known for its bright green leaves and clusters of fragrant flowers. They appear in the middle summer, and have double, cream-coloured flushers that are yellow with a yellow hue.
How to grow climbing roses properly
Plants can tolerate all pH levels, chalk, loam, and sand soil as long as they are planted in a well-drained area that is kept moist. If you plant it on a wall, add a balanced fertilizer with mulch at the beginning or end of spring. Black spot, powdery mildew and rose rust are all diseases to be aware of. Scale insects, caterpillars and rose sawflies are just a few of the pests that need to be addressed.
Climbing Rose 'Marigold' 
Rosa plants come in deciduous, semi-evergreen, and scrambling climbers varieties. All have thorny stems with clusters of flowers. Another thorny-stemmed climber is the Maigold variety. It has dark green leaves and semi-double blooms. They are fragrant and have a coppery-yellow hue. They appear at the beginning of summer and reach 10 cm in height. This cycle continues until autumn. They are best grown in full sunlight with fertile soil. They require a balanced fertilizer with mulch at the beginning or end of winter, and again in spring.
Cotoneaster horizontalis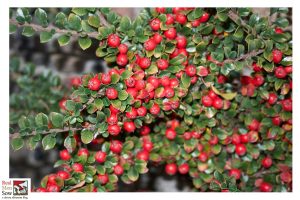 The cotoneaster plant can be easily trained up north-facing walls with ease. This deciduous, spreading shrub gives off a variety of colours throughout the year. It produces dark green, shiny leaves throughout the year, but it also produces a lot of small, pinkish-white flowers between May and June. The leaves and flowers turn to a rich red colour in Autumn with red fruits. It will grow to a height of 1 m and spread to a width of 2 m when fully mature. This is the best plant for attracting bees and other pollinators into your garden.
What is the ideal soil type for the evergreen climber?
Each evergreen climber has its own soil preference, but generally, the preferred soil types are well-drained and fertile ones. Some also require sand soil which you should check in your garden first.
What is the preferred pH level for an evergreen climber plant?
There is no definitive answer to this question as different evergreen climbers prefer different pH levels. Some familiar evergreen climbers include ivy, wisteria, and clematis, all of which prefer slightly acidic to neutral soil (pH 6.0-7.0). However, some evergreen climbers, such as jasmine and honeysuckle, prefer alkaline soil (pH 7.0-8.0).
Container climbers for a north-facing wall
If outdoor gardening is not an option for you, but got a north-facing windowsill, you can grow plants that are climbers in pots or containers. Here are my top north-facing plants that I recommend growing in containers:
Taylors clematis

Tropaeolum Speciosum, the Scottish Flame Flower

Clematis Terniflora, the Sweet Autumn Clematis,
What plants to avoid in containers?
Hydrangea or woody climbers are not good for north-facing containers because they are high maintenance. They require more water, nutrients and system requirements than other plants. They also cause problems with the growth of the other plants in the pot.
These plants are advised to grow in pots with a watering system, nutrients, and light exposure.
Which Evergreen Climbers To Choose For Your North-Facing Wall
We gave you 12 choices of beautiful evergreen climbers that you could start planting in your garden. Which ones were your favorites? Or have you grown any of them before? Let us know in the comment section!