Last Updated on January 11, 2022 by Real Men Sow
Cotoneaster is useful as a ground cover plant, garden shrub, and tree. Most of their species can grow well in both sun and shade. Cotoneasters have a long-lasting season of interest due to their abundance of summer flowers that are followed by red berries in the autumn. Cotoneasters are friendly to wildlife: the flowers attract bees, and the berries are enjoyed by birds.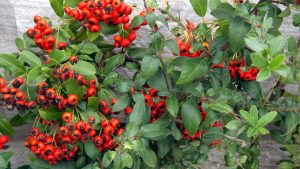 How To Grow Cotoneaster
It is best to grow cotoneasters in moist and well-drained soil. Other varieties require pruning back after fruiting. Remember to mulch each year with compost, well-rotted manure, or leaf mould.
Where to grow Cotoneaster
You can use cotoneasters as ground cover to control weeds. It is important to plant it in a place where you can see its winter berries. This could be near your front door or kitchen window. Cotoneaster wall shrubs should be planted against walls where they can climb. Ground cover cotoneasters should be planted in front of a bank or border where you want to suppress weeds.
How to Plant Cotoneaster
Cotoneasters thrive on moist, well-drained soil in full sun to part shade. Autumn is the best time to plant cotoneaster because the soil is still warm and moist from summer, but the roots can establish before winter sets in. You can also add organic matter like well-rotted manure, garden compost, and firm the root ball with your feet. Water well.
Taking Care of Cotoneaster
Cotoneaster is a low-maintenance plant that should be watered well in its first year.
Pruning Cotoneasters The Right Way
Regular pruning of cotoneaster plants helps to keep the growth dense and full of flowers and berries. Prune evergreen varieties in the spring and prune deciduous cotoneasters just before spring growth starts. Remember that Cotoneaster are small trees that need very little pruning.
Propagating Cotoneasters
Get softwood cuttings from deciduous cotoneasters or get semi-ripe evergreen cuttings. To increase your chances of success, use rooting hormones.