Last Updated on March 15, 2022 by Real Men Sow
Pampas grass produces creamy, white plumes. These appear to be feathers when placed on top of larger clumps. Some varieties of Pampas grass have pink plumes, such as Cortaderia selloana "Rosea". This ornamental grass, regardless of colour, is very popular because it's easy to maintain and its attractive.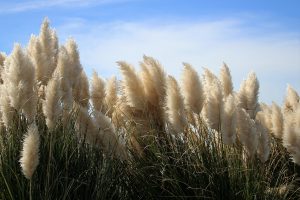 Most people know that pampas grasses 'Patagonia" grow to 8 feet tall. However, you can also find dwarf varieties like pampas grass 'Pumila' that can grow to 1 to 1.5 meters tall.
Growing Pampas Grass Plant in the UK
First, you must know the size. Pampas grass can grow to 1-3m in height and width. You should plant it where there is sufficient room for it to thrive. You should leave at least 2 – 3 metres between each plant if you plan on planting multiple plants. Also, remember that you will need to reach around the plant to trim them and keep them tidy.
When and How to Plant Pampas Grass?
Pampas grass likes full sun but can also be grown in partial shade. However, we recommend that you plant it in full sunlight if you want to get the most out of it. It prefers well-drained, moist soil. However, it is also tolerant to all soil types. It is tolerant to wind and salt and will be found growing along the coast.
Can You Grow Pampas Grass in Pots?
It can be grown in containers but, due to the large size of many varieties, this might prove difficult. Instead, you should plant it directly in the ground or in large raised flower beds. If you have limited space or cannot plant it in a container, make sure to choose a large pot. You can also use pampas grass 'Pumila', which is considered a dwarf pampas grass term but will still grow to 5ft.
General Care for Pampas Grass Plants
After your pampas grass has been established, it only requires minimal care. It needs to be pruned every year. This is something you should do with care. It is possible to burn the foliage if it is not in clumps. This will allow for more green growth. Although you don't have to do this, you can use balanced fertilisers to stimulate new growth. However, they are extremely resilient and will bounce back.
Pruning Pampas Grass
If you're thinking about pruning your pampas grass in winter, do it in January, February, or early spring so that the new shoots can start to grow. It is best to not do it in summer as you could damage the plant and encourage new flowering spikes which will eventually produce the beautiful flowers you desire.
If you don't have a long-sleeve shirt and quality gloves, the blades of the leaves can cut you. As mentioned above, you should wear long sleeves, pants, and leather gloves when you prune pampas grass. Regular hand clippers won't cut the pampas grass in all cases. You can best do this job with a hedge trimmer and loppers.
Propagating by Dividing The Plant
Your pampas grass can be propagated by simply dividing the pampas grass plants as you would any other perennial. This is a difficult process and you might need to have a friend help you.
You must carefully remove the crown so as not to damage the root system below. You can wash any soil from the root system if necessary to allow for a clear view. After the soil and debris has been removed, you can place two gardening forks or shovels back-to-back into the clump you want to separate. Next, pull the forks apart to separate the pampas grass clumps. Water both divisions well and then replant them.
Pest and Diseases To Watch Out For
Pampas grass is a popular ornamental grass, regardless of which variety you choose. They are generally resistant to pests and diseases.