Last Updated on November 14, 2022 by Real Men Sow
Antirrhinum flower, an annual plant that brightens up containers and borders, is guaranteed to bring joy. These are popularly known as Snapdragons because it resembles a dragon opening its mouth! Antirrhinum flowers are old-fashioned and easy-to-grow cottage garden plants that are loved by bees and children. You can grow them in many different situations, as they come in a variety of colors and heights.
They are attractive to wildlife and have a long flowering time, which can last from June through October. The taller cultivars are great for cutting flowers. They can last up to a week in water.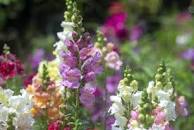 Where to Grow Antirrhinum Flower
Antirrhinum flowers can grow fertile, and well-drained soils, in full sun, in borders, or in containers.
Does Antirrhinum Grow Back Every Year?
Snapdragons (antirrhinum) tends to be a short-lived plant, so it should be replanted every year.
What's the Best Time to Plant Antirrhinum Flower?
In autumn or early spring, sow the antirrhinum seeds in a greenhouse or on a covered tray on a sunny windowsill. Place seeds on a layer of compost. Water them, then seal the bag with a propagator. When the seeds are large enough to be handled, transfer them into pots. Then, grow in a cold frame or sheltered place. After the danger of frost is gone, plant them out. Planting in autumn will bring you early May flowers.
Propagating Snapdragons
You can encourage your plants to start seedlings by leaving some blooms. Although seeds won't come true to their type, it can be fun to see what comes up.
Caring for Snapdragon Flower
You can prolong the flowering season by feeding your plants weekly with a fertilizer rich in potash. It's best to deadhead any spent blooms. If necessary, water plants regularly and cane taller varieties if you need to.