7 Best Expandable Hose Reviewed With Buyers Guide 2022 (UK)
Expandable hoses are the new "it" trend in garden hoses. These hoses are worth their price since they offer the same functionality as regular hoses. BUT at three times more compact in size, length, and weight. Thus, providing its users a different level of convenience to water your garden.
In this article, we will explore the great qualities of the best expandable hose products. So, we have sorted out the 7 best products in the market that's worth adding to your cart. On top of that, we have also gladly included valuable tips to help keep your hoses pristine for a longer period of time.
The Best Expandable Garden Hose
The Morvat garden hose is hands-down our best expandable hoses. This product offers all the functionalities at a notch level higher compared to other models. It may have its own limitations in terms of length options and its slightly heavier construction. Nevertheless, it does not affect at all the quality performance of the hose itself. With this little trade-off, it is able to give the product longer service life, and its users, greater value for their money.
The 7 Best Expandable Hoses Are Listed Here
Best Expandable Hose Product Reviews
The Morvat garden hose is made for ultra heavy-duty functions. It is constructed with triple layers of 2.5 mm thick latex inner core that are durable yet flexible at the same time. This is then wrapped with high-density 5500D woven polyester fabric to increase resistance from breakage and leakage.
This 150-feet expandable hose starts off by default at 50 meters in length. When introduced with water, it will expand three times its size or up to 150 feet. Unlike other garden hoses, this can withstand water pressure well within the range of 4.2 bars up to as much as 15 bars. 
The hose includes an ergonomically-designed multi-function spray nozzle. It features not 7, 8, or 9, but with awesome 10 water spray patterns. Perfect for accommodating any type of watering chores at home or in any outdoor setting. 
The Morvat garden hose is equipped with all-brass connectors. Hence, keeping it corrosion and rust-free for all time. This well includes the built-in shutoff valve and other metal components. 
When it comes to expandable hoses, TheFitLife is definitely one of the go-to brands in the market. This retractable hose features premium quality construction that can expand up to 3x its default length. With a water pressure of at least 4 bars, this hose can go from 10 meters up to 30 meters full length in just a matter of a few seconds.
At 2.05 kilograms, this flexible garden hose is super compact and lightweight BUT it surely is built for tough. It is made with 3 layers of natural latex core sheathed with 3750D polyester fabric. This provides superior protection to the inner tubing from damages due to friction and punctures. Moreover, it increases the hose's resistance against bursts and leaks too.
This model of expandable hose features an 8-function spray nozzle. With just a few turns of the bezel, you can adjust the pattern of the water flow to suit every task. From washing the car to bathing your pets, this hose can serve all sorts of household chores.
Attachment is no issue at all. It comes with a standard 3/4-inch female connector reinforced with a rubber gasket for a more secure fit to the watering system. It is made with 100% solid brass so it is least likely to break, leak, crack nor corrode.
The Amayrose garden hose features a flexible and expandable length up to 3x its original size. From 17 feet, it can easily lengthen up to 50 feet with the right water pressure. No kinks and tangles.
This hose is made with double layers of durable latex core. It is can withstand water pressure between 3 to 12 bars and temperatures ranging from 41°F to 113°F. The inner tubing is wrapped with 3750D polyester fabric for added protection against breakage and leakage.
The product comes with 3/4-inch solid brass fittings. It duly follows the American standards so you won't have trouble with the connection to your water system. It also includes a 9-pattern nozzle with a shutoff valve to allow you to adjust and regulate the water flow right within your reach.
Moreover, this expandable hose is incredibly lightweight too weighing only 1.29 kilograms. Thus, making it easy to maneuver and stow away. It comes with its own nylon storage pouch and hanging hook so organizing won't be a problem with this hose.
The Navaris garden hose offers the full functionality of a basic expandable hose at a budget-friendly price point. This retractable hose can be extended to a full length of up to 30 meters. When not in use, it automatically recoils back to its original size of 10 meters.
Its inner core is made with double layers of latex tubing. It is UV resistant and can withstand temperatures as low as 32°F or 0°C. To increase resistance to wear and tear, a triple layer of woven 2500D fabric fully covers the interior tubing.
This Navaris retractable hose includes a 7-pattern spray nozzle to fit different watering jobs. The attachment is supported by a quick tap connector. Thus, allowing fast and easy connection of the spray nozzle to the hose itself.
Like most expandable hoses, this product is lightweight too. Weighing about 1.66 kilograms only, this hose is easy to upkeep. Moreover, its compact size will definitely not occupy too much space in your garage or even in the trunk of your car.
The GardGuard garden hose features a flexible double latex inner core. It is covered with high-density 3300D polyester fabric. This provides additional protection against abrasions, punctures, or any form of breakage.
This expandable hose can stretch up to 3 times its original size. From 33 feet, it can expand up to as long as 100 feet under full water pressure. Speaking of pressure, it can tolerate between 3 bars up to a maximum of 12 bars. Worry not for leaks, cracks, and corrosion, this hose comes with a ¾-inch connector made with 100% brass.
The hose also features a 9-pattern spray nozzle. With a few rotations of the bezel, you can adjust the setting to your preferred water flow. You can also maintain a steady stream by fastening the buckle stent feature. This nozzle is ergonomically designed with a rubberized coating for a comfortable and non-slip grip.
At a weight of 2.12 kilograms, this hose is lightweight yet durable to accommodate different household chores. With a service life of up to 1,500 uses, this hose can be well used for watering the garden, cleaning your car, bathing your pets, and a whole lot more
The Superhoze garden hose is a retractable hose that is designed to expand up to 3 times its original size. By default, a 10-meter hose will lengthen up to 30 meters under 10-bar maximum water pressure. Adding to its featherlight 1.19-kilogram weight, this hose automatically contracts itself back to 1/3 its full size immediately after each use. Making it incredibly compact and easy to store.
The inner core layer is made with a highly elastic PVC material. It has an anti-kink feature that prevents bending, folding, and twisting of the hose. Moreover, a high-density polyester fabric jacket helps to cover and protect the inner hose from UV and abrasions.
Another amazing thing about Superhoze is that it safe for your health and your pets too. It promises to be free from Phthalates, heavy metals, and harmful toxins. Hence, it is ideal to use for activities like playing in the water with the kids, watering the edible garden, and feeding the animals. 
Hozelock also offers 3 years guaranteed manufacturer's warranty for their hose product. But this can be extended up to 5 years if you register on their official online website.
The Lungar expandable hose is the perfect go-to hose for household and other outdoor uses. Its 50-feet length is not just for watering the garden or bathing your pets. With a weight of slightly over a kilo, it is also great to take on your boat trips, in the trunk of the car, or in the RV. 
This hose is made with 2 layers of 2mm latex inner core wrapped with 3750D polyester fabric. The construction is durable yet flexible enough to expand up to three times its length. It can well tolerate a water pressure ranging from 3 up to 12 bars. Moreover, it can also withstand varying water temperatures between 40°F to 160°F.
The Lungar garden hose includes a non-slip rubberized spray nozzle with 9 functional water patterns. It also features a built-in on/off valve to conveniently shut off the water flow without having to access the main valve. All connectors are made with 100% thick brass material so you don't have to worry about cracks, rusts, and corrosions.
Things to Consider Before Buying
The Best Expandable Garden Hose For Your Garden
Everyone's garden is different. We get it, the choices above may seem overwhelming if you can't match your garden's needs with the product reviews. Before buying any of the 7 best expandable hose products, you should consider some factors to make your best buying decision.
How to Care for An Expandable Hose
Unlike typical garden hoses, the expandable hose tends to endure greater stress as it attempts to expand and contract over and over again. Hence, they deserve extra care to make them retain their quality and last even longer.
10 Tips to Maintain Expandable Garden Hoses
Shut off the water source when not in use. Give your hose some time to retract and relax.

Do not force to stretch out the hose when not in use. 

Clear the way as the hose is contracting back to its original size. Make sure it won't stumble upon any object that can potentially damage the hose.

Check the water pressure in your area to ensure compatibility with the hose. In as much as possible, keep the pressure below 80 psi.

Do not use the expandable hose for delivering hot water. 

Squeeze out the excess water from the nozzle to drain the hose completely.

Do not leave the hose exposed under direct sunlight for an extended period of time. UV rays can weaken the latex and cause it to become brittle.

In the same sense, do not leave your hose outside during the wintertime. Residual water along the hose can expand when frozen thus exerting great pressure to the core and might even cause it to burst. 

Even if the hose comes with a durable exterior fabric cover, it is still best to minimize dragging the hose to rough floor surfaces. Moreso, keep it away from sharp edges.

Store the expandable hose properly when no longer in use. Organize and hang it in a wall hanger or keep it well coiled inside the storage bag.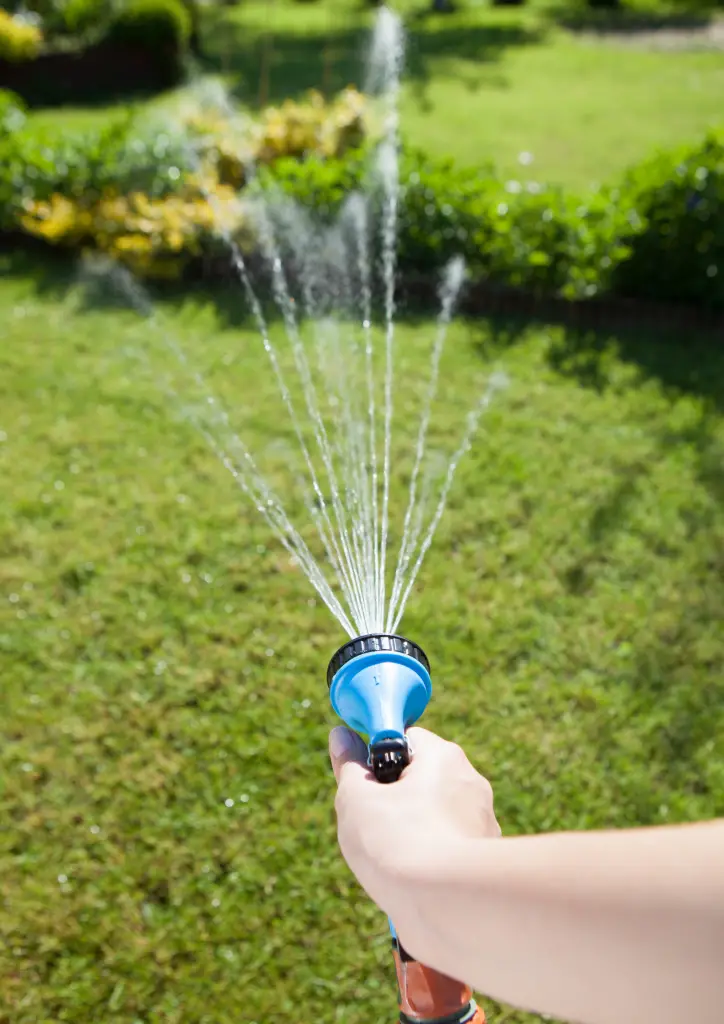 Which Expandable Garden Hose Will You Buy?
Indeed, there is a vast array of garden hoses in the market. But, the expandable hose design is one well worthy of trying out nowadays. It works the same function as the typical hoses but in a whole lot more convenient and compact fashion. 
The 7 products we presented herein are among the best sellers on Amazon. Their qualities have been tested and proven by actual consumers. So, you don't have to waste any money or time searching for the best expandable hose.