Last Updated on November 1, 2022 by Real Men Sow
8 Best Petrol Leaf Blower Product Reviews
For Clean Gardens (UK) – Buyer's Guide
There is a wide array of leaf blowers out in the market today. All of which caters to different user needs and lawn sizes. Nevertheless, if you happen to have a large area to cover with no accessible power outlet, then the petrol-powered leaf blower might just be your best bet.
A petrol leaf blower works with a two or four-stroke engine that utilizes petrol to keep it up and running. You don't need to plug the equipment anymore into an electrical source. Thus, giving you much freedom to work far and wide without having been restricted by the cord.
Out of all the great selections available, we have picked the 8 best petrol leaf blower products that are worth checking out. Here as follows:
The Best Petrol Leaf Blowers In the Market Today
The 8 Best Petrol Leaf Blower Product Reviews That Blow Your Mind
Makita BHX2500CA 24.5CC MM4
4-Stroke Engine Blower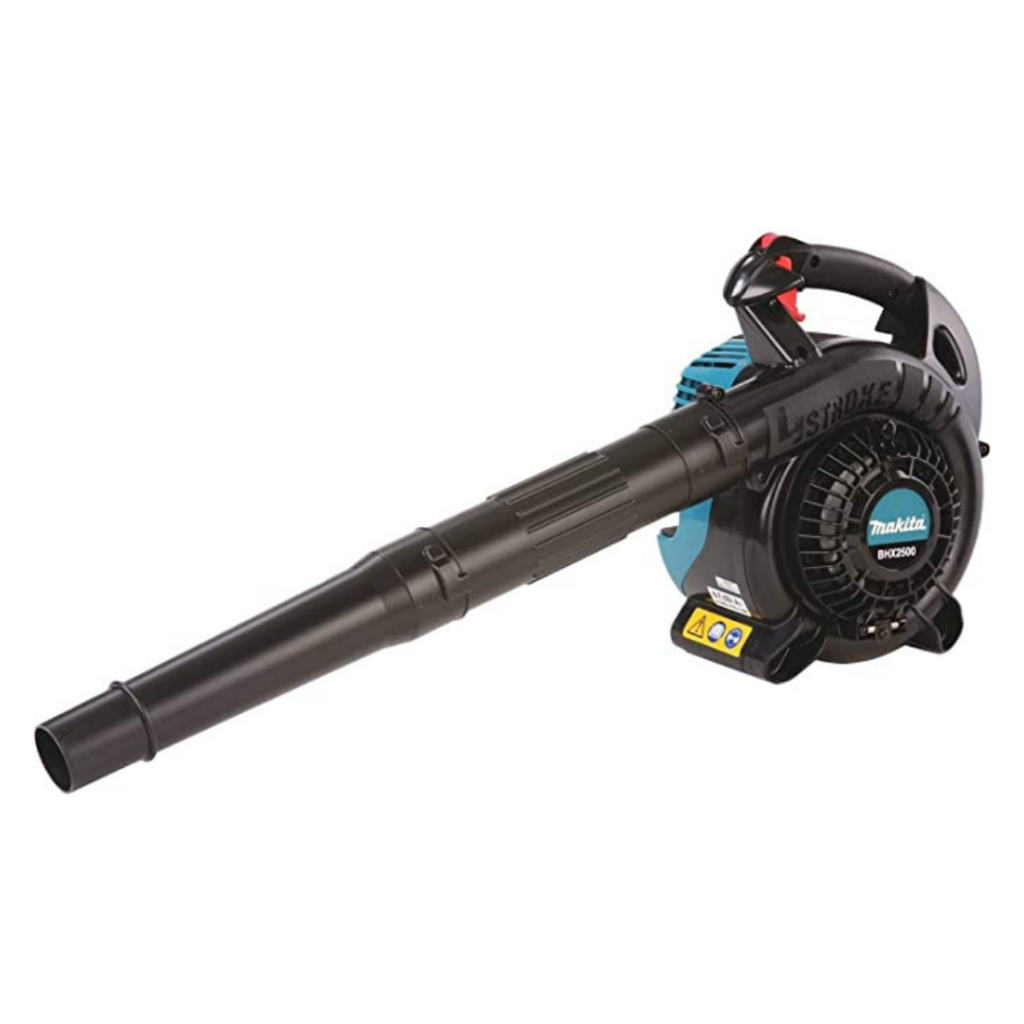 Top Pick
5/5 ⭐⭐⭐⭐⭐
This leaf blower features a commercial-grade engine that is capable to deliver maximum air speed of up to 145 MPH. This Makita MM4 engine offers a more simplified operation through the elimination of the fuel/oil mixing process. Thus, eradicating as well the common problem of engine seizure.
Starting up the motor is easy as pie with this leaf blower. This model is designed with mechanical automatic engine decompression. This system allows for the reduction of the cylinder compression at a lower rpm. Thus, making it faster and easier to start up the engine.
It also features a large fuel tank with a 17.7 oz capacity. This gives you much longer run time and wider area coverage in a single go. It is also very convenient as it comes in a translucent body to make it easier to spot the fuel level. The large opening minimizes spills and allows more thorough clean-ups.
The BHX2500CA model is one of the lightest in its class weighing at only 9.8 pounds. It is also well-designed with utmost user convenience in mind. It comes with soft handle grips and cruise control levers for added comfort and fatigue reduction. At the same time, it also provides easy access to pertinent components including the spark plug and air filter.
Despite the large engine, this blower is engineered to produce minimal noise output. Thanks to it large muffle capacity, it only generates up to 67 decibels. That sound is as just loud as a working dishwasher or washing machine. So tolerable that you don't have to worry about bothering your neighbors while blowing out those fallen leaves off of your space.
Pros
Powerful 24.5 cc 4-stroke engine
Large fuel tank capacity
With soft-grip handle
With cruise control lever
Minimal noise level
Compact and lightweight
Compliant with EPA and CARB regulations
Includes nozzle and tool kit
Cons
Carburetor is not adjustable
Airflow has the tendency to be blocked when the leaf blower is positioned onto the right side
Some users reported the
boiling of petrol inside the tank when used continuously over an extended period of time.
Hyundai HYB5200 Petrol Leaf Blower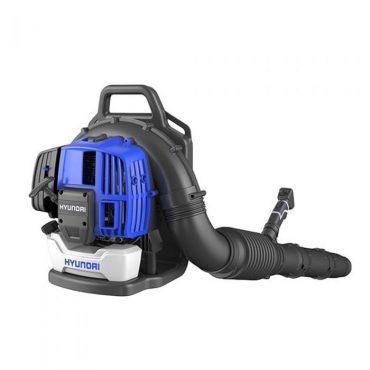 The Hyundai HYB5200 model features a 52cc 2-stroke air-cooled engine. With Euro 5 engine certification, it promises excellent fuel economy that is good for the environment and for your budget too. It claims to consume a liter of petrol for every 55 minutes of usage at full throttle.
This model is designed with a convenient variable speed control mechanism. You can use the low blower speeds for delicate areas. Meanwhile, you can also increase the airflow to as much as 170 mph to clean out debris on areas with larger clearance.
Powerful as the engine may be, this blower is still compact and lightweight. It weighs about 9.85 kilograms that can be evenly distributed through the backpack harness. This harness provides ergonomic support to your shoulders whilst doing extensive work.
User comfort is also a priority. This blower is equipped with anti-vibration technology that minimizes reverberation during use. It also comes with a lockable throttle lever for steady and prolonged usage.
The Hyundai HYB5200 model is designed for all-year-round use. From clearing out leaves in your lawn and gutter up to drying out pieces of machinery, this blower literally got your back. On top of it all, this product is also covered with Hyundai's 3-year platinum warranty including parts and services.
Pros
Powerful 52cc air-cooled engine
Easy start recoil starting system
Variable speed up to 170 mph
Anti-vibration technology
User-friendly lockable throttle
Backpack harness design
3-year Hyundai platinum warranty
Cons
Not as lightweight as competitor products.
Fuel mixing bottle is less durable.
Requires several pulls to start up the engine
Stihl BG 86 CE Petrol Blower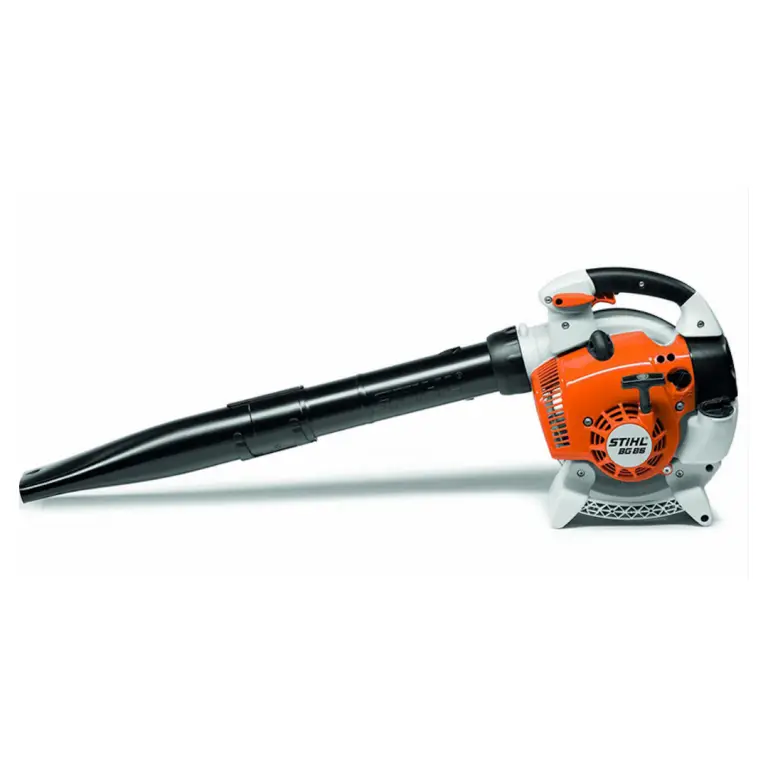 The Stihl BG 86CE petrol blower is equipped with a 27.2cc 2-stroke air-cooled engine. It features a stratified charge mechanism that creates a fuel-free layer resulting in minimal fuel loss during the charge cycle. In fact, this system promises to reduce petrol consumption by up to 20% and significantly cut down on smoke emissions.
This blower is engineered with an ErgoStart system for that effortless engine starting. The extra spring between the crankshaft and the starter rope rotor gives an extra boost for every pull. Thus, cutting the effort by half compared to regular 2-stroke engines.
Furthermore, it also comes with a button-controlled manual fuel pump. This helps to purge out and deliver petrol into the carburetor. Thus, making it easier and requiring fewer pulls to start up the engine especially after long periods of break.
Its HD2 filter is also a great addition to this leaf blower. The air filter is made with polyethylene material that is amazingly 70% finer compared to regular air filters. Moreover, this HD2 filter is also water and oil-repellant.
For added convenience, the product also comes with an anti-vibration system to minimize operator fatigue. Apart from that, the equipment also features soft-grip handles and a throttle lock with a built-in stop switch. All these details and more aims to enhance the user's quality of experience.
Pros
27.2cc air-cooled engine
190 mph air speed
With HD2 air filter
ErgoStart system
Anti-vibration technology
Throttle lock with built-in stop switch
Lightweight at 4.5 pounds
Includes safety goggles
2 years warranty
Cons
This produces the loudest noise at 104 decibels.
Ideal for light to mediums tasks only.
Lesser value for money.
McCulloch GBV 322 VX
Petrol Leaf Blower & Garden Vacuum
The McCulloch GBV 322 VX model is actually a 2-in-1 tool. It is basically a leaf blower and at the same time a garden vacuum too. It is very versatile and practical with the types of functionality it offers.
This 26cc petrol-powered engine has a power output of up to 0.8 kilowatts. It can blow leaves at an airspeed of up to 370 kilometers per hour. It comes with a cruise control mechanism that you can use to adjust and set the fan speed as desired.
As a vacuum, GBV 322 VX comes with a 45-liter collection bag. This is a perfect size for gathering dust and other debris in and out of your home. And, you can also use this function to collect leaves and shred them into smaller portions to be used a mulch in the garden.
Its SureFire Start technology guarantees its users easy starting at all times. With a fuel tank capacity of 0.35 liter, this is good enough to cover a fair amount of ground. Re-fuel as needed, but you sure won't be tied down by a power cord.
This equipment also comes with other awesome features including the VX concentrator nozzle to improve the airflow. The machine tool is designed with soft-grip handles and a full anti-vibration system. Both of which helps to enhance user comfort and efficiency.
Pros
26cc air-cooled engine
SureFire Start technology
Anti-vibration system
Variable speed control
Includes a 45-liter vacuum bag
Mulching feature with 16:1 mulching ratio
Velocity Xcelerator concentrator nozzle
Easy to attach and detach tubings
Weighs 4.5 kilos
Cons
Lack straps to help support the weight and for better handling.
It needs some time and effort to switch from blower to vacuum.
The vacuum function is not as powerful as the blower.
Husqvarna 125B Gas Leaf Blower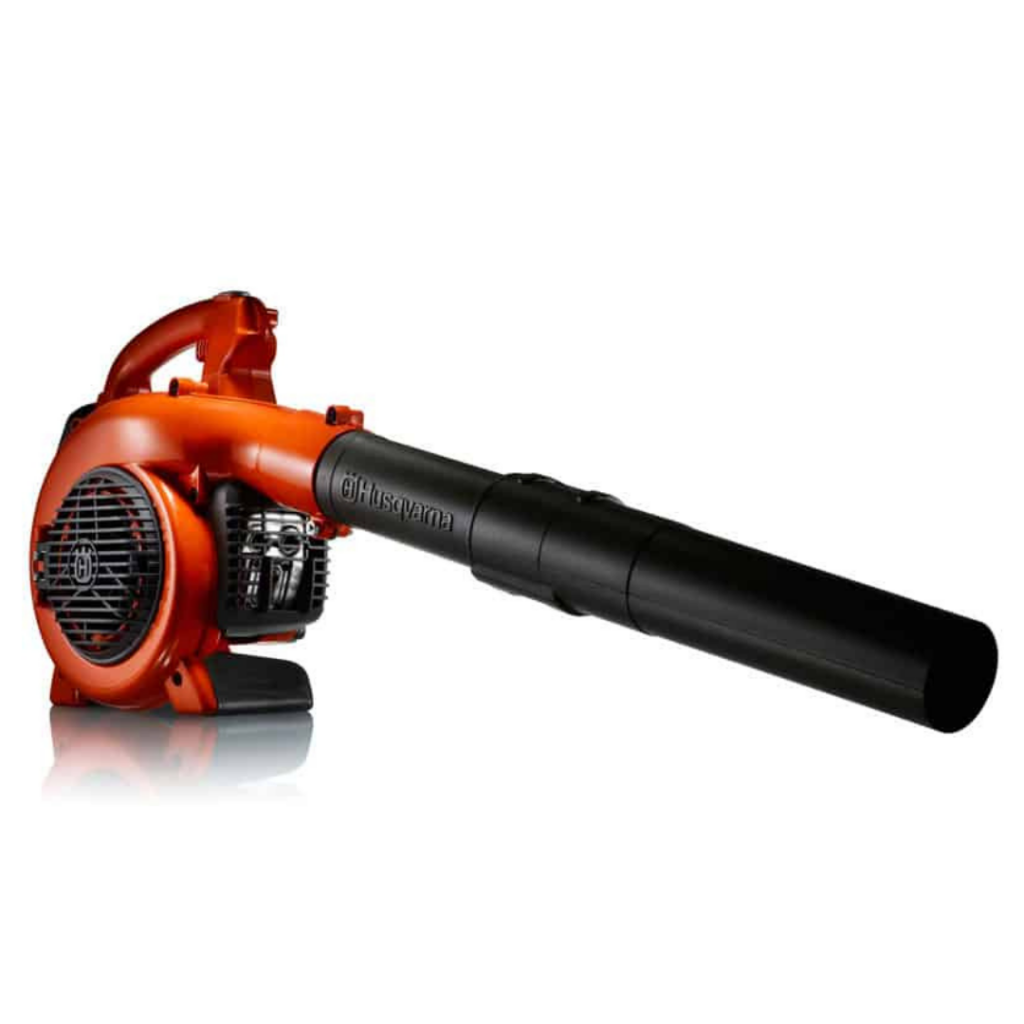 The Husqvarna 125B model is a gas-powered blower equipped with a 28cc engine. Depending on the nozzle, it can generate an airspeed of 130 mph up to 170 mph. Thus, perfect for blowing off dust and debris and other quick cleaning tasks.
Cold starting is not an issue with this 2-stroke engine. It has an air purge mechanism that encourages the removal of air from the carburetor and the fuel chamber. Hence, allowing smooth and easy starting of the motor engine.
The blower comes with a variable speed which you can conveniently manipulate over the cruise control function. This allows you to set your preferred fan speed as required by the tasks. Moreover, you can also maintain the speed on a specific setting with just a single click.
It also comes with an auto-return stop switch. This enables the notch to automatically revert back to its ON position and be ready for starting. All the controls are designed to be intuitive to make them easily accessible for the user to operate.
To further promote comfort, this blower is engineered to have an inline design. By aligning the fan housing with the handle, the airflow is delivered much smoother. Thus, reducing the vibrations and tension in the operator's hands and arms.
To add versatility to the product, the Husqvarna 125B comes with adjustable tubing. So, you can either shorten or extend the length of the blower hose to cater to different types of jobs. Attachments are sold separately though.
This Husqvarna blower is certified CARB compliant. Despite being gas-powered, you can rest assured that this product generates lesser exhaust emissions. So, it is safe for you and the environment too.
Pros
28cc engine
Variable speed
Cruiser-control function
Auto return stop switch
Inline design
Air purge system
Adjustable tubing
16.91 fl oz tank volume
70-decibel noise level
Weighs 9.4 pounds
Cons
Limited warranty coverage from the manufacturer.
Not as sturdy as other Husqvarna products.
The carburetor might require some adjustments as temperature changes.
Parker Brand PBLB-6500-B Backpack Leaf Blower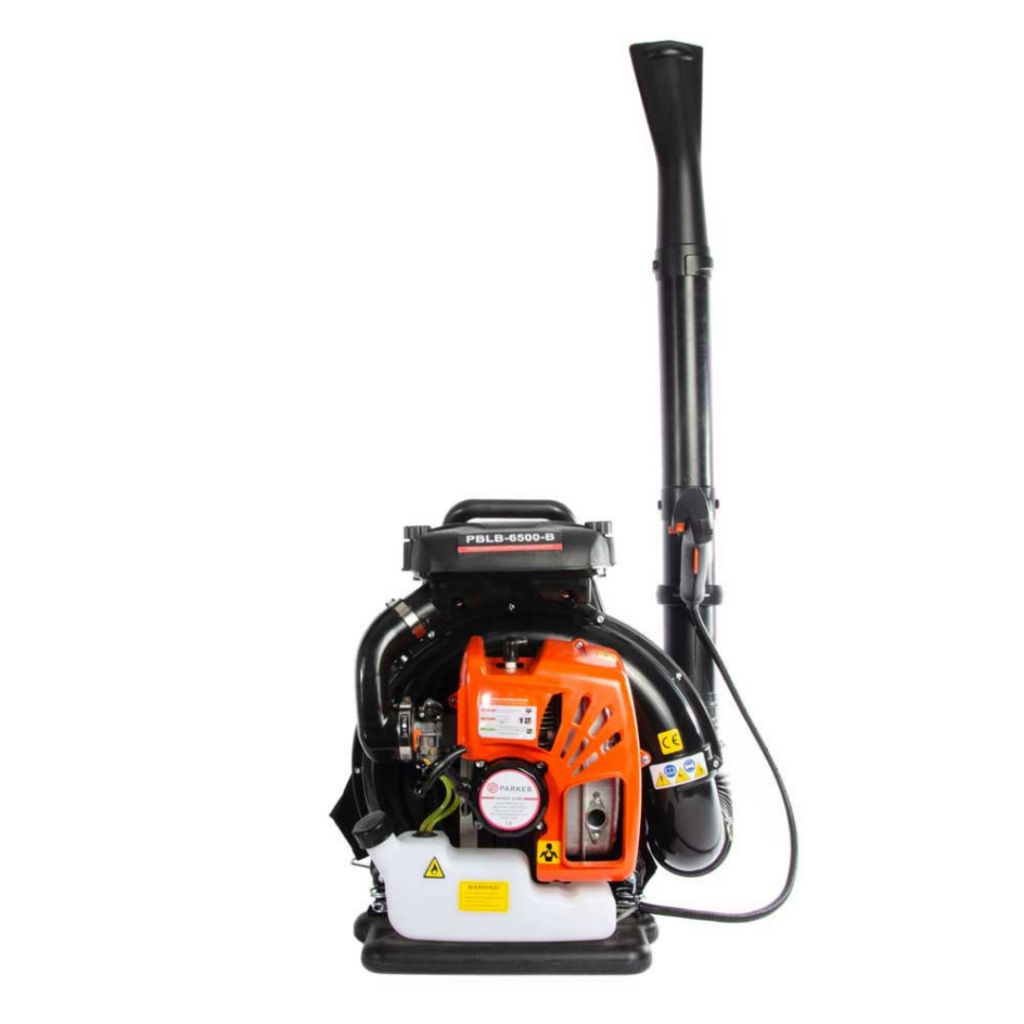 The Parker Brand PBLB-6500-B is a leaf blower model is made to provide strong motor power in the convenience of a backpack. It features a 65cc 2-stroke engine that can generate an airspeed of up to 210 mph. This is strong enough to sweep out debris and help in cleaning too.
With a net weight of 10 kilograms, this leaf blower probably is not the lightest in the market. Yet, its ergonomic backpack straps are made to conform to the user's body. Thus, allowing even distribution of the load and better maneuverability.
The equipment also features a vibration-reduction system. This is crucial for backpack types of blowers. As you literally tend to carry the equipment on your back, it can strain your muscles and wear you out pretty quickly if there is just too much vibration.
The Parker Brand PBLB-6500-B leaf blower has been tested and approved to be compliant with the European safety standards. Hence, you can be confident that the quality and performance of the product will live up to its claims. A 2-year manufacturer warranty is being provided to ensure consistency of service and commitment.
Among other backpack types of leaf blowers, the Parker Brand PBLB-6500-B is on the budget-friendly side. A powerful engine to match an affordable price point gives you great value for your money. Thus, an ideal product to choose as an entry-level blower or for buyers with a limited budget.
Pros
65cc engine
Two-stroke engine
210 mph airspeed
Vibration-reduction mechanism
Ergonomic backpack design
CE/GS approval
EU-II Compliant
Weighs 10 kilograms
Includes maintenance tool kit
2-year manufacturer warranty
Cons
Heavier compared to other backpack leaf blower models.
It is not as easy to assemble.
The opening to the oil mix container is quite small.
Webb WEBV26 Petrol Garden Leaf Blower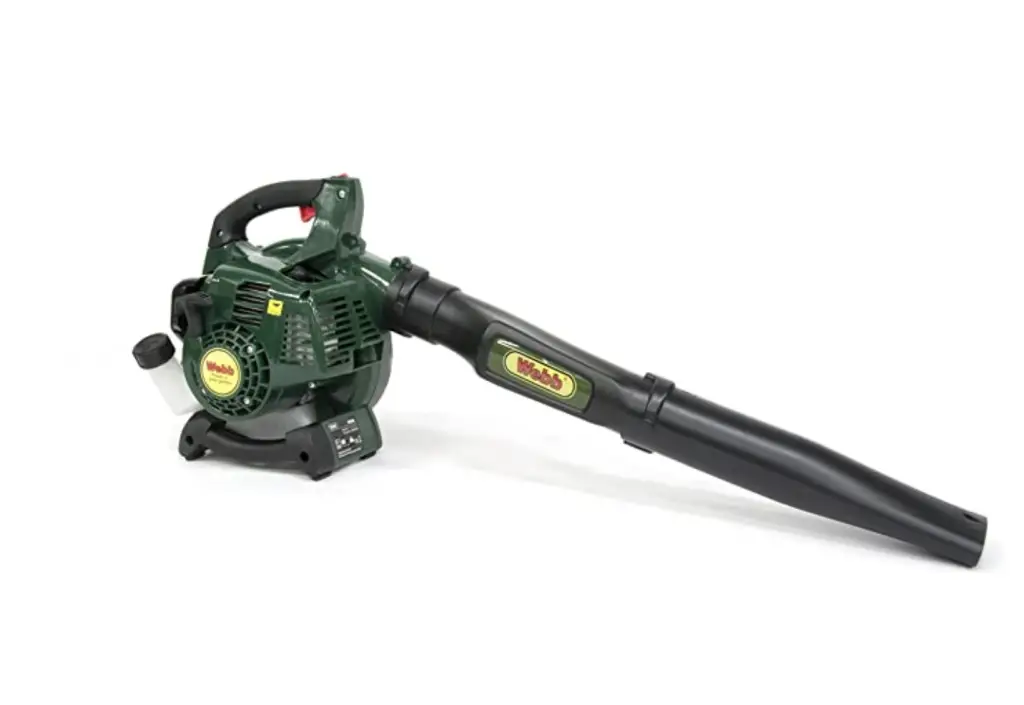 The Webb WEBV26 model is a piece of versatile garden equipment with 3-in-1 functionality. Aside from being a leaf blower, it also features a vacuum and shredding function. Thus, it is very practical and a handy tool to have at home.
This petrol-powered blower comes with a 26 cc two-stroke engine. This much power can well generate an airspeed of up to 114 mph. The airflow can be adjusted to varying speeds depending on your tasks.
Shifting from blower to vacuum function is fast and easy. With a simple nudge of the trigger control, you can switch the functionalities without a hassle. Unlike other models, the conversion of airflow from blowing to suctioning is very convenient and not complicated at all.
As for the shredder function, it comes with an internal blade to facilitate the automatic cutting of debris into 1/12 of its size. Just the perfect proportion for mulching the plants. You can use this tool to vacuum both dry and wet garden wastes. The package already includes a large collection bag up to 40 liters capacity.
With Webb WEBV26, debris blockage is nothing to worry about. The metal fan blades can be easily detached. Hence, giving the user quick access to clear out any blockage that penetrates into the machine.
This powerful garden tool is engineered to produce minimal vibrations, low fuel consumption, and longer service life. All these are backed up by the manufacturer's 2-year warranty.
Pros
26cc engine
Two-stroke engine
Up to 114 mph airspeed
Variable air speed
With vacuum functionality
Includes 40-L collection bag
With shredding functionality
12:1 mulch ratio
Vibration-reduction mechanism
Weighs 4.5 kilograms
Includes maintenance tool kit
2-year manufacturer warranty
Cons
Can be difficult to start up the engine.
The collection bag is a bit thin thus prone to tears and holes
The details in the instruction manual are not clear and concise
McCulloch GB355 BP Backpack Leaf Blower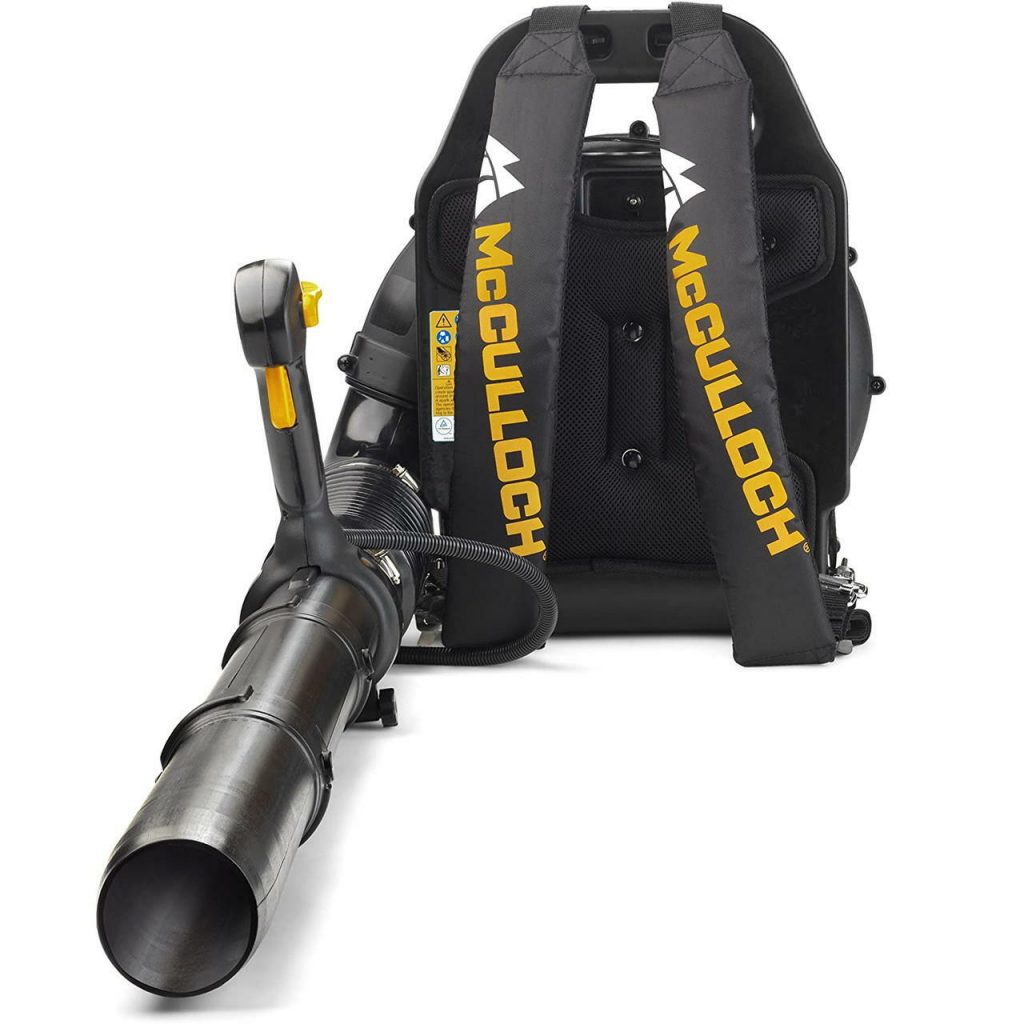 The GB355 BP is another awesome piece of garden equipment from McCulloch. This model is a backpack type of leaf blower. This is ideal to use to cover larger areas without compromising the power.
This two-stroke petrol-powered engine comes with 46cc cylinder displacement. With a 1.5 kilowatt power, it can generate an air speed of up to 355 kilometers per hour. Strong and very capable to clear out leaves, grass clippings, and other debris off of your ground.
The airflow of this blower is completely variable. So, you have the freedom to adjust the speed at your preference. At the same time, it also features cruise control to allow you to maintain a certain speed throughout the operation.
To promote ease and comfort, the blower features an adjustable hand grip. This enables you to position the trigger control according to your most comfortable angle. On that note, it eliminates the issue with awkward left or right-handed operations.
The GB355 BP is designed to have sturdy shoulder straps to support the equipment's 9.2-kilogram weight. The straps are padded and adjustable so that they can fit and conform well to the user's body. Moreover, comfortable straps are also essential for backpack types of blowers as they basically help to distribute the weight of the load. Thus, minimizing strains and injury on the user's back and shoulder muscles.
This leaf blower includes an easy to attach tubing. The quick assembly feature always comes in handy especially for those homeowners that intend to use the blower on a seasonal basis only. Furthermore, detachable tubings are great for easy storage of the product.
Pros
46cc engine
Two-stroke engine
Up to 355 mph airspeed
Variable air speed
With cruise control feature
Backpack harness design
Adjustable padded shoulder straps
Easy to attach tubes
1-liter fuel tank volume
Weighs 9.2 kilograms
Cons
Burns fuel fast.
Tubes do not smoothly fit into the socket.
Chest straps tend to slide to the side.
Things To Consider Before Buying A Petrol Leaf Blower
Again, it's easy enough to assume that one petrol leaf blower is the same as the next. There are plenty of features and facilities worth looking out for.  Here are just a few things you might want to consider when purchasing the best petrol leaf blower for your own garden.
Air Output
When it comes to choosing a leaf blower, the air output probably is the first and major consideration of most buyers. With air output, there are two factors to look into. The first is the cubic feet per minute (CFM) and the second is the miles per hour (MPH). The CFM basically pertains to how much air the blower can deliver. This will tell you how many leaves it can sweep out at once. On the other hand, the MPH refers to how fast the blower can move the air.  This then will tell you if the blower is capable of moving heavier debris such as wet leaves, for example.
Nozzle Type
The shape of the nozzle does matter. The pattern of the opening will influence the delivery of airflow. Hence, affecting the efficiency of the blower onto specific tasks. Wider nozzles are great for moving more leaves in a single blow. Meanwhile, nozzles with rounder openings tend to produce more concentrated airflow. Thus, it is ideal for blowing out heavier dirt and debris.
Ergonomic Design
Working with leaf blowers can be physically exhausting. And so, it is essential to buy one that is ergonomically designed to best fit your comfort. That way, you can avoid getting tired easily, strained, and worst, injured
On this note, you must be able to take into account factors like soft-grip handles and accessibility to controls. Switches and trigger buttons should be placed within easy reach by your fingers. A design that is made to cater to both left or right-handed operation is equally essential too. The availability of support straps is also important as this will help secure the placement of the blower against your body. Moreover, it will also aid in balancing the weight to make the blower more manageable to maneuver.
Versatility
If you want to maximize the use of your leaf blower, then it is a wise idea to go for models with combo functionalities. Aside from being a leaf blower itself, there are some that can also be converted into a vacuum and a mulcher. By having 2 or 3 different functions in one piece of equipment, you can make better use of your blower. And so, gives you more value for your money.
Which Product Is The Best Petrol Leaf Blower?
We've gone through our top 8 choices of best petrol leaf blower. It's time to reveal that the petrol-powered models are most often the go-to choice for people who require strong engine power. At the same time, enjoy the freedom of not being restricted by the cord or electric power source.
The 8 petrol-powered leaf blowers we presented herein offer different strengths and highlights. From engine power to unique features, these are just a few of the reasons why these blowers became best sellers in the market.
Out of all the products on the list, the MAKITA BHX2500CA MM4 BLOWER stands out the most. It may not be the most affordable, but this commercial-grade blower offers premium quality and tons of awesome features. All of which makes the product a great value for your money.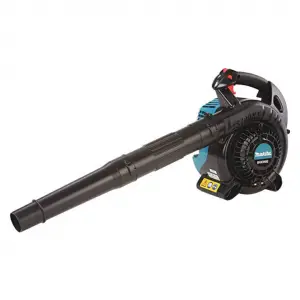 What Do We Love About The Makita Petrol Leaf Blower?
We love that it was able to address the common issue of hard-starting motor engines. And, the mechanical automatic engine decompression system is their effective resolution to that. Hence, enabling their users to enjoy faster and easier starting every single time.
Being a 4-stroke engine, it is technically more powerful than the usual 2-stroke leaf blowers. Aside from that, this type of motor also tends to produce lesser exhaust emissions. Something that is quite hard to avoid in general considering that it is powered by petrol. In that instance, it is definitely a win-win situation for you and the environment.
We also like that a powerful tool such as the Makita BHX2500CA is compact and lightweight. This makes it an ideal blower to use for covering larger areas. Moreso, it is also perfect for operators with smaller body frames or with limited physical capacities. Because honestly, the ladies and the oldies like to take part in blowing off the leaves too.
There is plenty more to love about the Makita BHX2500CA and the 7 other leaf blowers. Take time to see how each differs from one another. And, how these products can best suit your needs and preferences.