Last Updated on February 15, 2022 by Real Men Sow
These top 10 yellow flowering shrubs are the perfect choice for any garden color scheme or pattern. Many of these shrubs produce good displays of flowers in the early spring before most of the rest is flowering. We have large shrubs that can be used as informal hedges, such as Forsythia, as shown below. Also, we have stunning ground cover shrubs like potentilla and 8 other stunning yellow flowering shrubs.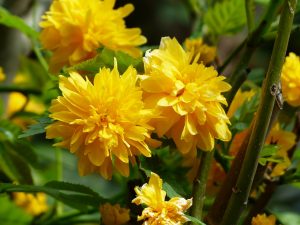 Forsythia is a small-sized, versatile shrub. The mound-shaped green leaves are shaped like buttercup yellow flowers. This shrub is ideal for adding colour to your garden border. It needs full sun. It makes a great ground cover shrub, but it is also deciduous and will appear rather bare in winter.
10 Best Shrubs With Yellow Flowers In The UK
Kerria Japonica (Japanese Rose)
Although the Japanese rose doesn't actually produce roses, the yellow flowers that it produces spindly across many branches look like tiny cotton balls of yellow. The yellow flowers that are produced in springtime, and then again in summer, can continue to bloom for several weeks before the second season.
The most exciting thing about this plant is not the yellow flowers you can get but also the natural form. Although it can grow in loose, informal arrangements, it is a great specimen plant and not a good choice for formal hedges. It would be difficult to make this bush into a hedge due to the amount of pruning it needs.
Spring blooms are made on old wood, so prune after the end of spring flowering. It is possible for the second season to flower later than usual, but you must wait until the next season to prune if this happens.
Hypericum Hidcote (St. John's Wort)
Saint John's Wort is a great choice for anyone looking for large flowers and a bush of medium size, rather than small clusters of flowers. St. John's Wort produces yellow flowers, but its shade isn't as golden as those of Magnolia Yellow River or forsythias. It takes on a lighter, more golden yellow color that is not only visible in the five petals, but also the centre, which attracts the attention of bees and butterflies.
Mahonia x media 'Charity' (Oregon grape)
Also known as Oregon grape, it has stunning yellow and green leaves. Mahonia is an evergreen shrub with leathery leaves that are adorned with yellow flowers. Followed by purple berries, it produces beautiful, vibrant foliage.
It is an upright, evergreen shrub that can fill large spaces in both height and width. Each of its leaves is made up of 21 spine tooth leaflets and its flowers are cup-shaped.
It can grow up to 4 m in height when fully mature and thrives in full sun or partial shade. Bright green leaves will be visible in the spring and summer. Yellow flowers will appear in the autumn and spring. It thrives in small gardens with flower borders at the back and smaller, contrasting plants at the front.
Magnolia Yellow River
This deciduous tree variety produces a beautiful buttery yellow flower. It is not as bright but it is still striking. These sweet-smelling, upright yellow flowers have a goblet-shaped shape and a sweet scent.
They can grow up to 15cm when fully mature and they look very much like lilies. They turn a soft, creamish colour towards the tips but retain their rich yellow base colour. You don't need to worry about potential blooms being damaged by late frost. It can grow up to 5 m tall and wide in soil that is slightly acidic and rich. A stunning unusual tree.
Potentilla goldfinger (shrubby cinquefoil 'Goldfinger')
Potentilla Goldfinger's flowers are not as extravagant as other plants. It is therefore a great choice for those who have a smaller garden and still desire yellow flowers. However, the yellow flowers should be spread across the entire plant.
Forsythia
Forsythias, deciduous flowering shrubs, have long branches that are overflowing in spring with yellow flowers. They make a cheerful backdrop for any garden. When they reach maturity, they will be extremely tall but very narrow. They are ideal for areas that need a tree-like shrub or an area with full sun exposure.
They need well-drained soil but are very adaptable to acidic and alkaline soils so you don't need to alter your space. Because the flowers grow from the leaves, the flowers will produce beautiful yellow flowers that will give you vibrant green shades. You will also have full digital access to them because they won't have any leaves.
It is not very interesting to see the plant after the yellow blooms, so it is best to pair it with late bloomers that can replace the yellow flowers when they are finished.
Berberis darwinii (Darwin's Barberry)
Darwin's Barberry stands tall and proud, with its distinctive shape and color. It is an evergreen shrub that is covered in tangerine blossom clusters. These buds grow on red stems and open to reveal vibrant orange flowers. The leaves remain dark green, which creates a striking floral design.
The flowers are arranged in clusters and hang down, taking the form of an urn or bell. These flowers are very small and shiny. This plant will grow to 1.5 meters in height with an average spread of 1.2 metres.
It can be grown in full sun or in very little shade. Once established, it is extremely drought-tolerant. It attracts bees, birds and butterflies to its early spring flowers.
Azalea mollis luteum (sweet pontica azalea)
The Azalea's yellow flowers are so beautiful that they have a sweet scent. These small flowers have a funnel-shaped shape and are full of beautiful colour in spring.
Although the flowers are small, the bush can reach 4 meters in height. You will see a variety of colors in the leaves throughout the year. It is an invasive species and non-native to some areas. You will need to ensure that the tree is properly trimmed each year.
Santolina chamaecyparissus (Cotton lavender)
The lavender cotton plant is a great choice for those who want to add yellow colour to their garden while maintaining a unique colour palette in a monochromatic world. It is a popular choice in Mediterranean gardens due to its evergreen nature and bright yellow flowers. Additionally, it produces silvery grey-green leaves throughout the year. The yellow flowers bloom in the late spring and early summer. Each flower is brightly coloured and has a button-like shape. It can grow up to 60cm high and 90cm in width, making it ideal for privacy screens or dense mounds. It is also ideal for ground cover because it is evergreen.
Rose Golden Wedding
The Rose Golden Wedding floribunda variety is happy to accept any extravagant blooms. It produces clusters of perfectly-formed, bright yellow roses. They will remain upright throughout the growing season, so they won't droop like other plants. A little deadheading can keep them blooming throughout the summer. The rich, green leaves contrast beautifully with the roses. The Rose Golden Wedding is the perfect choice for those who love roses and don't want to plant yellow flowers just to create privacy screens or hedges.
Roses are easy to maintain. They can be pruned back to a few feet each spring. This will ensure that they look great year after year.