Last Updated on February 15, 2022 by Real Men Sow
Wonder how to bring novelty onto your garden pond? Growing water lilies is your best bet! Water lilies are the most beautiful and popular pond flowers and they are easy to plant and care for too.
These blooming lilies are great for small or big garden ponds, however, if you want to look into bigger plants, oxygenating pond plants could be a great option.
Growing Water Lilies The Easy Way
How to cultivate water lilies?
Nearly all water lilies require full sun to flower well. They require still, calm water to thrive. Keep them away from fountains, pumps, and waterfalls.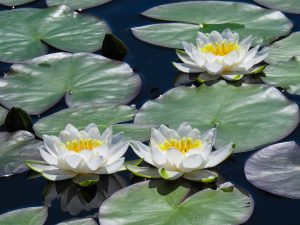 Growing Water Lily Varieties
Small and dwarf water lilies
Water Depth Requirement: 30-45cm (12-18in) deep.
Candida: White flowers

Pygmaea Rubra: Deep rose-pink flowers ageing to deep red
Pygmaea Helvola: Yellow flowers
Medium lilies
Water Depth Requirement: 45-75cm (18-30in) deep.
Marliacea Albida: White flowers

Rene Gerard: Rosy-red flowers

James Brydon: Rose-red flowers and purplish leaves
Large water lilies
Water Depth Requirement: 75cm-1.2m (2.5-4ft) deep.
Gladstoniana: White flowers

Attraction: Pinky-red flowers fading to white

Escarboucle: Red flowers
How To Plant Water Lilies?
Water Lilies should be planted in the middle to late spring or mid-summer. Aquatic planting baskets are the best way to grow plants. Plants purchased from aquatic centres usually come pre-planted in one of these baskets and are ready for submersion in the water. You can choose the correct size to ensure that the plant grows well.
Steps To Growing Water Lilies
Remove any roots that are too long and any damaged or old leaves. Fill the basket with hessian and add unfertile loamy or aquatic planting compost. Make sure the crown of the plant is at soil level. A layer of pea shingle is applied to the compost surface.
After watering the compost, let the excess water drain out before putting it in the pond. Submerge the plant in the water slowly until the water covers the crown. The leaves will float on top. On the label included with the plant, the final planting depth should also be indicated. Ask before you buy if the label does not indicate the final planting depth. You can place the basket on bricks or a similar raised platform to ensure it is the right depth.
Gradually lower the basket as the plants grow until it reaches its final planting depth. If you keep small varieties growing on a raised platform, they can be grown in large ponds.
How To Care For Water Lilies?
Water Lilies are hungry plants. They will get most of their nutrients from the water around them, but you can also feed them special aquatic slow-release food.
As soon as yellow leaves appear, remove them along with faded flowers. You can cut them below the waterline, or trace them back to the point where they join the main crown.
You can divide water lilies as often as you need to, depending on how vigorous they are. The plant should be removed from the water in the late spring or early Summer. The main crown should be thick and fleshy with smaller rhizomes. These smaller rhizomes can be cut with a sharp, clean knife. Plant the rhizomes with aquatic planting compost in crates. Place them vertically under the compost surface and spread the fibrous roots below. The compost should be covered with pea shingle.