Last Updated on March 2, 2022 by Real Men Sow
In the spirit of experimenting with space-saving growing methods, I decided to try growing sweet peas up a wigwam this year. I've just made my first harvest of mangetout, and this is how I did it.
How to Grow Sweet Pea Wigwam in Your Garden?
Make a Structure
I used 8 6ft bamboo canes to make my structure. They occupy an area of 3ft squared, and I joined them at the top with a cable tie to make my wigwam shape. I put a pot over the top because I'm clumsy, and there is every chance I would poke my eye out on unguarded sharp things.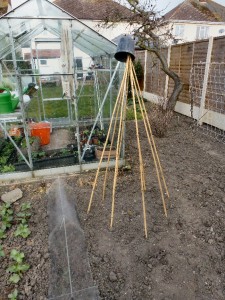 Something for the Peas to Climb Up
I then began tying the string around the canes to provide the pea plants with something to climb up. Starting at the bottom, I tied a knot, and wound once around each cane, as in the picture. When I got back to my original knot, I tied the string off, moved up a few centimetres, and went around again.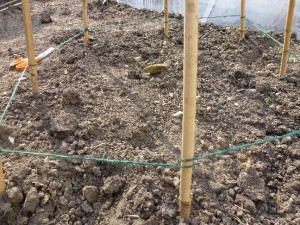 I did this until I got to the top, and hey presto! – A wigwam.
Planting the Peas
Initially, I planned to put one plant alongside each cane, plus another one in between (16 pea plants in total).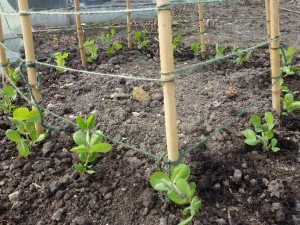 I had a couple of spare plants, so I squeezed them in, giving me a total of 19 around the base of the wigwam.
Keeping the Peas Close to the Wigwam
As the peas grew taller, I inspected them regularly to make sure they were grabbing on to the string. This doesn't always happen automatically and the peas grow outwards, so when necessary I ran a length of string around the peas to keep them in close to the wigwam.
Harvest Your Sweet Peas 
Roughly two months later and I'm harvesting from plants that have grown right to the top of the wigwam.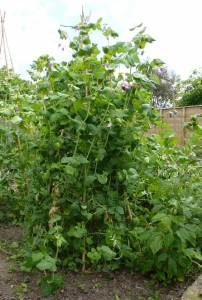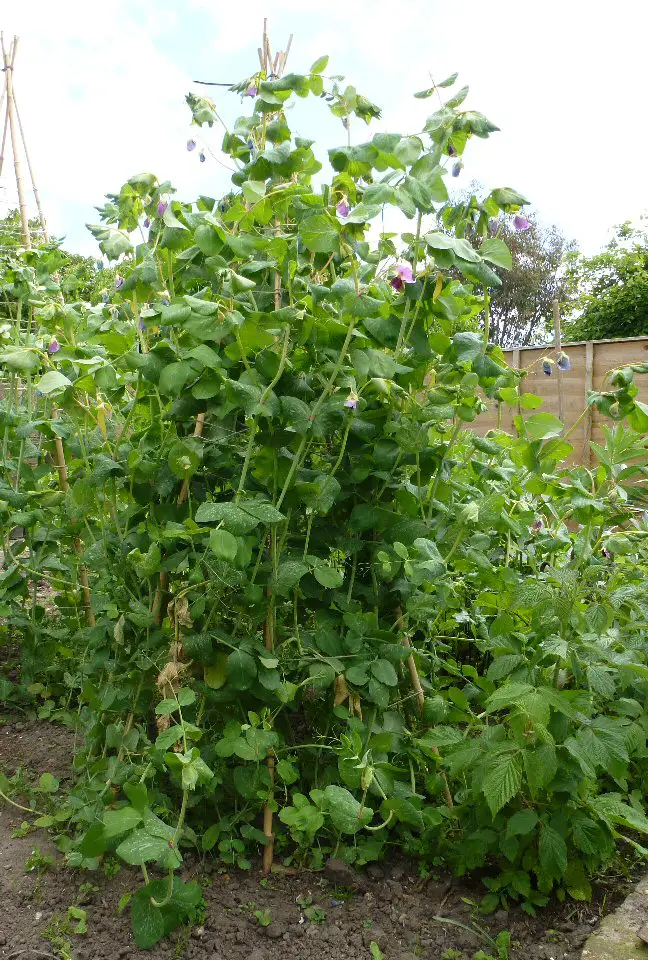 I've grown Golden Sweet this year, as they grow very tall, making them a good choice for wigwams. They are a paler colour than normal peas and mangetout, and I bought them from Real Seeds.
How Much Did My Sweet Pea Wigwam Structure Cost Compare to a Pot?
When I think of growing vertically or in pots, I can't help but be mindful of how much extra cost might be added. As much as I am inspired by small spaces and attractive veg plots, I don't want mine to cost the earth. My canes were 30p each (£2.40) and the ball of strong as a pound, although I didn't use all of it.
Therefore, I'd estimate that my structure cost me about £3. My first harvest of 75g was worth 50p, and with plenty more flowers and baby mangetout on the plants, I reckon I'll make that back and more.
The canes are good quality, so I'll be able to use them again too.
What to improve in the Wigwam Sweet Pea Plant?
I'd definitely use taller canes, as the plants look like they have plenty in reserve, and I probably could have planted more peas around the structure to increase the yield. If I had gone closer, I reckon at least 25 pea plants would have sat happily together without impacting on growing power.
Has anyone else grown peas in a wigwam?
How did you get on? Anything I've done that you would do differently?