Last Updated on January 11, 2022 by Real Men Sow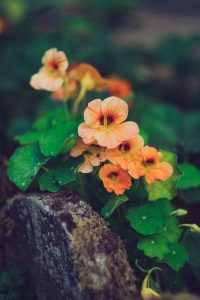 Nasturtium is an annual flower that can be grown quickly and easily. It produces masses of vibrantly coloured flowers throughout the summer and fall. There are two types of nasturtiums: bushy or climbing, this makes them extremely versatile. You can grow nasturtiums in hanging baskets or outdoors in your garden.
Some nasturtium varieties are attractively marbled or mottled. The flowers, leaves, and seeds of nasturtiums are not only beautiful but also edible. The colourful nasturtium flowers are a favorite of bees and caterpillars of large and small white butterflies love to eat its leaves. Because they are annuals, nasturtiums can complete their entire life cycle in just one growing season. 
Growing Nasturtiums in Hanging Baskets
The nasturtiums can be used in many sunny areas of the garden, pots, and hanging baskets. The climbing varieties of nasturtium are easy to train up vertical supports and can also be used to twine through other plants. Climbing nasturtiums can be used to pull other plants. Nasturtiums require a well-drained soil, and unlike other flowers, they can thrive in poor soils.
Where do nasturtiums grow best?
For nasturtiums to thrive, they must be exposed to sunlight for at least half of the day. They also need shelter from the wind. Nasturtiums thrive in poorer soils and less fertile soils which are free-draining. Fertile soils will allow for more leafy growth, which can lead to a decrease in flower production. Therefore, there is no need to fertilize before sowing. The best soil conditions for nasturtiums are gravelly, stony or on banks. Mix two-thirds of the peat-free multipurpose compost in containers with one-third fine gravel or grit to increase fertility and drainage.
Planting & Growing Nasturtiums in Hanging Baskets
Because they are fast-growing, you don't need to worry about transplanting to get the best results. To speed up germination, sow the seed 1.5 cm deep in moist soil. If conditions are dry, water before planting. To ensure that flowers last until the first frosts, you can sow your first seeds in mid-spring. Don't forget to thin the seedlings to 30 cm spacings.
You can also sow in pots – just sow one seed in each pot, and then transplant outside after all danger of frost has passed.
Taking Care of Nasturtiums
Nasturtiums require little maintenance, and only needs the following: 
Container-grown plants should be watered to ensure that the compost remains evenly moist. However, they shouldn't be fed. 

The dead flower heads from nasturtiums should be removed to encourage more blooms over a longer time.
Propagating Nasturtiums
You can save nasturtium seeds for next year by collecting them when they are ripe. You may also find nasturtiums self-sowing in milder areas. This means that you might see seedlings coming up in the future. If not desired, they can be pulled up easily.
Harvesting and Using Nasturtiums
All parts of the Nasturtium family, including its flowers and seeds, are edible. The brightly colored flowers can be used as garnish for salads or other uncooked dishes. The peppery taste of nasturtium leaves should be avoided when they are young. You can substitute capers with nasturtium seeds by picking them when they are still green.