Last Updated on February 15, 2022 by Real Men Sow
High-quality gardening tools will last for many years but must be maintained and cared for regularly. You simply throw away your old bargain-priced tools once they wear out instead of maintaining them. No matter the quality of your tools, regular gardening tool maintenance will ensure that they are ready for your next gardening chore. A few simple rules can make gardening easier and last many years.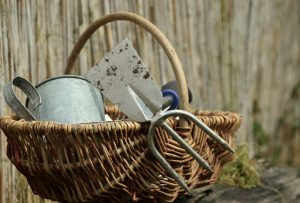 How To Maintain Common Gardening Tools
After each use, always remove all soil from the digging tools. Most soil can be removed by hosing them down, but you may need to use a screwdriver to remove any dried or caked mud.

Don't leave your tools wet. To prevent rusting or handle rot, let them dry completely before you store them. To preserve your wooden handles, rub some linseed oil on them once a season.

  Use an oily cloth to wipe down the metal parts of pruners and shears after each use. You can also wipe the tools clean with a damp rag and spray it lightly with oil.  

During the gardening season, sharpen your cutting tools and the blades on shovels. For sharpening your cutting tools, you should use a hone or whetstone. To remove nicks from your trowels and shovels, a file is needed.

All tools that have been used in chemical applications should be thoroughly cleaned. Any metal parts will be rapidly corroded by fertilizers and other chemicals.

To prevent rust, fill a 5-gallon bucket with builder's sand. Then pour one quart of fresh motor oil over it. This can be used as a shovel cleaner/oiler every time you are done using your tools. After using each tool, plunge it in and clean out the oily sand. This bucket can also be used as a stand for a shovel.