Last Updated on November 1, 2022 by Real Men Sow
Best Greenhouse Heater For Winter: Product Reviews & Buyer's Guide (UK)
As seasons change, the temperature will greatly vary too. An in the winter, it can become very cold for the plants to continue to thrive. Hence, using a heater during cooler times would be your best and most practical solution. 
A good-quality greenhouse heater helps to maintain an ambient temperature within your greenhouse for seed germination. It effectively keeps your plants warm, cozy, and away from frost. In a way, making the greenhouse a conducive environment to grow into all-year-round.
Do you wish to keep your plants toasty and happy during winter too? 
Then, consider looking into this list of the 7 best greenhouse heaters in the market. We have also gladly included a helpful buyer's guide. So, you will know exactly what to look for when purchasing a heater device for your plant house.
Why Do You Need A Greenhouse Heater?​
Plants essentially undergo different metabolic activities on a daily basis. Processes like respiration and photosynthesis require a certain amount of energy to effectively take place. And, one source of this said energy is HEAT.
The heat enables the plant to sustain its vital life processes. Thus, when the room temperature is low, the plant's activities are consequently affected too. With not enough energy, the growth and development of the plant tend to slow down. 
To prevent that from happening, you need the heater to mechanically generate heat instead. Hence, maintaining a suitable room temperature for plants to continue to respire and undergo photosynthesis. 
Consider setting up a greenhouse heater as one of the essential tasks in your winter greenhouse jobs if you don't have one yet.
Our Best Greenhouse Heater
The StayWarm F2003WH Heater is our best pick for greenhouse heaters. This product is amazingly versatile. It can be used in either an upright or flatbed orientation. Along with its compact and portable built, this makes the device even more perfect for any small to medium-sized conservatories.
This heater also features a balance of hot/cold settings. It offers two options for heating and another one for a cool blast of air. Hence, giving you more control over the temperature set up.
Lastly, it comes in a sleek design that is easy to operate. It also sold at a fairly affordable price point. That is a practical choice for newbies or gardeners who are looking forward to expanding their greenhouses.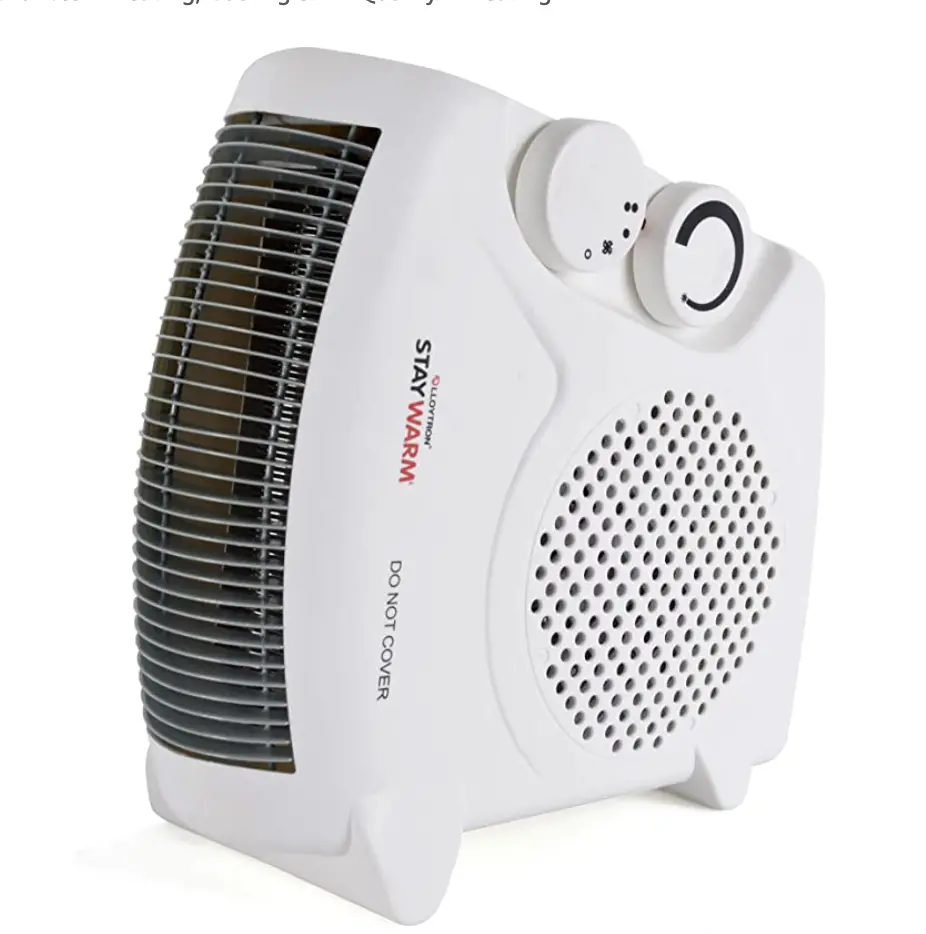 What Are The Main Types of Greenhouse Heaters?
Gas Heaters
Gas heaters are space heating devices that utilize either natural gas, liquified petroleum gas, butane, or propane. The burning of these fuels is what powers the machine and generates heat. Gas heaters produce excellent warmth and are perfect for spaces without access to electric outlets.
Nevertheless, this type of heater emits carbon monoxide too. Prolonged exposure to carbon monoxide is extremely dangerous for you and your plants. On that note, gas heaters are recommended to use only in spaces with proper ventilation such as in open or semi-open greenhouses. In that way, the build-up of carbon monoxide can be avoided.
Electric Oil-Filled Heaters
Electric oil-filled heaters are convection-type space heaters. Even though it is filled with oil, it rather uses it as a heat reservoir. The electricity instead warms up the oil to generate heat without actually burning the fuel.
Oil-filled radiators have an excellent ability to retain heat. Thus, they can stay warm much longer compared to other types of heaters. On that account, they are much energy-efficient and at the same time much cheaper to operate.
Electric Fan Heaters
Fan heaters are another electric type of space heaters. The electric current courses through a resistive heating coil system. In effect, it converts the electric energy into heat energy.
So, as it forces to draw air through the heating coils, the air is immediately warmed up. Thus, delivering heat to the space as the air is propelled out from the heater. They work fast to generate sufficient heat to warm up the space.
However, they lack the ability to retain heat unlike the oil-filled heater. Once the radiator stops, the heat supply is instantly cut off too. That makes this type less efficient to use and more costly to operate. However, they are a great option when you only want a quick boost of hot air for your greenhouse.
Electric Tube Heaters
Electric tube heaters are designed to deliver relatively low background heat. Nevertheless, they are best used to provide protection against frost and dampness. On that note, tube heaters tend to deliver more concentrated heat to a specific spot rather than warming up the entire greenhouse. It utilizes minimal wattage making it more economical to use in that sense. 
Tube heaters are also very compact. They virtually do not consume a lot of space thus perfect to use on small greenhouses. They are also very versatile as they can be easily set up in brackets when you need multiple tube heaters to work at the same time.
Solar Heaters
Solar heaters are space heating kits that cleverly utilize the heat harvested from the sun. They are the most sustainable among all types as it basically uses a renewable type of energy. It does not consume gas or electricity to operate. 
The kit comes with solar panels that directly collect heat from the sun. It uses this thermal energy to draw in the cool air, heat them up, and release it to the room as warm air. No energy is wasted and it doesn't cost a penny to operate.
However, the upfront cost for installing a solar heater can be quite expensive. Moreover, the supply of energy is highly dependent on the availability of sunlight. Given the scenario, the heater won't technically be effective at night and even on cloudy days.
Best Greenhouse Heater Product Reviews
STAYWARM F2003WH 2000W UPRIGHT & FLATBED HEATER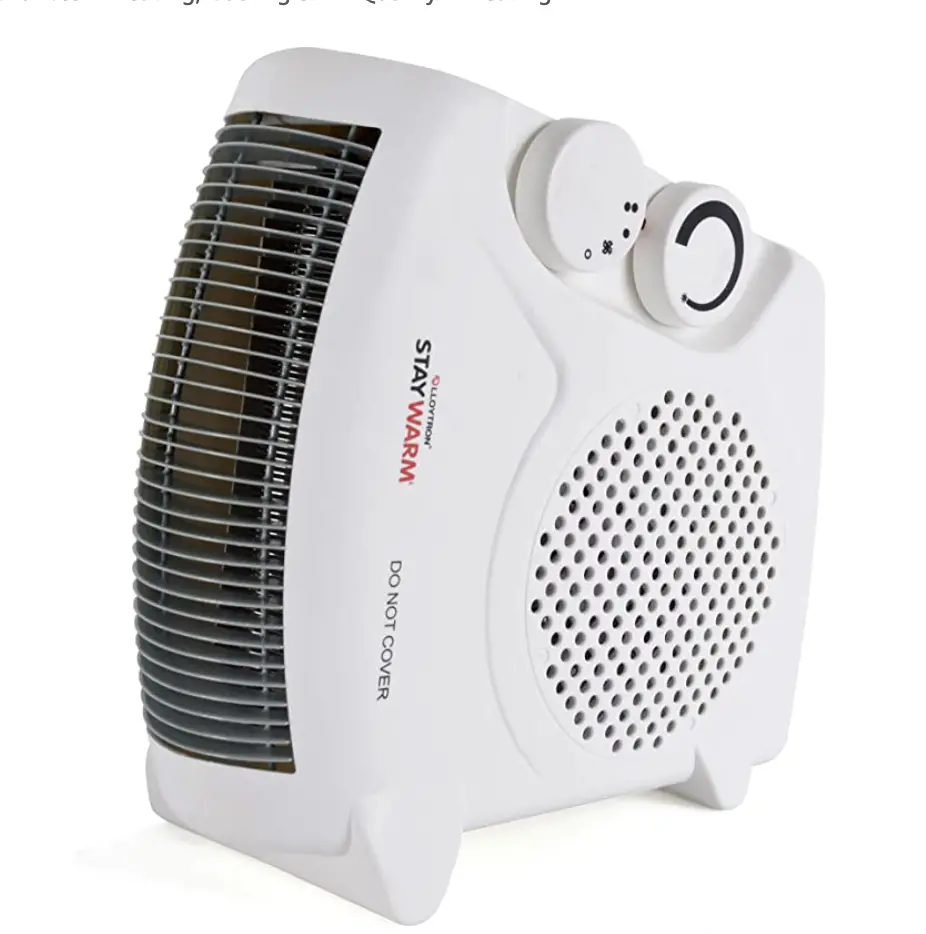 Best Mini Greenhouse Heater
The F2003WH space heater is the ultimate compact heater ideal for greenhouses and other small spaces. It comes with a versatile design that enables you to operate the device in an upright or flatbed orientation. It is perfect for maximizing the limited spaces available.
This 2000-watt heater comes with 2 heat settings and 1 cool blow setting. The variable thermostat dial then allows you to regulate the level of heat as needed. It has an intermittent switch on and off mechanism to help consistently maintain the temperature within the desired level.
The heater is protected by its frost watch feature. It automatically shuts down the unit upon detection of temperature below 5°C. Likewise, it also comes with an overheat protection feature. The product is approved and certified by the UK and German safety standards BEAB and GS.
RUSSELL HOBBS OIL-FILLED 9-FIN ELECTRIC HEATER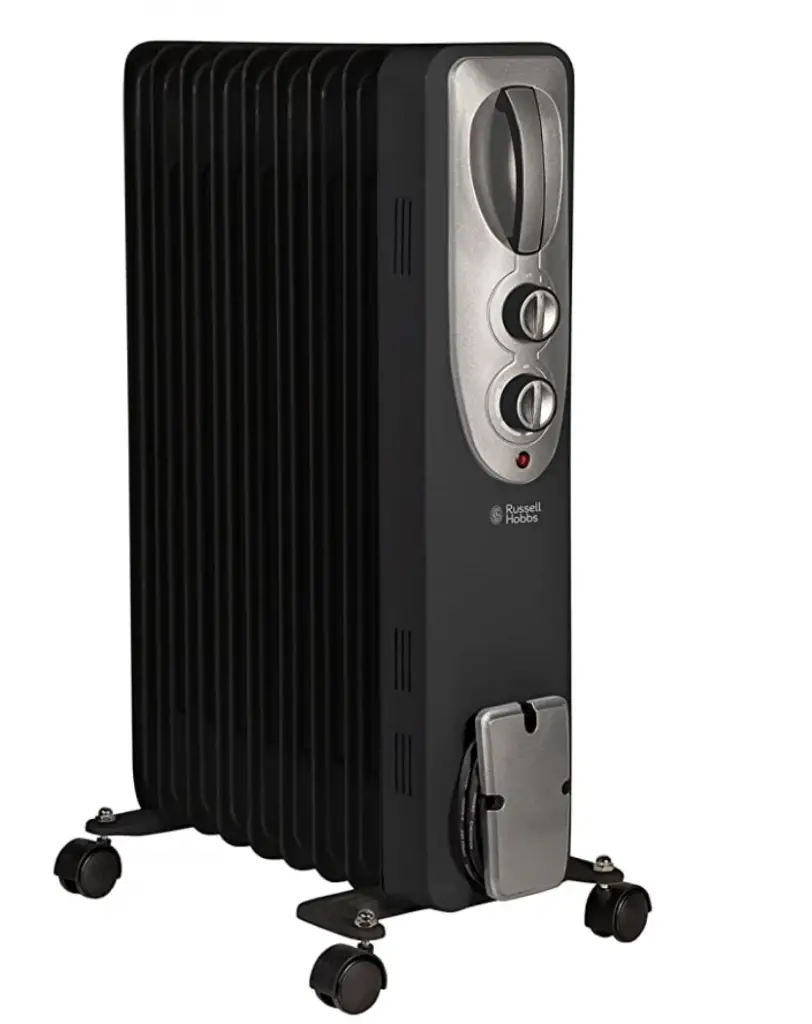 Best Electric Heater
This oil-filled electric space heater features powerful 9-fin fan blades. It has the capacity to generate a maximum of 2000 watts of heat output which can well warm up a 20 m² room size. For smaller greenhouses, the 5 and 7-fin options are also available to choose from. 
The heater comes with an adjustable thermostat. This enables you to set up the room temperature within your preferred level of warmness. Moreover, it is protected by an overheat safety function too. This automatically shuts down the equipment immediately upon detection of unsafe temperature levels. 
The device is electric-powered and so comes with a 1.5-meter power cord. Aside from that, it is also integrated with carrying handles and castor wheels to enable easy transport. The product is supported by a 2-year limited warranty.
GLOW WARM PORTABLE GAS HEATER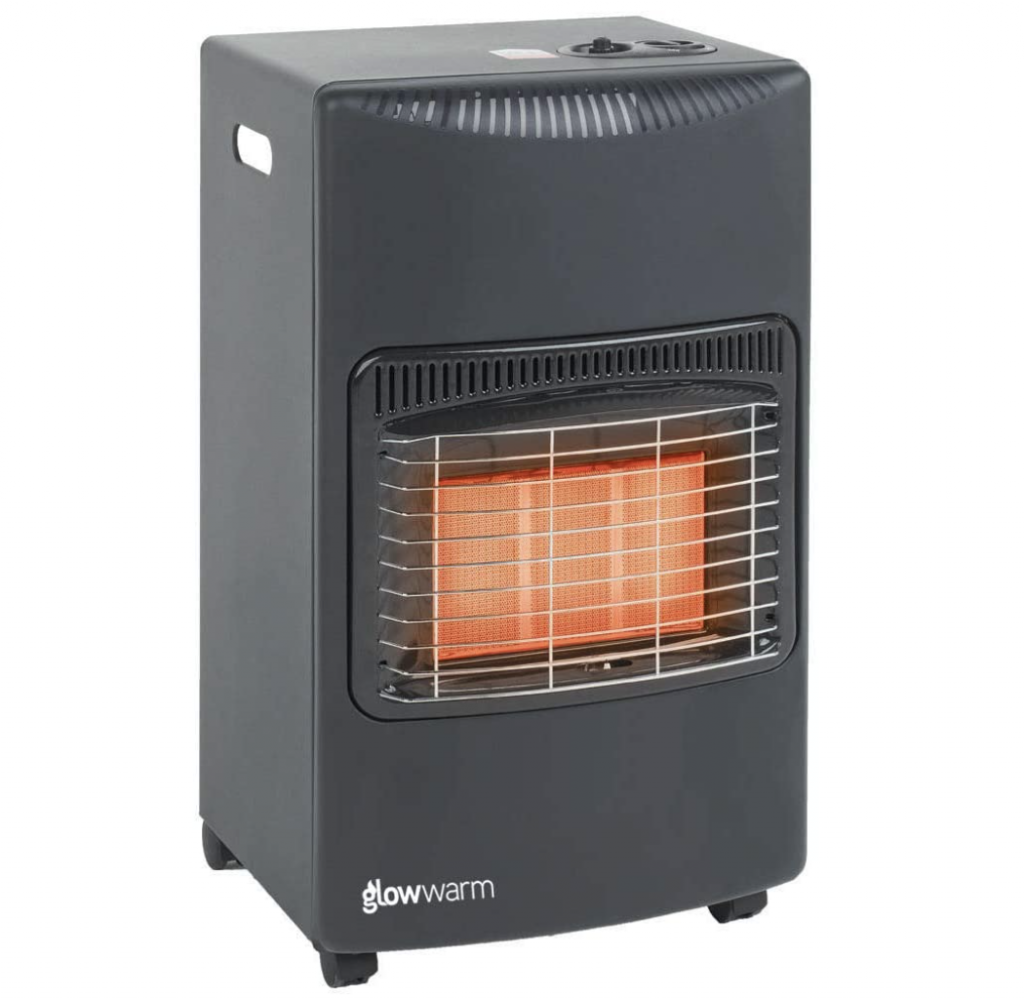 Best Cordless Greenhouse Heater
Not all greenhouses have power outlets. So, if you need something cordless, then this gas-powered space heater is just perfect to consider. The Glow Warm heater is run by a butane gas cylinder of up to 15 kilograms. 
This heater can produce up to 4200 watts maximum heat output. It comes with 3 different settings so you can adjust the heat level and the rate of gas consumption accordingly. With that much warmth, you can sure make small to large greenhouses feel toasty and cozy.
The heater comes with a sleek cabinet-type design. The butane cylinder is stored in the back panel to keep it neat and well secured. The device also comes with easy to use Piezo push-button ignition. 
Glow Warm is portable and lightweight. It has carry handles and castor wheels to make it much easy to maneuver.
NAKOAIR OS22LCD SOLAR AIR HEATER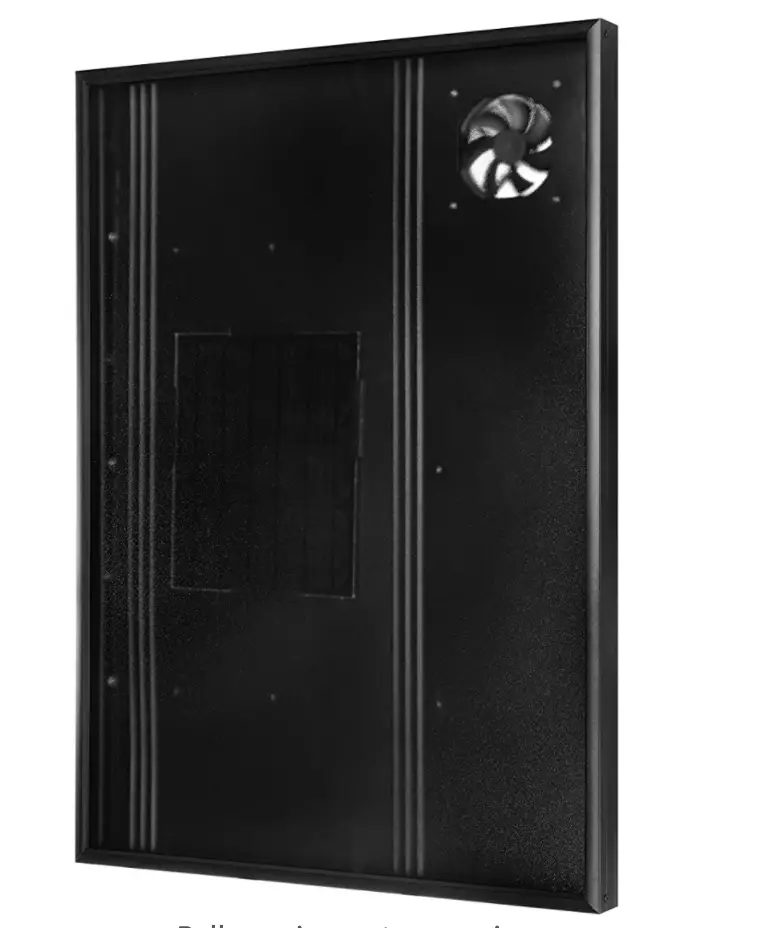 Best Solar Greenhouse Heater
The Nakoair OS22LCD is a multi-function space heating equipment. Not only does it warm up your greenhouse, but it can also be used to ventilate, humidify, and dehumidify the room at the same time. Thus, creating a perfectly healthy indoor climate for you, your plants, and the environment too.
The solar panel collects the heat from the sun to power up the device and allow processing of the indoor air. As you know, thermal heat is absolutely free and renewable. Hence, making this option very sustainable and cost-efficient to run and operate. 
The OS22LCD model is designed to cover a floor area of up to 45 m². Depending on the amount of sunlight, it can generate heat enough to effectively increase the room temperature by approximately 11°C. It also comes with an LCD control panel that makes the device easier to operate and set up the thermostat. 
HONEYWELL CZ2104EV1
HEAVY-DUTY HEATER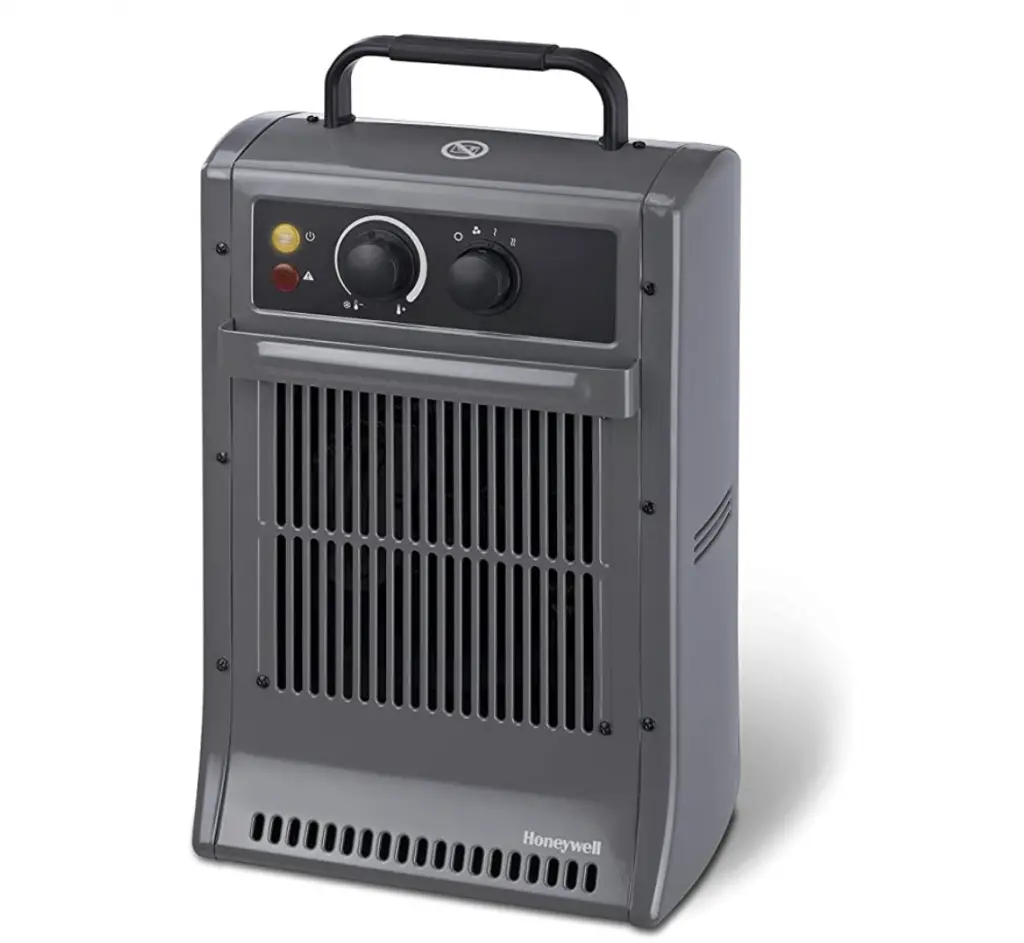 Best Heavy Duty Heater
Do not underestimate this mini space heater. It may be small and compact, yet it is built for tough. This heater is designed with all-metal construction that measures 47.6 x 29.2 x 21.2 centimeters and weighs about 4.1 kilograms. So, it is portable enough to bring to any space you wish to add some warmth.
It is equipped with 2500 watts of turbo power. This electric-powered heater has the capacity to heat up to 30 square meters of area. It comes with three different settings so you can adjust the temperature accordingly as needed. 
This device is not just for heating, it also has a cooling feature with a frost watch function so you can use it all throughout the seasons. Aside from that, it also features overheat and tip-over protection and a child safeguard switch.
Not to mention, the product is also backed up by a 3-year warranty.
ECOHEATER HHT207 HYLITE SLIMLINE TUBULAR HEATER
Tubular heaters are low-energy types of space heaters. Thus, ideal to use on small-sized greenhouses and other enclosed areas. Aside from providing ambient heating, it also promotes frost protection and discourages dampness and condensation too.
The Hylite Slimline is available in different lengths including 30, 50, and 75 centimeters. The 75-cm tube can produce up to 90-watts of maximum heat output. The device also comes with a built-in thermostat to allow efficient regulation of temperature. At the same time, minimize the electricity consumption.
This tubular heater has a weather-proof rating of IP44. That means the device is tested and proven to withstand low-velocity water splashes and solid particles less than 1mm in diameter. The heater includes high-quality pressed steel brackets. This allows for secure mounting of the device on the wall or on a floor-standing fixture.
DIMPLEX ECOT2FT TUBULAR HEATER
Product Description
This tubular heater model comes in a 2-feet length. It has the capacity to generate up to 80 watts of heat output. The low-wattage background heating works best as a supplementary heater for your greenhouse. It can effectively keep your plants toasty but not enough to warm up your human body.
The ECOT2FT heater features a built-in thermostat. This enables the device to regulate and maintain a certain level of ambient temperature. Thus, preventing inconsistencies and overheating.
This tubular heater has a reversible cable entry. That allows you to install the device on either the left or right side. Discreet wall brackets are also included to secure the vertical mounting of the unit.
The heater is given an IPX4 waterproof rating. It is safe and resistant against water splashes in any direction. The product comes with a 1-year manufacturer warranty.
How To Choose The Best Greenhouse Heater? Buyer's Guide
Size of the Greenhouse
How big or how small your greenhouse definitely matters when it comes to choosing the right type of heater. This will determine if the device can sufficiently provide enough heat to maintain a certain level of warmth within the space. 
Most heaters sold in the market already have specified their capacity and area coverage in the description. Make sure to take note of this. Buy one that best accommodates the actual size of your greenhouse. 
Buying a heater with a lower capacity than required is simply a waste of money. It won't be able to deliver the right amount of warmth to your area. Thus, utterly defeating its purpose. 
On the other hand, it is also not advisable to buy a heater with excessively higher capacity than what your greenhouse actually needs. The heat output can be overwhelmingly hot for the space. In the end, it might literally "toast" and dry out your plants.
The size of the greenhouse does matter too in terms of its proportion to the heating equipment. Obviously, small-sized conservatories would benefit more when installed with compact versions of heaters. It would not consume a lot of space and so makes wise use of the floor area.
Structure of the Greenhouse
The structure of your greenhouse is also important to take note of. Of course, an open or semi-open structure takes a lot more effort and energy to warm up compared to an enclosed grow setting. Also, older houses or rooms tend to already have gaps in the walls, windows, doors, and in some other areas. The possible sources of these leaks make it more challenging to retain heat.
Needless to say, the more open spaces there are, the more likely you would need a powerful type of heater too. These devices are expected to work twice as hard to achieve and maintain the desired temperature level. So, choosing a device with a slightly greater capacity would make it easier to deliver the expected heat output.
The structure of the greenhouse would also tell you which type of heaters are applicable or not for your space. For instance, a gas heater is not recommended to use on enclosed conservatories because they produce carbon emissions. Moreover, an electric heater can only be used if your greenhouse has viable access to a power outlet.
Type of Plants 
Different types of plants demand different levels of heat too. Some like it warmer than others. So, you must be able to identify the specific heat requirements for each of your plants. That way, you can find an appropriate heater model with settings that can deliver the right temperature levels.
It would also be wiser to group plants with the same heat requirements together. Warm-loving plants must be placed closest to the heater. While those who rather prefer to be on the cooler side must be placed the farthest away from the equipment. Doing so enables you to find a good balance despite the varying plant needs.
Type of Heater
We have already discussed the different types of space heaters. Although they all serve the same purpose (to warm your greenhouse), they have differences when it comes to functionalities.  Some are rather basic while other models are more advanced and complex.
Heaters are definitely not a one-size-fits-all kind of equipment. So, make sure to get familiar with the pros and cons of each type. Know which features will suit and serve best to your advantage. 
For example, gas heaters are excellent for generating tons of heat and wirelessness. But, the downside is that they produce carbon emissions that can be toxic to both humans and plants. On the other end, electric oil-filled heaters are awesome in terms of energy efficiency and heat retention. However, they require access to a power source to operate.
Weigh in which functionalities work for you and which ones are okay to compromise. This is one effective way for you to narrow down your choices in determining the best type of heater for your greenhouse.
Energy Efficiency Features
Energy efficiency is one major aspect to consider when looking for a space heater. These devices tend to work long hours throughout the day to prevent frost and keep the greenhouse warm, especially during the nighttime. Thinking about it, it can be quite costly to keep the operation running. 
That is why it is important to look for a heater with an automation feature. This functionality enables the device to automatically shut off when the desired temperature level is already achieved. It will only trigger to turn the machine back on if it detects a drop in the temperature again.
Through this system, the energy is being used more wisely. It knows when to generate heat. And, it also knows when it is enough. Hence, saving you a lot more energy and money too, of course.
What's your budget for a greenhouse heater?
As mentioned, running a space heater can be quite costly. Either or both in the outright and in the operational cost. Some heater models have an expensive upfront cost but they are cheaper to operate and maintain in the long run. Meanwhile, there are also some that are very cheap to buy but are rather more expensive to use for a longer period of time.
Know which one are you most comfortable spending your money on. Do your calculations. If budget permits, go ahead and invest in a high-quality unit that will eventually give you the most value for your money. 
Then again, it wouldn't hurt as well to choose the more affordable options. Just know that there will be some trade-offs when it comes to the operational costs. Nevertheless, it wouldn't matter as much if you intend to use the equipment for a short-term or occasional basis only.
FAQs On Using A Greenhouse Heater
When does my greenhouse need a heater?
The ideal temperature within the greenhouse is between 80°F to 85°F. Colder than that range, you may already need the help of a heater to keep the space warm. 
How can I heat my greenhouse without electricity?
Gas heaters would be the most common non-electric heater type. These models produce great amounts of heat at a fairly affordable cost. Solar heaters are another cost-effective and sustainable alternative.
How do I know how much heat my greenhouse needs?
There is actually a more technical approach to this. You can multiply the total square footage of your greenhouse by the temperature difference derived from the heat loss value. This will tell you the number of BTUs or British thermal units your greenhouse would likely need.
Do I need an electric outlet in my greenhouse to install a greenhouse heater?
Not necessarily. There are non-electric heater alternatives available. Nevertheless, having access to an electric power outlet presents you with more options. This gives you more versatility to choose features that are less apparent to gas and solar types of heaters.