Last Updated on February 15, 2022 by Real Men Sow
Living walls make small gardens more interesting by bringing life to an otherwise empty space. You can plant them with perennials, annuals, herbs, or vegetables to add a splash of colour. You can now start building a walled garden with a stylish living room in many locations with simple kits.
Living walls can be purchased in kits and can be scaled to fit your space and budget. Even one panel can make a difference. These are easy to set up and can be attached to a wall or fence in no time. There are many options for watering your living wall. Some come with a top box that you can fill with water if the mains is not available.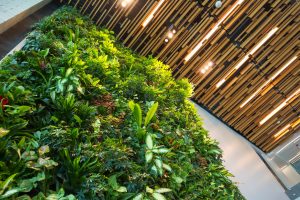 What's the Right Size to Build a Walled Garden?
Living wall plants that are compact should not exceed 50cm. They also need to be strong enough to withstand frequent pruning. They should be arranged in angled or vertical drifts to prevent them from shading the lower plants. These drifts can be interlinked to create a beautiful tapestry effect. For a more modern look, you can group the plants in squares or rectangles. This will help them get established faster.
Steps To Building A Walled Garden:
Place the tray in the frame. Next, attach the irrigation tube (4mm) to the tray, and click it in place so that the drippers are at the right place.

The tray should be filled with a peat-free, multipurpose compost. Then, use cable ties to attach the top panel. To settle the compost, water it with a can filled with rosewater.

Use a teaspoon to create a hole in each compost and plant a plug. For a natural look, plant one variety per tray. Or plant a series of 'ribbons' that run across the panels.

Use your watering can to water the plants thoroughly. This is your last chance to water the plants before you place them in a vertical position. Then, you can switch to the irrigation system.

Attach the included living wall brackets to your fence or wall using wood screws. Hang your tray from the brackets. To fill the vertical space, proceed to add more trays.

The in-built irrigation system can be connected from one tray to another, and then attached to the mains water supply.