Last Updated on November 1, 2022 by Real Men Sow
6 Best Rotavators to Cultivate Gardens: A Product Review & Buyer's Guide (UK)
Table of Contents
Rotavators are one of the greatest investments for serious gardeners. This equipment is like your usual tillers BUT with wheels. Hence, they efficiently drive up the blades to produce more churning power to cultivate the soil.
In horticulture, cultivation is essential to improve soil health and seedbed preparation. By breaking up the earth, you are promoting good aeration and drainage. Thus, making it more conducive for growing fruits, vegetables, and other plants.
In this article, we gathered best of the best rotavator products in the market. We gladly did each a product review so you will know their pros and cons. If you are new to rotavating, make sure you read our guide on how to use a rotavator.
Moreover, we also included a buying guideline for consumers like you who are looking forward to purchasing a high-quality rotavator. These tips will help you decide which type of rotavator is perfect for you and your garden. So, ready? Let's dig in!
Our Top Pick
T-Mech 53cc Petrol Garden Rotavator
Overall Best
Features
Petrol Power Source
150 mm depth capacity
For Small to Medium-sized Lawns & Gardens

Best Budget
Hyundai HYT1500E Corded Electric Garden Rotavator
Features
Electric Power Source
220 mm depth capacity
For Small to Medium-sized Lawns & Gardens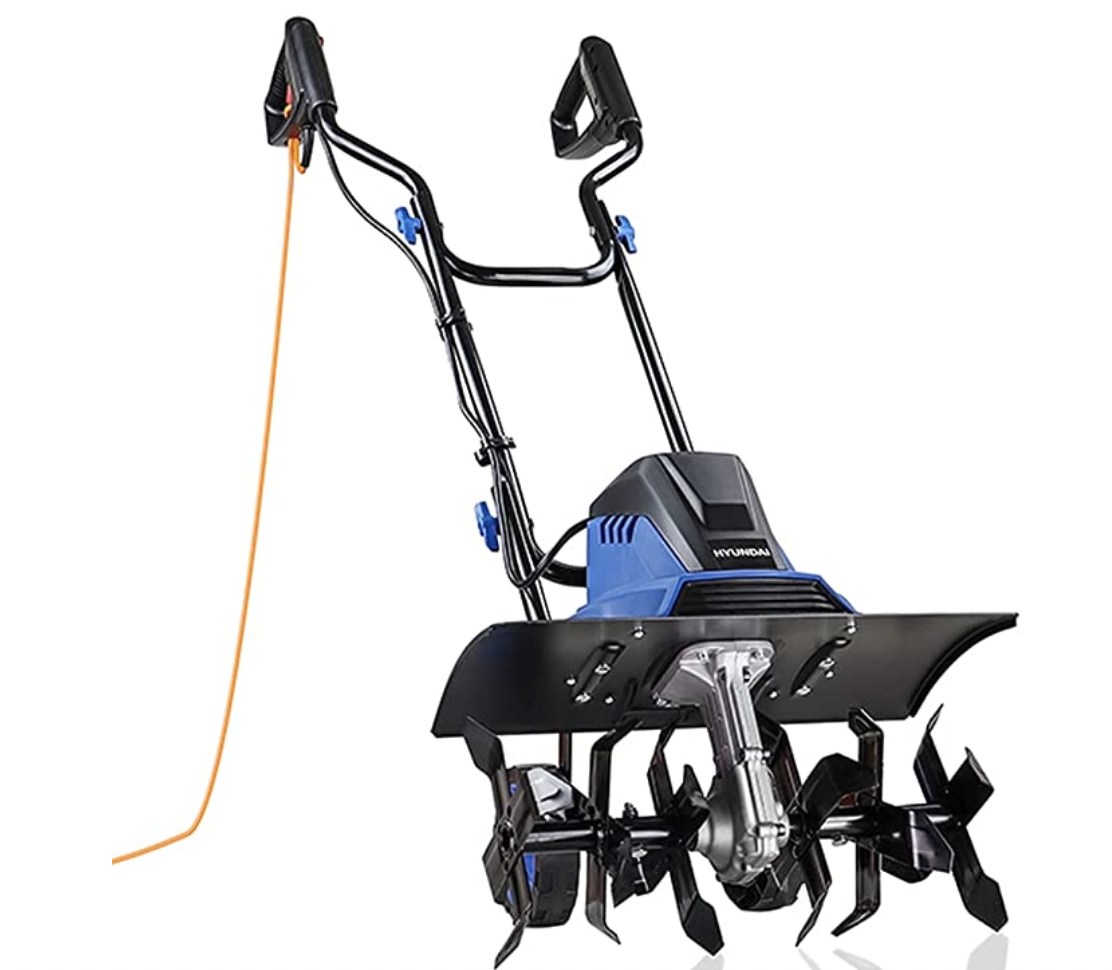 Best Garden Rotavator Products For Cultivating All Garden Sizes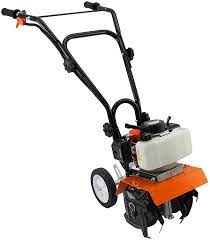 This mini-tiller comes with a 52cc air-cooled engine. It has a capacity of up to 3 horsepowers with a maximum speed of 9000 revolutions per minute. Such size and power are perfect to use on small to medium gardens and lawns.
The T-Mech rotavator also features 4 sets of rotating blades. Each of which comes with 4 sharp teeth. This can bury into the soil up to 15 centimeters deep. Just the right depth you need for maintaining your vegetable garden, flower beds, and lawn borders.
This rotavator is petrol-powered giving your equipment more strength without the restriction of a cord. Its two-stroke engine has an oil mix ratio of 40:1. It comes with a 1.2-liter capacity tank made with durable plastic. It is translucent so you can easily check on the actual petrol levels.
The equipment has a substantial weight of 18 kilograms. Good thing, it comes with a pair of heavy-duty rear wheels for proper weight distribution and easy transport. It is also built with a comfortable height of 98 centimeters so you don't have to bend so low to operate the equipment.
The package also includes a tool kit, a fuel mixing bottle, and a funnel to help operate and maintain your equipment. Moreover, safety is put into priority. A set of CE-certified PPE is enclosed within the package. This includes a pair of leg guards, gloves, safety glasses, and ear protectors.
Pros
Small but powerful engine
Wireless, petrol-powered operation
Designed with 4 rotor blades
Tines can reach up to 15 centimeters
Free accessories and safety gears included
Cons
Price point is steep
It works best for smaller allotments only
A bit complicated to assemble
FSJD TWO-STROKE PETROL-POWERED SOIL ROTAVATOR
This FSJD rotavator model is definitely the creme de la creme of all the garden rotavators. It is a commercial-grade tool with premium features and design.
To start with, this rotavator comes with a 68cc petrol-powered engine. It can generate up to 3 HP of power and a rated speed of 6500 up to 7500 RPM. This two-stroke engine has an oil mix ratio of 25:1. It also has a 1.2-liter capacity tank made with high-quality translucent plastic for an easily visible fuel line.
This rotavator is designed with 4 sets of steel blades made from manganese. Thus, you can expect the quality of these rotors to be harder, sharper, and more resistant against abrasions and corrosions. These blades have a tillage width of 41 centimeters and a depth of 15 up to 30 centimeters. You can also control the depth with the help of the resistance bar.
Although the equipment weighs 30 kilos, transport is not a problem with this rotavator. It has a pair of micro rear wheels with auxiliary brackets. This makes the tires more stable, easy to push/pull, and maneuver in any direction you wish.
Safety is also a vital part of its design. The rotavator comes with an all-steel protective cover to shield the operator from backlashing small stones and other debris. Moreover, the anti-collision bar is placed upfront to protect the motor engine from accidental impacts.
Pros
Powerful commercial-grade engine
Wireless, petrol-powered operation
With resistance bar to control tillage depth from 15 to 30 centimeters
Safety features
With a two-step air filter system
Cons
Premium quality demands a premium price point
It weighs heavy at 30 kilograms
HYUNDAI HYT1500E CORDED ELECTRIC GARDEN ROTAVATOR
The Hyundai HYT1500E model is an electric-powered rotavator. It features a 1500 watts motor that promises to deliver high-power engine performance. It has an all-copper construction that tends to generate less heat, less noise, but higher energy efficiency. Thus, enabling your engine to enjoy a longer service life.
Unlike most rotavators, this model is designed to have 6 rotor blades. It has a working width of 45 centimeters and a depth of 22 centimeters. With this many blades, you can till more soil in every pass.
The HYT1500E rotavator is an electric-corded garden tool. The product comes with a 10-meter cable that allows its operator ample area to cover. Maneuvering is easy peasy too with its clever wheel design. Not to mention, the equipment is ultra-lightweight at only 11 kilograms.
For safety, this rotavator is equipped with electronic brakes to automatically stop the blades in cases of emergency. The long rear handles along with the fingertip controls make the operation a lot more comfortable and ergonomic. When not in use, you can fold the long handle to make it compact and easier to stow away.
On top of it all, the product comes with the Hyundai 3 years warranty. As a consumer, this gives you extra security and much-needed peace of mind.
Pros
All-copper motor construction
6 rotor blades
With electronic brakes for safety
Foldable handles
Supported by Hyundai 3 years warranty
Cons
Area of coverage is restricted by the 10-meter cord
Presence of wiring can be a hassle to move around
WEN TC0714 7-AMP ELECTRIC ROTAVATOR
The Wen TC0714 rotavator is equipped with a 7-amp motor engine that can generate up to 380 rotations per minute. It is electric-powered thus requires a direct connection to an AC outlet. The good thing is that you have a more consistent flow of power. However, the length of the cord itself might restrict your scope of work. Nonetheless, you can always use a gauge 14 extension cord to provide you with the extra length.
This tiller comes with 4 blades that have 4 tines each. Thus, giving your a total of 16 sharp teeth to dig and cultivate your soil. The blades have a tilling width of 14.2 inches and can burrow 8.7 inches deep.
The TC0714 also has 2 removable 5 5/8-inch wheels. This enables the equipment to be easily transported anywhere you wish. At the same time, the convenient removal of the wheels allows it to be more compact and easy to store in between jobs.
This rotavator is also designed with a dual-handle system to give its operator better control over the machine. It also has an overload protection feature that automatically shuts down the engine when it comes into contact with hard, immovable objects. Thus, minimizing the damage to the blades the tiller, and of course, the user.
Pros
A total of 16 re-inforced steel blades
With 2 removable wheels
Dual-handle system
Overload protection feature
Backed by 2 years limited warranty
Cons
Ideal to use for small allotments only
Area of coverage is restricted by the cord and the availability of an electric power outlet
EINHELL GE-CR 30 LI-SOLO POWER X-CHANGE CORDLESS ROTAVATOR
The Einhell GE-CR 30 is a cordless type of rotavator. It is powered by two 18-volt battery packs so you won't ever get tangled up by cables. You can conveniently use this device off-grid or in any type of allotment without worrying about the availability of a power outlet or supply of petrol.
This model belongs to the Power X-Change series that features high-performing batteries and charger systems. The products offered within this range are compatible to use with any other Power X-Change device. This particularly works to your advantage especially if you have multiple equipment tools from Einhell.
The GE-CR 30 rotavator is equipped with 4 robust blades. It has a tilling width of 30 centimeters and a depth of up to 20 centimeters. Perfect for cultivating different types of terrains including clay-rich and heavy soils.
To ensure safety, this machine is equipped with a two-point switch mechanism. This prevents unintentional operation of the rotavator or unauthorized use by children. Furthermore, it is also designed with a blade guard to help shield the user from flying rocks and debris.
This rotavator also comes with a pair of adjustable wheels. So, you can appropriately set the height of the equipment depending on the comfort of the operator. Speaking of comfort, it also comes with long, ergonomic handles with soft grips. It is foldable too so you can easily stow it away when not in use.
Pros
Cordless design
Uses long-lasting lithium-ion batteries
Ergonomic long handles
Height-adjustable wheels
Two-point safety switch
Cons
Batteries and chargers are not included in the kit
Your work duration and area coverage depends on the size of your battery pack
GREENWORKS G40TL BATTERY-POWERED ROTAVATOR
The Greenworks G40TL cordless model uses 40-volts lithium-ion batteries. There is absolutely no need for petrol, oil, and most importantly, there is no carbon emission. It promises to strike the ground up to 2,000 times per minute.
This rotavator is equipped with 4 sets of strong forward-rotating blades. It is made with durable metal that has been laser cut and specially hardened for optimum precision and performance. The blades have an adjustable tilling width between 21 to 26 centimeters. You can also adjust the height of the equipment to get a varying range of tilling depth of up to 13 centimeters.
This device also features an easy-to-access safety switch-on lock that prevents unintentional use. Aside from safety, this machine promotes comfort with its rubberized anti-vibration grip surfaces. This feature allows the operator to have a better grip on the handles without slipping or getting its arms easily strained.
The G40TL model belongs to the GMax series of products. This enables you to use one battery system for all Greenworks 40-volt devices. Thus, saving you money and sparing you from the hassle of buying different battery packs for every single tool.
Pros
Cordless design
Uses one lithium-ion battery system for all 40V devices
With safety switch-on lock
Rubberized anti-vibration grip
3 years product warranty and 2 years battery warranty
Cons
Batteries and chargers are not included in the kit
It requires at least 4AH battery system to function effectively
What Is The Best Rotavator For Clay Soil?
Clay is a fine-grain type of natural soil particularly composed of clay minerals. Because of the finest of its texture, it tends to create smaller pores in between the particles. The tiny spaces it forms provide an abundant surface for the water molecules to adhere to.
On that account, the surface area is what makes the clay soil more capable to retain a large amount of water. In effect, this type of soil becomes very wet, heavy, and sticky when exposed to significant amounts of water. The great volume of moisture absorbed makes it very difficult to dry out wet clay soil.
And when they do dry, the clay particles shrink. Thus becoming very compact and hard as a rock. That is the main reason why clay soils are more difficult to cultivate.
Which Type Of Rotavator is The Best For Clay Soil?
You must choose a rotavator that is built for medium to heavy-duty jobs. These equipment are designed with more solid and durable construction. So, it can well-accommodate tougher types of soil and terrains.
Make sure to choose a rotavator with stronger engine power. Thus, it can help reduce your effort to operate the equipment. It is also wise to opt for a rotavator with reverse-rotation tines. These blades create more aggressive and deeper tilling. Thus, more apt to use on compact and heavier earth such as dry clay soil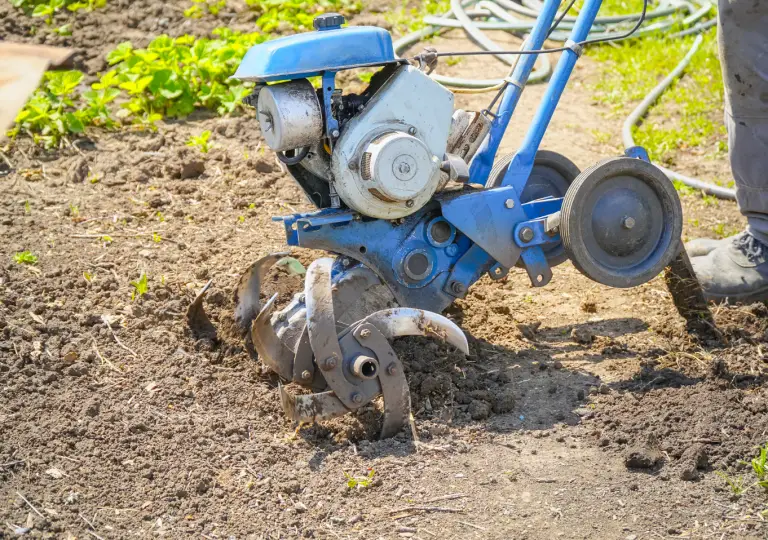 What Are The Different Types of Rotavators?
Electric vs Petrol Garden Rotavators
The electric rotavators are probably the most popular choice for domestic uses. This type is suitable to use on small to medium-sized lawns, gardens, and allotments. They are not as robust and powerful as petrol rotavators, but they can deliver the job well too as intended.
There is more to like about electric rotavators. For one, they are lightweight usually weighing less than 30 kilograms. Hence, perfect for operators with limited physical capabilities. Electric rotavator models may either come as corded or wireless (battery-operated). They are more environmentally friendly since it does not produce carbon emissions. Its engine is also less noisy. Thus, you don't have to worry about disturbing your neighbors while using the device.
They are fairly cheaper too both in their outright cost and in maintenance. They do not need frequent changes in air filter, engine oil, and spark plugs. So, you have relatively lesser expenses when it comes to its service and maintenance.
On the other hand, the petrol-powered rotavator is designed with a more powerful engine to serve a more demanding job. Thus, they are perfect to use for areas with larger coverage and tougher terrains. This type of rotavator is often the ideal choice for professional or commercial uses. Nevertheless, a better engine means they weigh more and cost more expensive too. The larger models of petrol-powered rotavators can weigh more than 30 kilograms. Thus, some users might find it more challenging to control and operate.
Aside from that, it can also be costly to maintain a petrol rotavator. You need to fuel the engine every time you are going to use the machine. The spark plug, air filter, and engine oil require to be changed regularly too to keep it in good condition.
To simply put it, they cost more because they can do more. You are essentially paying for its robustness and its high-performing power to accomplish strenuous soil tilling jobs.
Light vs Heavy-Duty Rotavators
Light, medium, or heavy-duty rotavators basically serve the same function – to till the soil. Nevertheless, this also determines the equipment's capacity to deliver the purpose to specific tasks.
The light-duty rotavators are most suitable to use in small gardens, flower beds, vegetable plots, and lawn borders. They are more apt to use to prep the soil for planting or sowing. They tend to be smaller in size and lighter in weight which makes them easier to maneuver around limited areas. They cost the cheapest too among all types.
The heavy-duty rotavators are designed to accomplish bigger and more laborious jobs. They are built for tough and more capable to cultivate different types of soils and terrains. Hence, it is the ideal choice for larger allotments, farming, and other commercial uses.
Heavy-duty rotavators are literally massive and heavy. Not to mention, they are very expensive too. Thus, some people opt to hire the equipment rather than invest £500 to £1,000.
The medium-duty rotavators are somewhere in between the functionality of light and heavy-duty rotavators. So, if you want a cultivator that can perform better than a light-duty rotavator but is not as huge as the heavy-duty models, then the medium is your best bet.
Buyer's Guide On Picking The Best Rotavator For Your Garden
We've discussed different types and gave you our best rotavator product reviews, but what are the factors that you, as a single buyer, should pay attention to?  Here are just a few things you might want to consider when purchasing the best rotavator for your own garden.
The kind of soil you are likely to till should be your primary basis for choosing a rotavator. Soil types help you determine the level of quality you should opt for in a product. A work area that has hard, clumped, stony, and greatly uneven surfaces are much more challenging to cultivate. Hence, it would be wiser if you rather invest in a heavy-duty rotavator. This should give you the power and the durability to perform the task efficiently.
On the other hand, lawns and gardens with fairly good soil conditions can often get away with basic light-duty rotavator models. Soils that are medium-textured are usually easier to till. Thus, do not need plenty of blades to get the job done.
How small or how big the area is to cultivate can also contribute to your decision. The gist here is to look for a rotavator that can function correspondingly to the size of the work area.
Smaller gardens need a mini to small-sized rotavator to fit right into the limited space. On the other hand, larger ground areas would benefit more from full-scale rotavator models. The blades are set wider and so will give you more coverage in every pass.
Of course, safety must always come first. When choosing a rotavator, try to look for features that best promote the safety and protection of the operator. Features like the two-point switch, electronic brakes, overload protection, and all-steel cover are just a few of the things worth having in your equipment.
As mentioned, rotavators do not come cheap. A piece of equipment like this usually ranges between a hundred to a thousand UK pounds or more. They are a serious investment for your garden.
Thus, you have to set your preferred budget beforehand. From there, do your research for the best rotavator product within this price point. That way, you will know exactly what to expect out of the product.
Product warranties are very important especially for expensive tools like rotavators. They basically provide the consumer the peace of mind that the equipment is in good condition and free from defects. It also gives the customer the right to seek assistance from the manufacturer when it encounters issues with the product.
As a buyer, makes sure to consider the scope of the terms and conditions of your product warranty. The longer and more extensive the coverage, the better on your end.