Last Updated on February 15, 2022 by Real Men Sow
Are leaf blowers illegal? How can such a useful machine be banned when it can clean up your yard?
Well, even though it's a fun machine to use in your garden, not all U.S. States agree with that. So, in this post, we will dive into where and why leaf blowers are banned. 
Not all states permit you to use one because, in certain cities and towns in California, Colorado, and Illinois, leaf blowers are banned or illegal. Both electric and gas leaf blowers can be subject to bans.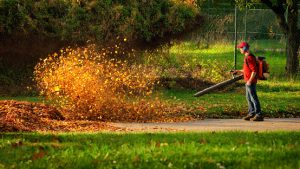 Where Are Gas Leaf Blowers Banned?
Gas leaf blowers are a popular legal target because of growing public concern over air pollution (including climate change), sound pollution, and even mental and emotional health. You should be familiar with the restrictions in your area, state, and county on gas leaf blowers if you are a fan. This is especially important if you own one, plan to move it, or want to buy one.
Here Are The Places Where Using Leaf Blowers Are Banned
California
Not a surprise that one of the most environmentally-friendly states has some of the hardest restrictions on the use of gas leaf blowers.
You don't need to buy them in places that ban them. If you are moving to California with an existing one, here's where they are prohibited:
Belvedere, Berkley, Beverly Hills, Carmel, Clarmemont, Del Mar, Hermosa Beach, Indian Wells, Lawndale, Laguna Beach, Los Altos, Los Gatos, Los Angeles, Malibu, Manhattan Beach, Menlo Park, Mill Valley, Newport Beach, Ojai, Palo Alto, Piedmont, Santa Barbara, Santa Monica, Solana Beach, Tiburon, and West Hollywood.
The vast majority of these areas have a high population density, as you can see from the list. You will also notice that many of these laws are related to noise and the blowing of yard debris onto private or public property.
It should be noted that there is a movement within the California legislature to ban all gas leaf blowers in California.
Colorado
Aspen, Carbondale, and Westminster
Illinois
Arlington, Evanston, Glencoe, Highland Park, Lincolnwood, Wilmette, and Winnetka (use in Fall season allowed often)
Massachusetts
New Jersey
The Township of Montclair
New York
It's not surprising that New York is second in the list of places where gas leaf blowers can be banned. If you have one already, here are the locations where they are prohibited:
Bronxville, Dobbs Ferry, Great Neck Estates, Greenberg, Larchmont, New Rochelle, Oyster Bay, Russell Gardens, Sleepy Hollow, Tarrytown, Thomaston Village, Village of Tuckahoe, White Plains, and Yonkers
Vermont
Burlington (compliance goes into effect by May 2022)
These are the places where gas leaf blowers are prohibited. Many places have strict restrictions about when and how loud they may be used. These lists should be considered fluid as laws are always in some form ( like California's leaf blower ban) of amendment. For any updates on gas leaf blower laws, you should always consult the local council
Where Are Electric Leaf Blowers Illegal?
Electric Leaf Blower isn't more environmentally friendly, and therefore, has a ban on some places. Even if they have a better emission standard, there is still a challenge of noise pollution and it can still blow yard debris on other private or public property.
Some places have the same restrictions on decibel levels on both gas leaf blowers and electric leaf blowers. Some of California ban leaf blowers of any models, and these places are: Del Mar, Hermosa Beach, Laguna Beach, Santa Monica
Are Leaf Blowers Considered Noise Pollution?
Before you answer the question of whether leaf blowers are noise pollution it is best to understand what pollution is, and why noise pollution is a concern.
But first, what is pollution? It's basically when something foreign is introduced into an environment. This can have negative effects on your neighborhood or the sky.
Can noise cause harm? Yes. Yes. Anything exceeding 85 decibels (80-85 dB) can cause hearing damage. It depends on how loud the noise source is and how long it is being exposed for, but any level above 80 dB can be harmful to your hearing over prolonged exposure.
A leaf blower that is more than 80 decibels and has been in your neighborhood for a prolonged period of time could be considered noise pollution. The Centers for Disease Control states that hearing damage can be caused by exposure to a leaf blower gas louder than 80dB for two hours.
Can an electric leaf blower create noise pollution? It can if it reaches 80-85 dB. This is why noise restrictions are often implemented in places that use both electric and gas leaf blowers.
Why Are Leaf Blowers So Loud?
The engine is the main reason why gas leaf blowers can be so loud. The following are the steps that engines follow to operate:
Air intake

Air compression

Mist injection of fuel

To ignite the fuel electrically, sparks are used to produce combustion

Conversion of combustion to energy for work
The engine's primary purpose is to generate energy via internal combustion. This is then converted to work. That energy is then converted to movement in a car. This energy is then converted into the rotation of a fan in a gas leaf blower. The fan creates air movement that allows leaves to fly.
The fan makes a lot of noise because of its whistling and whining sound, as it pulls in outside air through a narrowing funnel. It works like a pump and there will be some noise, as with all things that have moving parts. Even electric leaf blowers can be quite loud. It doesn't have an engine but still has a rotating fan.
How Loud is a Leaf Blower?
The volume of leaf blowers can vary depending on whether you are an operator or a passerby. The decibel levels for the operator depend on whether it is a gas leaf blower or an electric one. They can range from 95 to 115 dB depending on which type.
A 50-foot distance is used as a standard for measuring averages by a person standing nearby. The goal is 64 to 78 dB.
What Time Can You Start Using a Leaf Blower?
The time you can use a leaf blower for personal or commercial purposes will vary depending on the local regulations. For legal hours, it is best to check with your local council or ordinances. In most cases, however, the legal hours of use are during normal work hours. (anywhere between 8:00 am to 6:00 pm or daylight hours).  
What is The Quietest Leaf Blower?
The quietest overall leaf blower:
The quietest electric models can be as low as 59 to 65 dB. Different websites will have different opinions on which model is best. Make sure you do your research, but remember that 59-65 dB is the range to look for if the electric model you are looking for is quietest.
The quietest gas leaf blower:
At 65 dB, the Echo Leaf Blower was once considered to be the most quiet gas leaf blower. Technology is constantly improving. As with electric models, it is important to do your research as reviews and preferences can vary.
Conclusion
I am afraid that if you live in a lot of these states, you won't be able to use your leaf blower. Remember that the ban states are California, Colorado and Illinois, Massachusetts. New Jersey, New York, Texas, Vermont, Massachusetts. It's best to learn about whether leaf blowers are illegal in your area before you buy one.