Last Updated on February 11, 2022 by Real Men Sow
I love a bit of allotment geek. Last weekend, I borrowed a surveyor's wheel, and took precise measurements of my plot, ready to start this year's plan. Then I found something tremendous – online allotment planners.
What Does An Online Allotment Planner Do?
The planner will also estimate how many plants you can cram into a row, before creating you a planting plan adapted to your own regional climate and setting up an email reminder in case you're the forgetful type.
There is an annual subscription of £15, but if you're a beginner or looking maximise your harvest, then this planner is perfect.
Benefits of An Allotment Planner Software
For 2011 at least, pen and paper are out, point and click are in. I found three neat planners, each with their own elements of electronic charm, and enough variety to get us all dragging and dropping.
Free Online Allotment Planners To Try
If you happen to be a square-foot gardener, then the free Kitchen Garden Planner could be for you. The Planner kindly tells you how many of the 54 veg available will fit tidily in each square foot block, and provides you with sowing instructions to boot.
How to use an online allotment planner?
Pick your vegetable, move it to where you fancy planting, and that's all there is to it. In fact, a whole plot plan could be done and dusted in 10 minutes.
There's no metric option for us pesky kids, but you can edit the veg names to remember seed types.
And best of all, it won't cost you a – er – bean.
Should you be more concerned with creating pretty Alys Fowler-inspired garden-allotment hybrids or finding a nice home for your chickens than the size of your yield, try the Garden Planner 2.5.
For £15, you get all manner of items to add to your lovely plan, including animals, furniture, ponds and shed welcome mats. There are a few vegetables to sow in amongst the beautifulness, but you don't get any growing instructions.
It does look nice though. I'd frame the plan of my shed area (above) and stick it on my wall.
Example Of An Online Allotment Planner
For full-on geekiness, it's got to be the growveg.com Garden Planner (below). You have to draw the chickens yourself, but the stack of features makes up for this.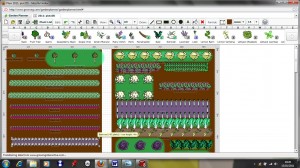 As well as growing advice, crop family groups, and a choice of 130 vegetables, fruits, and herbs, you can use the view by month option, which is especially handy for efficient succession planting.
These tools come with consequences. They're highly addictive. I've spent a week messing about already. My lovely girlfriend is proposing No Computer Nights. You may lose your partner and your social life.
On the bright side, you won't go hungry.