Last Updated on November 1, 2022 by Real Men Sow
Best Brush Cutter Products For Brambles & Tough Weeds Reviews 2022 (UK)
Nothing can be more frustrating than tackling tough weeds and brambles in an otherwise neat garden. They are annoyingly invasive and destructive to your precious plants. 
But, fret not, brush cutters can help effectively resolve this issue. 
Brush cutters are designed for clearing out overgrown grasses, weeds, hedges, and brambles. 
This garden tool is heavier and more powerful than the typical lawnmower. So, they are your best choice for accomplishing tougher jobs. 
In this article, we will discuss the different types of brush cutters. We will also help you figure out which one is best for you and your garden. We have also included 5 of our top pick brush cutter products to give you a great head start.
Why Are Brambles Hard To Remove?
Brambles have an incredibly tough root system. Despite cutting their stems, they can still persist to grow back again and again. As long as there are fragments of its stem and roots left behind, it will always find its way to regenerate and survive. 
To further add, brambles grow absurdly fast. In fact, up to 3 inches a day. Plus, they have the tendency to develop shoots from their underground rhizomes. These instances all the more make them so challenging to eradicate totally.
Product Reviews On The Best Brush Cutters For Brambles
EINHELL 3411320 AGILLO POWER X-CHANGE CORDLESS BRUSH CUTTER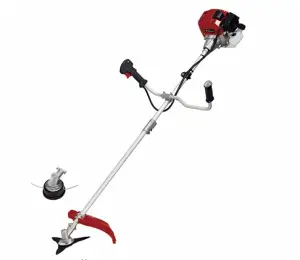 The Einhell Agillo model features a high-quality 3-tooth blade with a cutting width of 25.5 centimeters. Meanwhile, its single-line spool function has a longer cutting width of up to 30 centimeters. It also comes with a bump feed system to allow hassle-free adjustment of the line length.
Product Description
This battery-powered brush cutter is equipped with a front brushless motor. It is strategically positioned to optimize power transmission and weight distribution. With a brushless type of motor, the performance is enhanced without the usual wear and tear you see from brushed motors.
This brush cutter is designed with universally adjustable twin bicycle handles. It is made from aluminum and is covered with soft-grip rubber to make it more comfortable to use. Furthermore, the spindle-lock system allows for the quick change of the cutting equipment. On top of that, it comes with an electronic speed control function that can reach a maximum output of up to 6300 rpm. 
This particular model belongs to the Power X-Change series. All rechargeable batteries within this system are compatible to interchangeably use with any of the PXC tools.
MAKITA DUR369AZ TWIN 18V LI-ION LXT BRUSHLESS BRUSH CUTTER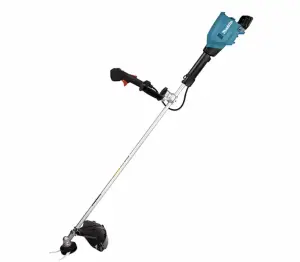 The DUR369AZ model comes with a 2-tooth 9-inch metal blade. It has a cutting diameter of up to 430 millimeters. This blade can well cut through and clear out tall and heavy grasses, weeds, and bushes.
Product Description
This bicycle handle brush cutter is equipped with a Makita-built BL brushless motor. It is technically a lithium-ion battery-operated device. But, the motor can produce power equivalent to that of a 30cc gas brush cutter. 
It also features 3-speed options to enable you to select between low, medium, or high cutting speeds. The constant speed control function is also available to allow you to maintain the cutting speed under load. Nevertheless, its Active Feedback Sensing Technology automatically shuts down the device when it detects unusual slowing down of the rotation speed.
To ensure protection, the tool comes with a built-in electronic current limiter. This safely regulates the current to prevent overload. Meanwhile, the reverse rotation switch function helps to easily remove stuck grass clippings and tangled weeds from the trimmer head.
RYOBI RBC 1226I ELECTRIC 2-IN-1 BRUSH CUTTER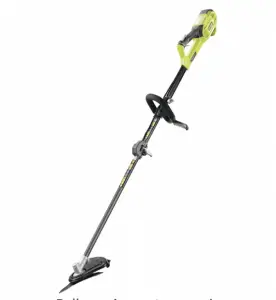 This versatile starter kit comes with a quick-release mechanism. This enables you to switch between other types of attachments include hedge trimmer, pole pruner, and blower. It is compatible to use with Ryobi's Expand-It and Smart Tool range of products. 
Product Description
This multi-function tool is a loop handle brush cutter and grass trimmer at the same time. It is a corded electric device with a powerful 1200-watt motor. This makes it a suitable choice for smaller tasks that involve tall or wet grasses.
It features a 26-cm Tri-Arc blade made from hardened steel material. This makes it more than capable to tackle thick bushes, tough weeds, and brambles. Moreover, it also comes with a 38-cm bump-feed line trimmer spool. This enables you to release an extra line with a simple bump at the bottom of the trimmer head. 
EINHELL 3436540 GC-BC I AS 52CC PETROL BRUSH CUTTER
The brush cutter is designed with aluminum two-hand bicycle handles. It is adjustable to fit the arm comfort of different users. The tool also features a split shaft system. This enables easy transport and space-saving storage of the equipment.
Product Description
The Einhell 3436540 model is actually a 2-in-1 brush cutter with a grass trimmer functionality. It comes with a low-vibration two-stroke air-cooled engine with 52cc of power. The machine is run by petrol thus allowing you to enjoy a cordless operation on large open areas. With a 0.9-liter fuel tank, it can cover a fairly decent ground size.
This brush cutter is equipped with a 3-tooth blade. It has a cutting width of 25.5 centimeters. Alternately, you can replace it with a twin-line spool. This spool has an automatic jog line feed to make it more convenient. 
SCHEPPACH BCH5200PB PETROL BRUSH CUTTER
For safety, the brush cutter is designed with a stop switch and throttle lock. These features protect the user from accidental operation of the device. Thus, preventing untoward injuries from occurring.
Product Description
This German-engineered brush cutter is equipped with a 2-stroke petrol motor.  With a 1.8 horsepower engine, this device is suitable for both semi-professional and household garden use. It comes with a 1-liter fuel capacity to allow a decent amount of ground coverage.  
The BCH5200PB is a dual-purpose tool. It comes with a brush cutter with a cutting width of 255 millimeters. At the same time, it also has a grass trimmer function with a much wider cutting width of up to 450 millimeters. Furthermore, its quick-release mechanism makes it a lot easier to switch between cutting heads. 
This brush cutter is designed with adjustable bicycle handles. It is accompanied by a shoulder strap to support a proper distribution of weight. On top of that, the tool comes with a built-in anti-vibration technology to ensure stability and minimize user fatigue.
What Is The Difference Between A Grass Trimmer And A Brush Cutter?
Grass trimmers basically are grass cutters designed particularly to use on areas where the lawnmower can no longer access. This tool is ideal for smaller tasks such as trimming lightweight grasses.
On the other hand, the brush cutters may look similarly the same with grass trimmers at a glance. Nonetheless, they have a heavier and more powerful engine. Thus, they are more suitable to use for tougher tasks like clearing tall grasses, heavier brushwood, and even cutting smaller trees.
Different Types Of Brush Cutters
Bicycle Handle Brush Cutters
As the name implies, the handles are designed much like that of bicycles. This allows you to have three-point control over the machine. With your body as the carrying point and your two arms on the handles to create a stable triangular pattern. 
This type of brush cutter is designed to work best in horizontal sweeping motions. This makes it perfect to use on flat surfaces with large patches of grass and low levels of weeds. It is also more favorable for areas with minimal hidden objects in the ground. Reversal of the direction of the cutting blade tends to be delayed. Hence, it might not readily respond to sudden shifts in the direction when you try to avoid hitting bumps or rocks.
Using this brush cutter on tall grasses is not likely recommended and can even be dangerous. Vertical manipulation of the machine would mean that you have to pull the handles up above your chest level. Or, you would have to arch and lean back to accommodate the height. Both circumstances are definitely not ergonomic and can put a lot of strain on your back and arms. This leaves you less stable and more prone to accidents.
A sloping ground is also not ideal for bicycle handle brush cutters. With its design, it would be difficult to keep the blade parallel to the slope.
Eventually, you might find yourself once again arching uncomfortably. Otherwise, the blade might end up burying into the ground.
Loop Handle Brush Cutters
This is your go-to choice for everything that the bicycle handle type cannot provide. It can work well on cutting both low and high-level kinds of grasses. It can also be used on woody types of weeds, steep slopes, and grounds with significant rocks or any obstructing objects. 
This is made possible because of its three-point in-line mounting system. The user's body serves as the load-bearing hitch point. While one of the arms is positioned up front and then the other at the back. This gives you more precise control over the brush cutter at any point of direction.
Unlike the bicycle handle, this particular model is designed to have separate handles. It has a loop handle in the front and a shaft handle on the backside. The loop basically provides you with a more secure grip as you move your brush cutter up and down or side to side.
Yes, the loop handle brush cutters can seem to do it all. But, one thing that it may fall short of is vibration elimination. Most loop handle models in the market today are not equipped with rubber isolators on the handles. If there are any, only a few of the manufacturers have considered it yet in their design.
Without something to control the motor vibrations, it can eventually take a toll on your arms and body. Thus, exhausting you quicker and may even leave you sore after prolonged use of the machine. 
Backpack Brush Cutters
This type is mainly designed to enhance comfort and easy transport.
It emphasizes the quality of its mounting harness. Thus, promoting a better distribution of weight and impact of vibration.
There are actually different varieties of its design. Older models tend to feature shoulder straps while the newer models have waistbands.
Between the two, the waistband design provides more stability. It allows you to transfer the weight to your hips and so less likely to strain your back. 
Same with the bicycle handle type, this brush cutter is more applicable for trimming grasses on flat surfaces. With more comfort in handling, you can surely cover large patches of grass without taking much toll on your body. 
The backpack brush cutter though is not recommended to use on slopes as it can impose a potential hazard for fall. The weight of the unit can easily shift and displace the user's center of gravity. Thus, making it harder to maintain balance while using the machine on sloping grounds.
Buyer's Guide On How To Choose The Best Brush Cutter
Type of Brush Cutter
There are different types of brush cutters – bicycle handle, loop handle, and backpack brush cutters. Each of which has its own strengths and weak points. By knowing these, you will have a better idea of which one will best suit your needs.
Ask yourself questions like, is your work area a flat surface with low-level grasses? Then, a bicycle handle or a backpack brush cutter would be suitable for you. But, if you need something that can work through sloppy grounds or high-level bushes, then a loop handle brush cutter might be a better fit for the job.
Power
Brush cutters are either powered by petrol, battery or directly wired. Again, their differences offer advances and disadvantages over the others.
Traditional directly wired brush cutters require you to plug into a power outlet for it to operate. Corded brush cutters are great for uninterrupted tasks. However, they are more suitable to use on smaller grounds as you can be limited by the length of the power cord. 
The petrol-powered brush cutter is expected to have a more powerful engine performance. Nevertheless, some might find it bothersome to still mix fuel and oil. Also, they have quite steeper price points as well.
The battery-powered brush cutter is a good wireless alternative. So long as you keep your primary batteries and spare packs fully charged, you are good to go cutting brambles and weeds anywhere you please.
Functionality
In most models, brush cutters are being tandem with a grass trimmer function. This is really good because you can maximize the use of your tool. Thus, giving you more value for your money.
There are also some models that can offer far more versatility by having interchangeable cutting heads. Aside from a brush cutter and trimmer, you can also buy separate attachments like hedge trimmer, pole pruner, blower, and others.
Ergonomics
Ergonomics essentially refers to the efficiency and comfort of the device when in use. In brush cutters, the weight is something that can make or break your buying decision. The heftiness of the tool can offset your balance. Moreover, carrying a heavy load can also tire you out easily.
That is why having good quality support harnesses is very important. It should be long and sturdy enough to accommodate any height or size of the user. They may not always be included with the product but it is something worth investing too.
It would also be a great advantage to have adjustable handles to fit different arm lengths of users. Also, the soft-grip rubbers would be helpful to provide a stable grip on the handles.
Safety Features
With brush cutters, you are dealing with sharp blades and most of the time flying objects. That is why safety should always be on top of your priority. Look for brush cutters with blade guard, throttle lock control, stop switch, and electronic current limiter.
These are a few of the features that can help protect you from encountering accidents while using the tool.