Last Updated on January 11, 2022 by Real Men Sow
Perennial herbs can be grown easily and will add value to your garden and cooking year after year. They require very little care and are easy to grow. You can either plant them in borders or containers on your patio or balcony.
The best perennial herbs will have the best flavor if they are grown in the right conditions. If possible, plant them in full sunlight. This will allow the essential oils to reach the leaf's surface, which will give it a strong flavor. Although they can tolerate some shade, mint, rosemary, and chives may not thrive in cold, wet soil.
Pick perennial herbs regularly to keep them healthy and productive. You can also enjoy the edible flowers of all the herbs here. After they've finished flowering, you can cut them back. Evergreen herbs such as rosemary can be cut back to prevent them from becoming too woody.
After flowering, herbaceous herbs such as mint should be cut to 4 cm above the soil. The second crop will be full of new leaves until the first frost.

Best Essential Perennial Herbs In The UK
Rosemary
You can harvest evergreen rosemary throughout the year. Its flowers are edible and have a mild rosemary flavor. Plant them in warm, sunny areas with well-drained soil. It can also be grown in a container. Use soil-based compost to grow it and then pot up each autumn.
How to take care of Rosemary Plants
Cut back on flowering to keep it productive and prevent it from becoming woody. The rosemary beetle, which feeds on the leaves of rosemary plants from autumn through spring, could be a problem. Place newspaper sheets under the perennial herbs, tap or shake the branches to get rid of the pests.
Sage
You can use the leaves of culinary sage throughout the year. You can use the flowers in salads and fruit puddings. The leaves of sage can be preserved in butter and oil. Place the sage in a sunny spot with well-drained soil. Sage can also be grown in containers. just use soil-based compost.
How to take care of Sage
To encourage new growth of this perennial herb, cut back on summer flowering to keep the plant from becoming too woody. Remember that Sage is prone to Leafhopper and there isn't much you can do except remove the damaged leaves. Move potted plants that are susceptible to mildew to a more airy environment and remove any damaged leaves.
Thyme
Thyme can be used year-round because it is an evergreen herb. It can be used to make wonderful oils and butters. It should be planted in a sunny location in well-drained soil since thymes don't like being in water or having their roots wet. Use soil-based compost with horticultural grit to grow in containers.
How to take care of Thyme
To help plants survive winter, cut back after flowering. Although thyme is not susceptible to pests, aphids can be an issue with new growth. To help them survive the winter, spray them with soft horticultural soap.
Chives
You can cut fresh leaves during the growing season, and scatter them over salads and they'll give off a mild onion flavour. The chopped leaves can be preserved in butter or frozen in ice cube tray without water. Place the plant in a sunny spot with well-drained soil and water well throughout the growing season.
How to take care of Chives
Mulch them using well-rotted manure in the autumn. The best way to grow chives is in containers, using a soil-based compost in autumn and then pot up yearly during spring when new growth emerges. In mild cases of rust, downy mildew, and onion fly, are solved by cutting the plant back hard. If you have severe cases, remove the plants, dispose of them, and choose a different spot to grow them.
Oregano / marjoram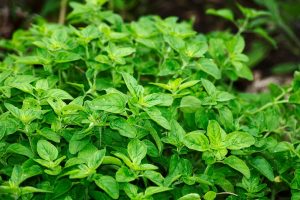 You can pick the leaves almost all year. Oregano is a Mediterranean herb and It should be planted in a well-drained, sunny area. It's possible to grow it in a container using soil-based compost and a few horticultural grains. It can be preserved in oils, butters, and dried sprigs.
How to take care of Oregano
Oregano is relatively immune to pests and diseases. However, powdery mildew or dieback can occur if the plant is planted in heavy soils or partial shade. You will find fewer edible leaves when it's in flower, so it is important to cut the plant back after flowering to encourage new growth.
Mint
The plant thrives when it is allowed to spread naturally. Mint can become invasive so it is best to grow it in pots. It will thrive in full sunlight, but it can also be grown in partial shade. You can either pick the leaves right before they flower or after they have been cut back in the summer.
How to take care of Mint Plants
Mint leaves can be preserved by freezing them whole or chopped. Mint rust causes small, rusty spots on the undersides of leaves. The soil should be regenerated cleanly if you cut back and remove any fallen leaves. Mildew can be a problem if the plant is not in a sunny and airy place. A mint leaf beetle infestation can also be a problem.