Last Updated on October 26, 2022 by Real Men Sow
7 Best Fox Repellent Products To Keep Foxes Away & An Effective Buying Guide (UK) 2022 ?
Foxes tend to roam around the urban areas, so it's not surprising to see them on your property from time to time. They tend to dig holes in your garden, trample on your plants, eat your homegrown produce, and go through your garbage's like it's nobody's business!
What is even more concerning is that they sometimes leave their dirty dung on your grounds! Are you having these problems too? Let's dive into the best fox repellents and prevent these sneaky attacks.
Best Fox Repellent Product Reviews That Work
Defenders Stv415 Jet Spray Pond & Garden Protector
The Defenders STV415 model is a motion-activated jet spray device. It is equipped with PIR or Passive Infrared sensors that work by measuring varying levels of light from objects within its field of view. Upon detection of movement, the sensor will trigger the spray mechanism to release a jet stream of water. Thus, effectively driving away foxes and other nuisance animals.
The coverage is highly customizable. The scope can go from 0 to 10 meters distance at a 120-degree arc. This gives you a protected zone of approximately 100 square meters. Furthermore, the height of the unit itself can also be elevated using the extension tube included in the kit.
This deterrent device can work well day and night, rain or shine. Its electronic components are all-weather encapsulated. It has been tested and had passed the IP44 standard so you can guarantee its safety even under the heavy downpour of rain.
The STV415 device is battery operated using two AA batteries. Nevertheless, you don't have to worry about it draining quickly. The unit only operates whenever there is motion detected. Hence, allowing you to save on power and water.
Solar-Powered Ultrasonic Animal Repellent
This animal repellent device uses high-frequency sound and flashes of bright light. The combination of both sound and light is quite irritating to animals. Thus, effectively deterring them from your space without having to use cruel poisons or physical traps.
The device is embedded with an infrared PIR sensor to detect motion from any object within its field of view. It is capable to cover up to 8 meters distance at a 110-degree angle. The range is adjustable so you can set it according to your preferred area of coverage.
The unit is made with heavy-duty IP-4 plastic material. This provides the device a weatherproof construction all year round. No wind, rain, snow, or ice can break it easily.
It is good to point out as well that this repellent is essentially solar-powered. Hence, sparing you from spending money on batteries and power charges. Unlike other ultrasonic devices, this one is built to be intentionally exposed to direct sunlight. This allows the device to fully maximize its uptake and storage of energy.
Rentokil Fc78 Cat & Fox Repellent
The Rentokil FC78 is an electronic deterring device designed to keep cats, foxes, and other small animals from invading your lawn and garden. This device produces an ultrasonic sound that has a frequency that most animals find quite irritating. Worry not, this noise is only audible to animal ears. That said, it will not cause any disturbance to you or your neighbors.
This device has a detection range of up to 10 meters or 33 feet. Once the sensor detects movement within the covered parameters, it will automatically be triggered to emit ultrasonic sound. Thus, discouraging foxes and other animals from getting near your area.
The Rentokil FC78 continuously works day and night protecting your property. It requires a high-quality 9-volt battery to operate. The manufacturer does not recommend the use of cheap batteries as they may not be able to effectively power the device.
Pest Expel Animal Mat Spikes
The PestExpel mat is a basic physical barrier to prevent foxes, cats, and other pesky animals alike from ruining your lawn and garden. The mat is made from recycled polypropylene plastic material. It is weatherproof thus you can expect it to well tolerate exposures to varying climates all year round.
This mat is designed with prickly plastic teeth. Its long and spiky shape makes them quite uncomfortable for the animals to step onto. Hence, a perfect solution especially for discouraging the foxes from digging into the ground. Nevertheless, you can rest assured that these spikes will not inflict or cause injury on the animal's paw or any other parts.
The PestExpel mat comes in a default size of 200 cm by 30 cm. But, the great thing about it is that it can be easily cut into smaller pieces. This gives you the flexibility to accommodate tightly-spaced areas. The edge of the garden, the flower beds, and even within the pots are some of the most ideal places to use this mat.
Foxolutions Scoot Fox Repellent
This Scoot fox repellent is a powder-based home and garden deterring solution. The formulation is biodegradable and can be used on both edible and non-edibles plants. You can safely apply it onto seeds, bulbs, shrubs, trees, and any other hard surfaces that need protection from foxes.
The product basically contains 88% aluminum ammonium sulphate. This chemical works by mimicking the animal's territory "scent mark". Once the fox identifies the artificial scent marking, it will deter them from wandering around the area. This is their natural instinct to keep off other foxes' marked territory as a sign of respect and to avoid conflict.
The preparation is super easy to follow. Simply dissolve the powder contents with lukewarm water. You can control the concentration by adjusting the dilution ratio from 2.5 liters up to as much as 9 liters of water. The mixture with higher concentration is ideal to use for spot treatments. A single 50-gram sachet is enough to cover up to 34 sqm of ground area.
Vitax Pepper Dust Animal Repellent
As the name implies, this repellent is made from 100% pepper that is processed to turn into fine dustable powder form. You see, cats, dogs, foxes, and other animals alike are not big fans of pepper. This plant contains a chemical compound called Capsicum. It is known to irritate the skin, especially around the sensitive nose area. The possible threat of irritation is what wards off the animals.
Vitax Pepper Dust comes in a ready-to-use sprinkle-on solution. Although, you may need to do some cleaning first prior to treatment. That way you can wash off any residual fouling odor. You can simply use a detergent solution to break down the smell.
Because pepper is essentially organic and non-toxic, you can safely apply this product too on edible crops. It won't kill your plants nor harm the foxes or other animals. The Pepper Dust is best used on driveways, patio, around the dustbins, and other vulnerable areas. Since it is in powder form, it works best when applied to dry surfaces. You may need to re-apply often when it rains or if there's just too much moisture.
Pest Repel Fox Deterrent Spray
The Pest Repel spray is a high-strength fox deterrent spray solution. It is formulated to humanely prevent foxes from digging, scratching, or fouling in your area. Thus, keeping your lawn, garden, patio, and driveways free from pesky animals.
This spray solution contains 10.4 g/L aluminum ammonium sulphate. It is non-toxic so you can safely use this on any type of plant including edible crops. Unlike other fox repellent solutions, this one is completely odorless. Hence, it keeps it discreet and won't bother you or your senses.
The product is also formulated as ready-to-use. So, no need to dilute or mix with water. A one-liter bottle is enough to cover up to 50 sqm of ground area.
How to Choose the Best Fox Repellent For Your Garden?
Again, it's easy enough to assume that one fox repellent is the same as the next. Here are just a few things you might want to consider when purchasing the best fox repellent for your own garden.
Type of Deterrent
There are different types of fox deterrent products. But the most common and humane include ultrasonic devices, water-jet fixtures, and scent-repelling products. Each of which has its own pros and cons. So, it is best to do your research to find which type suits your needs and preferences.
Ultrasonic devices work by emitting high-frequency sounds that irritate the fox's hearing. Water-jet fixtures are motion-activated devices that release a stream of water whenever it detects movement within its parameters. Then, the scent-repelling products are either organic or chemical-based solutions that are formulated to mimic certain scents that tend to discourage foxes.
Frequency Mode
This applies particularly to ultrasonic deterrent products. You should know that each animal has different levels of tolerance to sound frequencies. So, you must choose a product that can deliver the right range in order to be effective at repelling the foxes.
In the case of foxes, a frequency between 19.5 to 22  kHz can be well considered irritating. Cats and dogs require a bit more between 22 to 25 kHz. Meanwhile, a high-frequency sound of 25 up to 60 kHz works best for deterring rodents.
Power Source
Fox deterrent devices are either solar, battery, or directly powered through an electric cord. This factor is necessary to consider as this will determine your capacity to operate the device continuously. You may never know when will the foxes visit your property. Hence, it is best to constantly keep the unit running for it to effectively protect your area day in day out.
Solar-powered fox deterrents are well-favored for being cost-efficient. Nevertheless, it requires plenty of direct sunlight in order to harvest and store enough energy to function. On the other hand, battery-powered devices offer great convenience because it is literally cordless. Although, you may need to change or re-charge them often when their juice runs out.
Electric-powered fox repellents deliver the most consistent operation out of the three. However, your range of coverage can be restricted by the length of its cable.
Garden Size
The actual size of your garden or any other area to cover is also an essential basis for choosing a fox deterrent. Each type of product has its own range of coverage. Thus, it is ideal to opt for one that can provide effective protection within your target scope of the area.
Electronic devices can cover usually between 4 to 10 meters. On the other hand, repellents that require direct applications, like powders and liquids, are more confined only to where the product is applied to. Thus, they are often ideal for spot treatments or managing smaller grounds.
Pet & Child-Friendly
Yes, we may want to keep foxes away from our lawn and garden. Then again, we do not intend to harm them as well in any way. Hence, try to be as considerate and humane as possible when choosing a fox repellent product. Their lives are valuable too!
When looking for a deterrent, it should not cause injury or death to the animals. Rather, making them uncomfortable with the situation is a good strategy to consider. For instance, leaving unfavorable scents, high-frequency sounds, or motion-activated streams of water. These are a few of the effective yet conservative means to keep foxes away from your property.
The presence of children and pets should also be another important factor to consider. Whatever type of deterrent you choose, it must be totally safe to use with children and pets around. It should not pose a hazard for ingestion, choking, or any form of irritation or injury.
Why Are Foxes Visiting Your Garden?
Should You Buy A Fox Repellent?
Foxes are well-considered as wild animals. However, there are certain circumstances that tend to encourage this animal from entering your property. Here are a few of the common reasons why foxes visit your garden:
Your Garden is an Attractive Food and Water Resource For Foxes
It is a primary instinct of mammals to hunt for food and water to survive. Thus, the mere presence of such in your yard makes it a good reason for foxes to visit. The scent of pet foods, bird feeders, and even food scraps in the garbage is very inviting for them. It is like a call for a feast.
Foxes need to stay hydrated too. So, the availability of water features like ponds, fountains, and pools can also attract wild animals. If your property happens to have one, then you can pretty much expect occasional visits from them.
You Probably Have Small Animals Laying Around Your Garden
Foxes are omnivorous. That means they have a more diverse diet eating fruits, vegetables, and meat. That is no wonder why these expert hunters target the small animals within your property. Animals like birds, chickens, rabbits, and guinea pigs are perfect prey for a hungry fox.
Foxes Can Enter Your Garden Easily
Foxes love the gardens. They will always find something to feed on like homegrown fruits and veggies. An open and freshly-turned soil is another thing they look forward to. Not because of the soil itself. But because of the worms and grubs that they can find within it.
Natural fertilizers that contain bonemeal, fish, or blood are absolutely enticing for foxes. These fertilizers emanate a strong "dead animal" scent. Thus, the odor is likely drawing them towards your garden.
Your Garden is a Great Shelter For Foxes To Hide
Sometimes, these wild foxes need some other place to hide or seek shelter. Your patio, shed, den, or deck could be a possible temporary haven for these animals. Especially during the colder months between November to February, foxes often find a warm, safe, and comfortable place to raise their cubs.
It may not be possible to completely remove these structures just to avoid foxes. But, you can always tidy it up to make it a less interesting place for hiding.
Foxes just visit out of curiosity, really.
There are plenty of human things that can tickle the fox's curiosity. Children's toys, dog chews, shoes, hiking boots, garden gloves, and a whole lot more are something quite foreign for these animals. That is why foxes, especially their cubs, find the strong new scents from such stuff very intriguing.
When left out on the lawn, these foxes will grab the chance to explore them. They might play or chew on it and even go as far as urinating or defecating on them.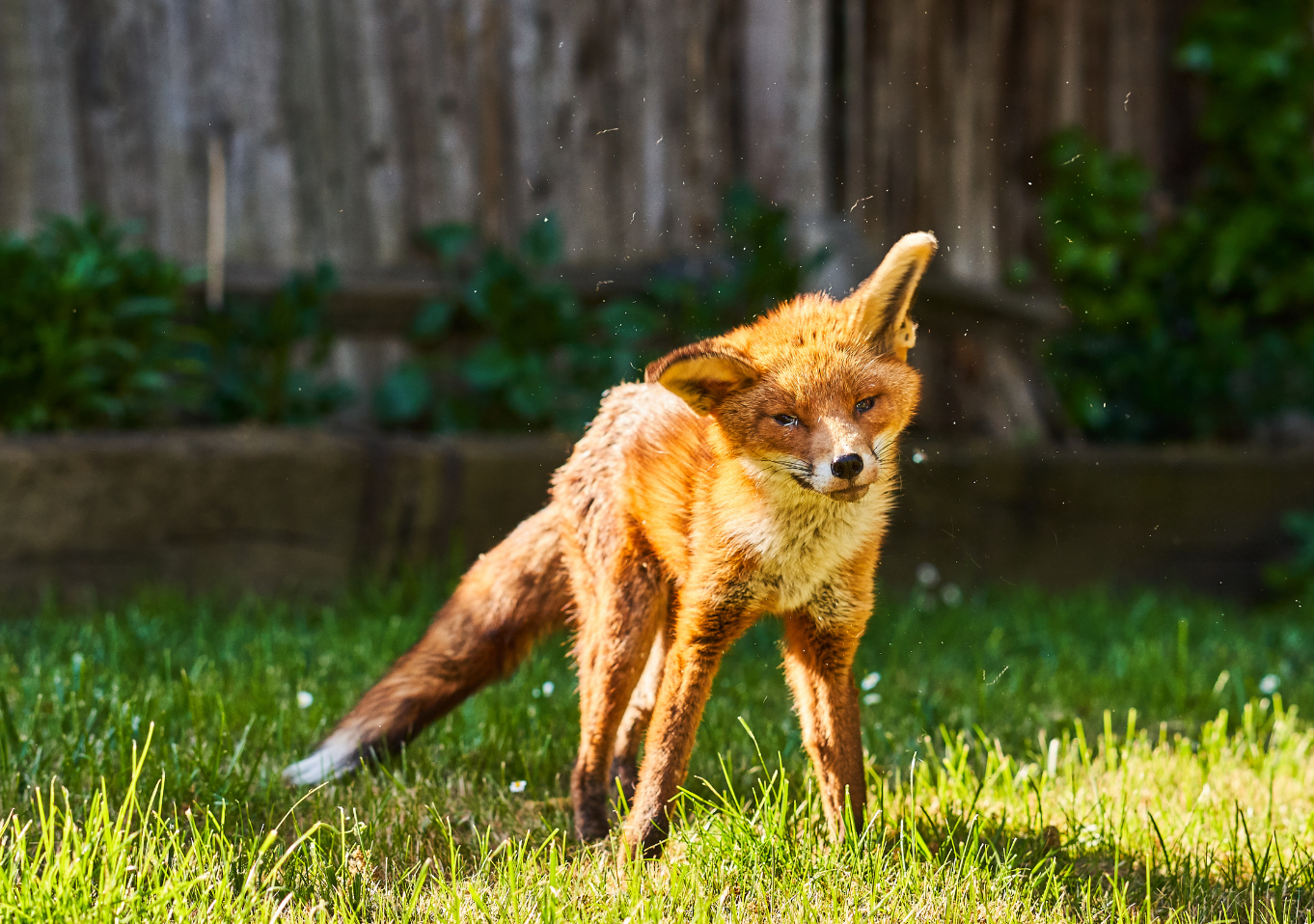 Are You Ready to Get Rid of Foxes in your Garden?
There are indeed plenty of ways and products to use to help keep foxes at bay from your property. But, the DEFENDERS STV415 JET SPRAY PROTECTOR is definitely our go-to choice.
This fox repellent device is not only effective to use on the ground but as well as near the pond. Thus, giving you more versatility to its function. Apart from that, its range of coverage is also awesome. It is adjustable so it can fit any size of lawn or garden.
We also love that it is battery-operated. No cord nor sunlight to worry from. It is motion-activated so it only consumes power when there is movement.
On top of it all, it is safe, non-toxic, and absolutely humane! In the end, it keeps me, my conscience, and my garden happy without compromising the welfare of these wild foxes.