10 Best Powerful Cordless Grass Trimmers Review 2021
10 Best Cordless Strimmers - Powerful and Effective
Are you struggling to get your lawn looking perfect? You're really not alone. It's tempting to think that you can just run any old lawnmower over your garden and that it'll look great.
However, there can be all kinds of little bits and bobs that your mower can struggle with. Edging and refining the finer blades on your lawn, for example, can sometimes be a bit of a nightmare.
That's why so many people look for the best cordless grass strimmer machines on the market.
But is a cordless trimmer right for you? What really makes the best strimmer the top in the market?
In this buying guide, we'll take you through some of the best picks for garden strimmers and cordless trimmer systems that really pack a punch. These are battery powered leviathans that you can be sure will have your back when it comes to really finishing off that garden properly
The Best Cordless Strimmer Product Reviews - Our Picks
2-in-1 Grass Trimmer/Edger, 90° Head pivots, Command Feed System
WORX 20V Cordless Grass Trimmer
Features
Dimensions: 113.2cm x 88.8cm x 31.1cm
Weight: 2kg
Cutting Width: 16.5cm
Battery: 20V
Feed System: Command
This impressively versatile trimmer doubles as a wheel edger, making it all the simpler for you to tackle that annoying trimming and edging you won't always reach with a mower.
Offering a spool system that allows you to take back control of your command feed, you're always in control. What we really like about this cordless model is the fact that it's great for using on slight gradients and slopes, too.
You can pretty much rely on straight edges with this system, too, making it a good all-around choice.
VonHaus Cordless Grass Strimmer
Features
Dimensions: 89cm x 21cm x 12.8cm
Weight: 2.75kg
Cutting Width: 25cm
Battery: 20V
Feed System: Unclear
VonHaus is a fantastic garden product brand which often gets overlooked, and we really think this strimmer needs more attention. Priced at less than £60, it's one of the most reasonable cordless trimmers on the market, offering a head that swivels 180 degrees, and 12 blades to tackle annoying edges and leftover bits of lawn.
This is one of the more impressive products in our list mainly thanks to the telescopic shaft. This extendable and contractable feature really makes it easy for you to adjust your trimming experience. It's also compatible with various VonHaus lithium batteries.
We like this trimmer mainly because it is so versatile for the price. There's a lot going on under the hood.
18V Cordless 28 cm String Grass Trimmer
Features
Dimensions: UNCLEAR
Weight: 2.6kg
Cutting Width: 28cm
Battery: 2.0Ah
Feed System: String feed
Black & Decker, of course, is a force to reckon with across all kinds of products. This particular garden product offers you a string feed system that's often available at a great price.
Prices aside, this is one of the fastest-charging cordless trimmers, with your battery likely available to start using in just five hours after plugging in. It has a power select system, too, which means you can choose how to manage your battery life while tackling the lawn edges.
This cordless trimmer is amongst one of the best products for heavy duty use in our list – it's pretty workable with long grass or thicker bits, making it ideal for small to medium lawns as well as longer stretches. It's also unlikely it'll ever clog up too often.
Cordless Grass Strimmer EasyGrassCut 18-26
Features
Dimensions: 46.6cm x 22.4cm x 13cm
Weight: 3.08kg
Cutting Width: 26cm
Battery: 18V
Feed System: Trigger release
Bosch is another solid name in garden tool supplies we always look forward to writing reviews for. This fantastic series of strimmers offers a lot of power and a lot of manoeuvrability, which is naturally what you're going to be looking for from these products – surely!
This version of the landmark Bosch garden strimmer has a good cutting diameter and batteries that you can also use in a variety of other Bosch products. This strimmer is ideal for continuous cutting and strimming, particularly thanks to its trigger-release feed.
We also like this particular 18V cordless cutting system for its ease of handling. There are plenty of trimmers out there which have aggressively uncomfortable handle grips! Bosch understands that ergonomics are the way forward, even if you're just spending a few minutes here and there tackling a few lawn edges.
Best Premium Grass Trimmer
BLACK+DECKER 36 V Lithium-Ion Strimmer


Features
Dimensions: 110cm x 22cm x 10cm
Weight: 3.5kg
Cutting Width: 30cm
Battery: 36V
Feed System: Automatic Line Feed
If you're really in the mood for top of the range grass trimming products, this Black & Decker option is likely to be at the top of your wish list. It boasts an impressive battery and even has its own specific technology that helps you to get through long and thick grass.
With a 30cm cutting swathe, you're also getting more off the trim than you are with many other tools on our list. There's also a switch so that you can choose between turbo or eco mode as and when you desire.
Generally, you can expect over 3700m of cutting length on each charge – that's a lot of ground and lawn covered, and more than enough for the average trimmer buyer. It's good value, even if a bit pricey.
Gracious Gardens Cordless Strimmer
Features
Dimensions: 95cm x 21.3cm x 16.8cm
Weight: 3.36kg
Cutting Width: 25cm
Battery: 18V
Feed System: Nylon blade
While this grass trimmer might not look the most impressive on the surface, it really does work hard in practice. It's got one of the quickest-charging batteries in our list, offering a potential for 40 minutes of trimming and cutting in as few as 3 hours plugged into the mains.
This is a real transformer of a garden tool – it's super-easy to flip this trimmer from an all-around cutter into a specialist edger in just a swift movement. What's more, it's one of the lighter products in our list, making it all the easier to move around with.
This tool runs on a nylon blade system, making it nice and easy to change out as and when needed.
Best Value Cordless Trimmer
Ryobi OLT1832 18V ONE+ Cordless Grass Trimmer
Features
Dimensions: 103.1cm x 250cm x 119cm
Weight: 2.3kg
Cutting Width: Up to 30cm
Battery: 18V
Feed System: Auto feed
By far the top 'budget pick' of products in this list, the Ryobi ONE+ trimmer is just as easy to use as some of the pricier pieces of tech out there right now. Running on an 18V lithium battery, this tool tends to pick up good reviews and is part of a wide range of tools in the ONE collection.
It benefits from an automatic feed system, making it really easy for you to pick back up again whenever you need to. There are even four different positions for the trimming head, making it impressively flexible, especially for the price.
The shaft on this trimmer is also telescopic, meaning that taller users won't need to worry too much about losing control. The max cutting width of 30cm is really impressive for the price.
Bosch Grass Strimmer Universal Grass Cut 18-26
Features
Dimensions: 82cm x 27.6cm x 17.2cm
Weight: 4.74kg
Cutting Width: 25cm
Battery: 40V
Feed System: Nylon blade
Back to Bosch again, and why not? This tends to be a great trimmer option if you're looking for plenty of flexibility, and with a diameter of up to 26cm, you're looking at getting plenty of grass up and moving.
What's really interesting about this grass strimmer is the fact that it comes with a handy foot pedal, which you can use to switch between cutting heights as and when you wish. This makes it a great all-around tool for trimming and edging.
As with many Bosch products, you can switch out a universal battery to use in this tool. You'll also benefit from a swift auto feed, based on the Bosch Intellifeed technology.
Best Battery Life Strimmer
Swift 40V Cordless Grass Trimmer
Features
Dimensions: 82cm x 27.6cm x 17.2cm
Weight: 4.74kg
Cutting Width: 25cm
Battery: 40V
Feed System: Nylon blade
If you're looking for more than cheap prices and prefer to look for trimmers with impressive batteries, then this grass edger and trimmer is likely to do the business for you. Based on a single charge, you can expect a run time of up to 80 minutes – that's double what you'd expect from similar products!
Offering a decent 25 cm cutting diameter, this is a great 40V system that offers a really impressive amount of oomph. You'll also benefit from an intuitive safety control, meaning it's never hard to stay in full control.
Cordless 20V Li Grass Trimmer
Features
Dimensions: 120cm x 30cm x 42cm
Weight: 3kg
Cutting Width: 25mm
Battery: 20V
Feed System: Auto / Manual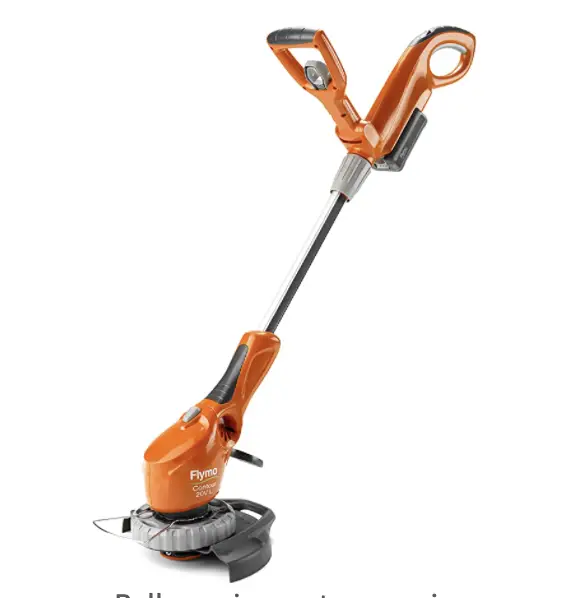 Would it really be a garden tool buying guide without mentioning Flymo somewhere? The Flymo Contour really is a good-around option if you're already used to their tech, and with a 25 cm cutting diameter offered as standard, you're looking at a good midrange choice regardless of prices.
Offering a nifty foot pedal system to help make switching to awkward edging nice and easy, you'll also benefit from a smart telescopic shaft and an ergonomic handle. It's one of the comfiest trimming products to handle on our list bar none.
What Are Grass Strimmers Used For?
Grass trimmers and grass trimmers are great for tackling those little bits of lawn which are just too unruly for your lawnmower to pick up.
Remember the last time you mowed your lawn or garden – were there little bits of grass left at the side of the edging? Did you miss a couple of blades sticking up here and there? Lawnmowers can only do so much.
For precision, grass trimmers are great. Cordless grass trimmers are even more popular because – as you can imagine – you're not restricted by any nuisance power cords or cables. You get a lot more pull for your power, and you'll generally find that these tools are powered by reliable lithium ion batteries.
Grass trimmer systems are great for getting into the real nitty gritty of your lawn, and they can be a real breeze to sweep around. They tend to use a line feed system rather than a traditional blade, too.
Ideally, you'd use a cordless grass trimmer, a line trimmer or a strimmer, to do your little bits of trimming and edging, or to apply that finishing touch to a particularly unruly lawn or garden.
Are Cordless Grass Strimmers Any Good?
The answer depends on the brand of grass strimmer you look for! However, there are drawbacks as well as positives to even the best cordless grass trimmers.
The good news is you have amazing freedom to move around your lawn and garden. You're not restricted by the stranglehold of a cable, and this means it's a great way to get some of the biggest gardens cut down to size.
However, you're going to need to think about whether a traditional cordless grass strimmer is naturally going to be better than petrol trimmers. Petrol grass trimmer systems give you a bit more power and a bit more heft. Plus, there is the fact that you are not dependent on a battery, but rather however much fuel you put into your power tools.
It's worth considering the downsides to even the best cordless grass strimmers, too. The fact is, a cordless grass trimmer is only going to go as far as its lithium ion battery will allow. This means you're always going to be slightly limited to how far you can trim on a single charge. With a cabled grass trimmer, you can at least keep trimming for as long as the cable will allow you to stretch.
That said, whether you look at the best cordless grass trimmers or not, they are still amazingly convenient. They are ideal for small to medium gardens, they tend to be comfortable to use, and while the power may differ from model to model, you may even be able to get even longer grass cut down to size.
Should I Buy a Grass or Petrol Strimmer?
A petrol strimmer is still a cordless trimmer by nature and design, but there are naturally a few differences between those and the systems you've seen in this list.
Petrol strimmer systems won't use a lithium ion battery, instead, you'll need to use a fuel oil mix. This can help to give your strimmer some serious power. In fact, many people prefer the best grass strimmers in petrol mode than they do electric or battery models. They are just as easy to use, on the whole, and they might even give you more power.
However, a cordless strimmer with a li ion battery and charger is going to be more lightweight, less expensive to run, and is much more environmentally friendly.
What Should I look for When Buying a Cordless Grass Strimmer?
As you can see from our picks of the best garden tools in this line, there is a lot to choose between. Here are just a few of the most important factors to look at while shopping around.
Can You Use a Strimmer Instead of a Lawn Mower?
You can, but it's probably not the most efficient way to get a whole lawn done. Strimmers help you finish the job, really. In our experience, grass trimmers – cordless or otherwise – are great for tackling little jobs and leftover bits of edge and verge that a standard lawnmower can't reach.
Even the best cordless grass trimmer, however, with a really impressive cutting diameter, will struggle to get through tons of thick stuff. Our advice would be to stick with a lawnmower if you have a large garden or lawn and need to cut it regularly.