Brrrr, it's cold out there. Minus 3 in fact, according to my car. We've had snow. Not much, but enough for a lunchtime snowball fight on the way into town.
I was rather chilly, even in my quilt like puffa jacket, so those veg still shining on the plot must, quite literally, be freezing. How do they do it, these tough but tasty, hardy veg? Everything winter throws at them, they seem to shake off.
Take curly kale for example. Nothing has ever killed this brilliant leafy green in my 5 years of growing. All winter, every year, I get a solid supply of kale from 4 plants. When I pick leaves, they even shoot replacement ones.
Bizarrely, my kale has suffered more from summer whitefly than rubbish winter weather.
I love these types of veg. I've banged on about being a fan of the dependables loads before, but I never tire of them. Those veg that keeps on producing when times are tough is worth their weight in gold.
Chard
Perpetual spinach is another veg happy to endure sub-zero temperatures, wind, and snow. A type of chard, the verdant green leaves will also keep coming the more you pick them. Chard is a real winter staple for me, and one I'll fold into curries, spread on pizzas, or just serve as a healthy side dish.
Leeks
Leeks will be on the ropes after a hard frost or smattering of snow but they fight back and recover. I leave them in the ground all winter, picking as and when I need them. The small ones are brilliant too, as they'll sit happily until spring, before putting a growth spurt on as the weather warms up.
The veg that battles through winter to provide a harvest during the Hungry Gap are big favourites of mine. Purple sprouting broccoli is another fine example – the little bunches of broccoli that follow a climb in temperature are most welcome when most of the plot is bare.
Spring Greens
Spring greens (aka winter cabbage) rock my world during this period too. They're almost indestructible, and I've even experienced plants lasting into the following winter. Sowings between April and August will see provide delicious, sweet leaves all through the colder months.
Parsnip
And how can I forget the mighty parsnip, a veg that actually benefits from a good frost? The roots sweeten after a cold snap, and I leave mine in through most of the winter. I dig up as I want them, and then make soup once the roots get past their best.
Winter Salad Leaves
One interesting experiment I've been trying over the past couple of years is salad during winter. Oriental greens are particularly useful when trying to grow fresh salad leaves when it's dark and cold. The peppery mibuna is my favourite, but I've also found greens in snow and serifon to be not only hardy but tasty too. A mixture of the three scattered together in a row is even better.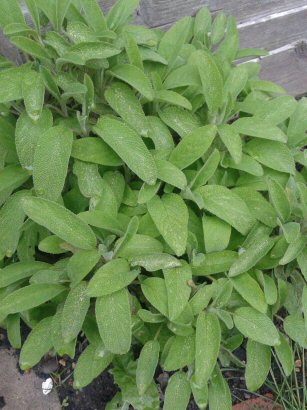 Radicchio surprised me also. I grew this one winter by accident, and it survived all the way through to spring, before rejuvenating itself. The leaves were rather tough by this time, but the plant's resilience amazed me.
Sage
My favourite robust winter resister isn't a vegetable, however. As much as I love kale and everything else described above, my winters just wouldn't be the same without the homely taste of sage. My sage plant was well sheltered in my previous garden and would be content all year round. It grew very large and I'd use the leaves in cooking every week.
Sage has such an uplifting taste to it, and I love chucking the leaves in all sorts of winter warmers, from risotto to meat dishes. Sage is a treat that cheers me up when times out there are tough.
The familiar phrase says that when the going gets tough, the tough get going, and none more so than these brave, plucky winter veg. They see off the inclement weather and come up smiling, and on my plot, there's nothing I appreciate more than that.