Another reason to be cheerful over the wintertime is the opportunity to start a few winter projects. I'm already well underway with my new Kettering Town FC Championship Manager 01/02 game, our cycling honeymoon plan is coming together, and now I'm going to get stuck into the redundant sideway on my little house.
At the moment, it's used to dump the junk, store a few logs, and by the cat to take a crap when it can't be bothered to go further up the garden. It's a strange, wasted little space, and one that I always furrow my brow at when I walk in the back door.
So, next year it is going to become my kitchen garden. The area is quite shaded, but I am going to try and grow all my salad leaves, spring onions, radishes, herbs, and maybe a few tomatoes there.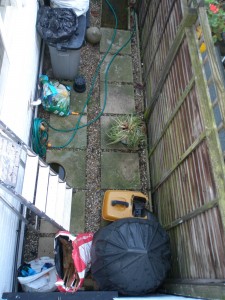 However, there is a rule I have been asked to adhere to: it must be 'pretty', which unfortunately rules out piling up old the old recycling boxes that have proven so good for container growing this year.
I am left with an opportunity to get creative though. I very much like the thrifty gardener ethic, and the first job of the project is to give a box I found at the dump a coat of paint. Bizarrely, you're not supposed to take stuff from the dump, but I sneaked it into the boot while no one was looking.
I love these Ladder Allotments too, but I'm not sure I'd stump up £50 odd quid for one (correction, see comment below!) which starts at £24.99. I've got an old mini ladder in the shed that is going to get some TLC, and hopefully, this will be just as smart*.
* Well, it probably won't as I'm no artist, but hey, it gives me something to do when it's dark and cold.