I always find myself feeling invigorated at the time of year, which I sometimes consider odd given that the weather is deteriorating and the days are shortening dramatically.
So I was rather frustrated this weekend. My first free weekend for ages, and I'm sat looking out of the window sipping tea as the rain falls down outside and the ground gets heavier.
This has provided an opportunity for some much-needed contemplation about my first year growing in the garden, and the seasons ahead. It has been an interesting year, tackling a new growing environment, dealing with less space, and working out how much I can take on with a little baby around the place.
Keeping Order
I've managed good yields of most things, but the one problem I've had is keeping order. The plot looked super neat and strategic when I planted out, but soon everything grew much bigger in the summer sun, and before I knew it, I couldn't get around without treading on something.
I had no defined rows or crop patterns, so any spare ground I did have turned like concrete where I'd been walking over it. Weeding became difficult, as did spotting veg. Cucumbers and courgettes disappeared under the greenery and were massive by the time I found them.
The Constant Reminder of a Scruffy Kitchen Garden
However, the thing that bugged me the most was the untidiness of everything. When I had my allotment, I never worried a great deal when things got a little scruffy. The plot was functional. I grew stuff to eat. It was out of sight, out of mind. That thought process isn't so easy when you're growing in the garden. Every time you look out of the window or sit with a cuppa on the patio, you're reminded of the jobs you haven't done.
A garden veg patch is different. It makes you want to keep it pristine and aesthetically attractive. You don't want to see weeds and mess down the end of the garden. You want pretty paths and lovely raised beds – something that looks like you're well in control.
Quite often, people come round and ask to go see what I'm growing. This year has been slightly embarrassing as I take them down the garden. I talk about veg enough, and as a result, I know they're expecting to see a thing of beauty.
I think this might be my allotment mindset still hanging around. I know some people keep their plots immaculately, but I've always had a relaxed attitude to this. But now, sat in the kitchen staring down the garden, I've decided this is going to change.
Twitter Inspiration
I've been inspired by plots run by Twitter friends. The amazing (and Grand Designs Live 2013 Garden Designer of the Year, no less) Liz Ackerley shared some photos of her 'boutique allotment' concept on Twitter recently, and I was immediately enthralled by the neatness.
Likewise, @pumpkinsouper showed me the patch at the back of her garden which is equally as enchanting.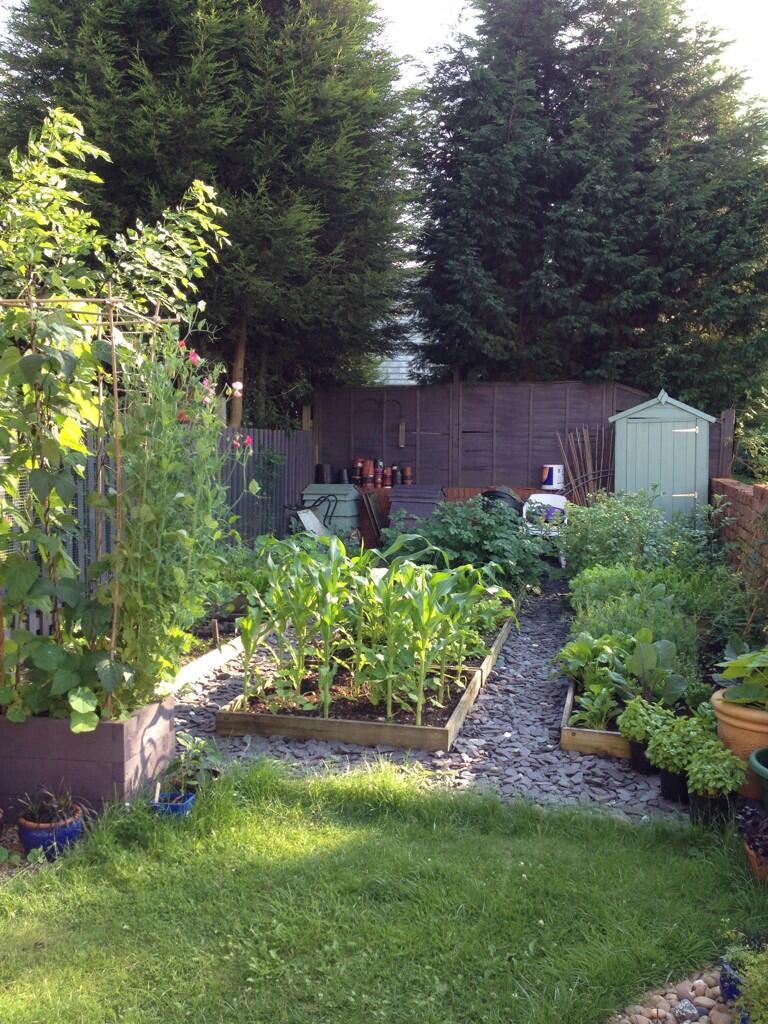 Despite all their charm, these plots are no less industrious. The beds are full of veg, despite the effort being concentrated on their visual appeal as well as productivity.
A Tidy Plot for Next Year…
So, on this rainy, miserable day, I've formulated my first target for next year: a productive, but pleasant and shipshape kitchen garden. I've had the tape measure out, sourced shale for my paths, and some old railway sleepers for a raised bed. I've even begun designing on Grow Veg.
This allotmenteerist just got dreamy.