I'm in a quandary about my globe artichoke plants: should they stay, or should they go?
Globe artichokes are supposedly one of Ailsa's favourite veg, but for whatever reason, we never eat them. They just seem to pass us by. Maybe it is because very few of them grow that big, but then again, not all allotment produce does. You kind of accept that some allotment fruit and veg will grow smaller than the commercial guys.
As Hugh Fearnley-Whittingstall said in the very first episode of River Cottage, 'there is no room for passengers in this garden'. However, there are a few things I need to consider before I hoik them up.
Tool Damage
I did remove two of my five plants a couple of years ago to give to a fellow allotment holder who was just starting up. He wandered over and asked where he could get some artichokes from. I had more than I needed so offered to dig two up and leave them on his plot for his next visit.
That cost me a spade and a fork. What I didn't realise was that the roots are really big, and firmly establish themselves in the ground. My plants were only two years old, but boy, had they taken hold. They snapped the handles on both my tools. You can guess what I got for my birthday.
They're Survivors
I don't know about anyone else's artichoke plants, but every winter mine shrivel up into a soggy, brown mess. I pore over them, pulling the mush around, convinced that they are goners. Then, miraculously around January time, they show signs of life after a dormant winter. Almost in between visits, the plants are alive and kicking again, and by spring they're several feet high once more.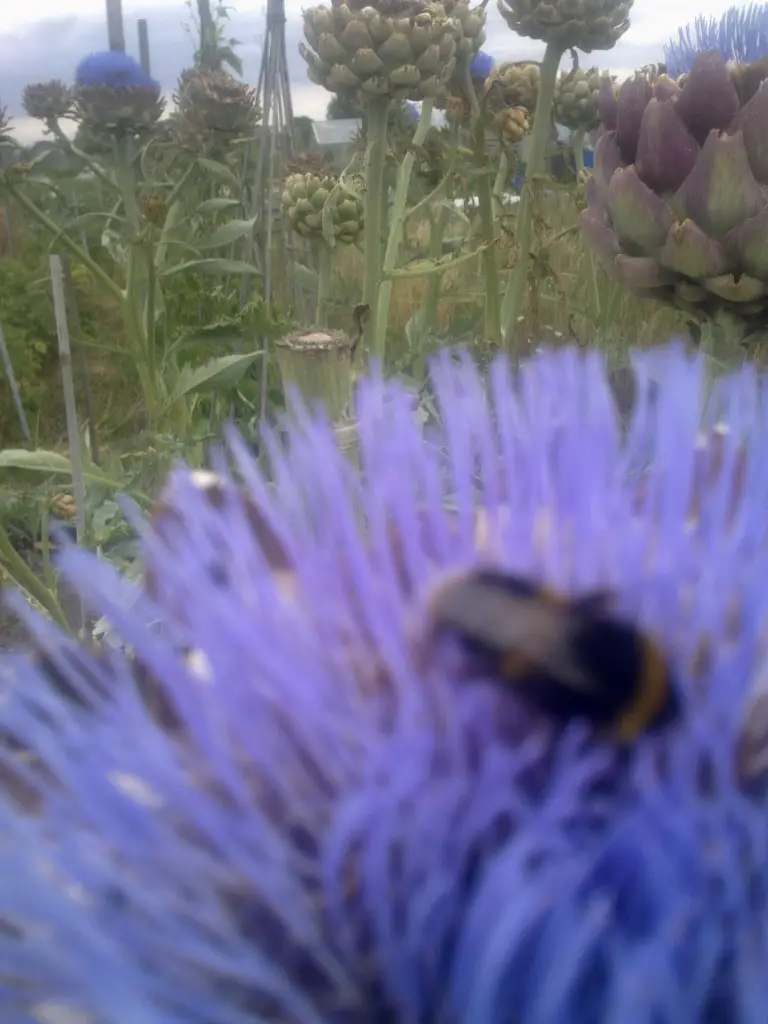 Attractive
And you know what? I reckon globe artichokes are one of the most attractive plants on an allotment plot. They're big, cumbersome, and shade out veg around them, but the foliage is really verdant and tremendously eye-catching. The artichokes themselves are unusual and provide variety to the plot.
I adore the purple colour of the artichokes once they go to seed too. It's a beautiful, striking colour, and looks great in a vase.
Bees
The bees love artichokes too. Once the flower comes, the plants are a magnet for bees. There are so many hovering around the artichoke heads that I can hear the buzz from well down the plot, and we all know looking out for the bees is important.
So perhaps, whether I like artichokes or not, and whether I actually get around to eating them, isn't all that important. Maybe, for once, it's not all about the eating.