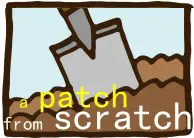 What exactly does it take to create a patch from scratch?
I'm about to find out as I try and turn 40 square feet of my garden into a productive growing area.
From clearing away the mess and preparing the soil, to making sure there's room for a bench and deciding the best crops to grow in a small space, A Patch From Scratch is my attempt at a simple, straight forward adventure in kitchen gardening.
Keeping Things Simple
Growing your own can appear daunting sometimes, and I'm hoping to show that it needn't be that way. If a simple soul like me can clear a space in their garden and grow some delicious veg, anyone can.
As I go along, I'll share my progress (good and bad!), tips and upcoming tasks , so if you're planning to start your very own patch, I'd love it if you joined me for the ride.
Key Posts from the A Patch from Scratch Series
Introducing My New  Growing Area
Thoughts on Starting Out Part 1: Why Am I Growing?
Thoughts on Starting Out Part 2: Influences
Thoughts on Starting Out Part 3: Exploring Your Patch
The Benefits of a Manageable Plot
Making a Solid Start and a Rough Plan for Clearing the Weeds
The Real Men Sow Guide to Digging Part 1
The Real Men Sow Guide to Digging Part 2 – Seven Tips to Make Things Easier
A Patch From Scratch August Update
Preparing a Strawberry Bed and the Plants to Go In It
A Shady Dilemma – Positioning the Fruit Garden
What I've Learnt So Far (September)
A Patch From Scratch September Update
Manuring Day
Divide and Plonker – Planting Rhubarb (the right and wrong way)
New Year Jobs
A Patch From Scratch December Update: Planting Fruit Bushes
Creating a Herb Garden
The Plot Plan Part One
The Plot Plan Part Two
My Plot Fears for 2013
Seeds to Sow in the Cold
A Patch From Scratch March Update