Since my last update, something amazing has happened.
I've been able to cancel the veg box that has been keeping me in vegetables since last year. This might not sound much, but for me, it's monumental.
I need to plug my awesome local organic farmer, Sarah Green, here. Every Friday since I gave up the allotment, Sarah and her team have delivered an organic veg box to my door for just £8.
And that price hasn't gone up since the last time I had a delivery, 5 years ago. Check out Sarah's website, or follow her on Twitter.
To finally be harvesting in earnest from my veg patch is a big thing and makes me proud. I've gone from this:
…and this…
…and this…
To this…
(there should be broad beans and mangetout wigwams in the above pic rather than the gaping hole, but Ailsa deleted my photos off the camera to make space for ones of Lewis. Therefore I had to take more after I'd yanked them out, but more on that later. The broad beans and mangetout coming out, not Ailsa deleting photos)
…and this…
…and this…
…and this…
…in just over a year.
There was a fair amount of graft involved, but it was worth every bead of sweat, even if I do have to be a yoga specialist to get around the patch.
This Season's Harvest
So far this season, I've harvested rhubarb, radish, salad, carrots, beets, broad beans, strawberries, gooseberries, mangetout, courgette, potatoes, cucumbers, chard, and peas.
Exciting times, and apologies for any smugness when I say how happy I am that a scruffy, unloved bit of garden has become a useful, productive veg patch.
Blackfly and Bolting Chard
Veg patch life has not all been easy though.
I took the decision to whip out my broad beans last weekend (you can see the gap, in photos above). I was removing blackfly every day, and once I saw the pests spreading to the courgettes and French beans, I decided to quit whilst I was ahead. I harvested, podded, and froze all the beans to preserve the other plants.
I've since been given the tip that Autumn sown broadies are far less susceptible to blackfly than spring ones, but there does seem to be lots of blackflies around this year. I've been spraying them off the courgette and French beans with hot, soapy water and I think I'm winning for now.
The perpetual spinach (you can make this out in the photo of the side bed above) went to seed very early, which has left me puzzled. I have never, ever had any problems with perpetual spinach, and normally one sowing lasts me 9 months before bolting. I'm guessing the topsy turvy weather of spring caused it, but I have missed harvesting these leaves. They're a favourite in my house, but another sowing now should see me through winter, when I really need them.
Mangetout Wigwams
My mangetout wigwam is out as well, having finished cropping. Growing up a wigwam has been an interesting experiment. They look really attractive, and the Golden Sweet variety I grew was productive. The plants yielded about 2.5kg of mangetout from a space roughly 9ft x 9ft which I reckon is pretty good going.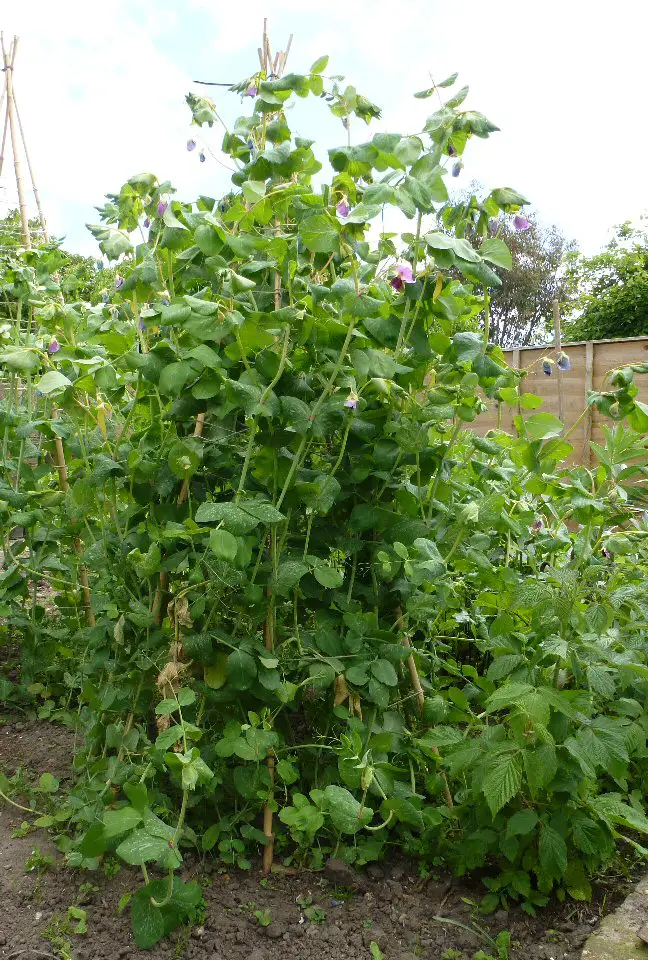 However, with hindsight, I'm not so sure about my wigwam experiments. I put the plum in the middle of the plot, which has taken up valuable space (about 21 square feet) that I could have used for other plants. Looking back peas and mangetout would have made a better choice next to fences than my leafy winter greens, leeks, and squashes.
Some Order for Next Year
Although productive, my patch is a bit of a jungle and now I'm trying to water, harvest, and nurture I've beginning to appreciate that some order might be useful. I'm veering once more towards a set of raised beds, especially since the soil is like concrete where I'm walking around.
Constantly Evolving
I'm finding that with a small plot you're constantly analysing how best to use the space, and refining in your head all the time. It's different from an allotment, as space is plentiful.
Not a day goes by without me thinking about moving this to accommodate that. The exhilarating thing about growing in a small space is that the planting plan and area is constantly evolving.
Nothing ever stops. Whether you're pulling out plants and immediately replacing with something else, or spending time honing your patch, things are always on the move.
P.S I've also made another little film – I enjoy doing as these films as they show the space much better than a photo can. You'll be please to know that the film is nowhere near as long as the last one, and I'll post it up later in the week.