There are lots of juicy plums and greengages on the trees all of a sudden, which can only mean one thing…
…its jam-making season!
I recently made a small batch of damson jam (pictured) with fruit from a nearby tree, and it reminded me of all the reasons I love making jam. And having not written a list post for a while, I thought what better opportunity to put one together.
I like list posts. They're easy to read, punchy, and interesting to write, but for a change, I'm going to split the list into two: 4 Reasons to Make Jam, and 6 Tips for Making Jam.
First Up, It's 5 Reasons to Make Jam
1. Jam is something that amateurs can genuinely do better than professionals.
As Delia says '…for all the choice available (in the shops), not a lot of it measures up to home-made. No manufacturer has ever been able to make Seville Orange Marmalade with all the chunkiness, depth and tangy flavour of the home-made,' she adds.
I'm not going to argue with Delia, and that's not just because I'm a Norwich supporter.
2. You Can Put More Fruit In!
I was pretty surprised at the lack of fruit that goes into commercially made jam. Even Wilkins Jam from nearby Tiptree only uses 55g of fruit for every 100g of sugar in their strawberry jam. Once I'd tasted a 1:1 fruit ratio, I never went back.
3. Saving Money
Homemade jam is a real money saver, especially if you can get hold of the fruit for free. The damson I made last week cost me roughly 18p a jar, compared to the £1.99 for the Wilkins alternative.
4. Jam Does Some Good
I always harboured this idea that jams can be a force for good. If you have control over the ingredients, you might want to use Fair Trade sugar, support a local producer by buying their fruit, or use up fruit that might otherwise go to waste.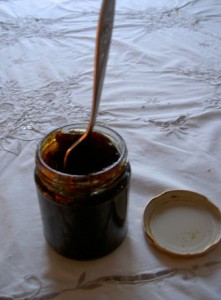 I've been making jam for about 5 years now, and I like to think I've come a long way. The picture is of my first attempt that I somehow managed to treacle-ise to a point where a spoon happily stood up in it. Since then, however, I've gone on make different types of jam regularly, from the tricky pectin-low rhubarbs and strawberries to the easier plums and greengages.
I made 80 odd jars for wedding favours this year and also given lots of jars away to friends. Being one of life's dreamers, I once even decided that making jam was my future. A hundred jars later, and Jono's Man Jam was born, and ready to debut at my local Farmers Market.
Unfortunately, we went on holiday instead, and I kind of lost momentum. We ate a lot of jam that year.
Anyway, I've learnt a lot about making jam at that time. I thought about writing The Rough Guide to Jam, but there are already plenty of great guides, like the Delia Smith preserving section on her website and John Harrison's at www.allotment.org.uk.
5 Tips For Making Jam
Other than the art of actually making jam, these are a few tips I've picked up on my preserving adventure.
1. Get a jam funnel
If you're at all clumsy and messy like I am, a jam funnel is a Godsend. They sit inside the rim of the jar and stop the sugary mixture dripping all down the side and onto your worktop.
2. Make the jam runnier
After burning a couple of batches, I began making my jam a little runnier than normal, by erring on the side of caution with the set point. I found the jam tasted much better, and the flavour of the fruit was much more prominent.

3. Don't be afraid to reboil the jam
If the jam doesn't set properly, let it cool and then reboil it. If the jam was a computer, this would be like turning it off and on again. The jam is effectively reset, and you can boil up again.
4. Use big fruit to save money
For the best bang for the buck, use big fruits like plums and greengages.
5. Mix low pectin with high pectin
When using fruit with low pectin, I sneak in some higher pectin-content fruit to help the set. Apples are good, and I also like to use blackcurrants in with rhubarb.
6. Keep it tarte!
Experiment with using less sugar for a tarter flavour. After messing about with this, I decided that sweeter isn't always better!
If this is year is your first at attempting jam, let me know how you get on, and if you've got any good tips, then I'd love to hear them.