Lewis's First Year on the Allotment
My little boy Lewis is one year old today. I know everyone says this, but I honestly don't know where the last year has gone.
I'm feeling rather soppy today, so please forgive the baby blog diversion, but I can't think of a better way to mark Lewis's birthday than a few photos from his first year as a veg patch kid.
I've been keen to try and get him into the garden as much as possible, especially since I've found that simply stepping outside seems to calm even the most stroppy of his tantrums.
Here he is pulling a smile whilst watching me sow seeds at two months old…
Encouraged by this, I started popping him into the baby carrier and watering the plants during the summer.
I guess it's the new environment and different colours that stimulate him, but he's always enjoyed being carried around the garden. Lewis loves touching foliage too, and from about 3 and a half months, he'd pull, push and rip at the leaves. The bay tree and sage plant proved particular favourites.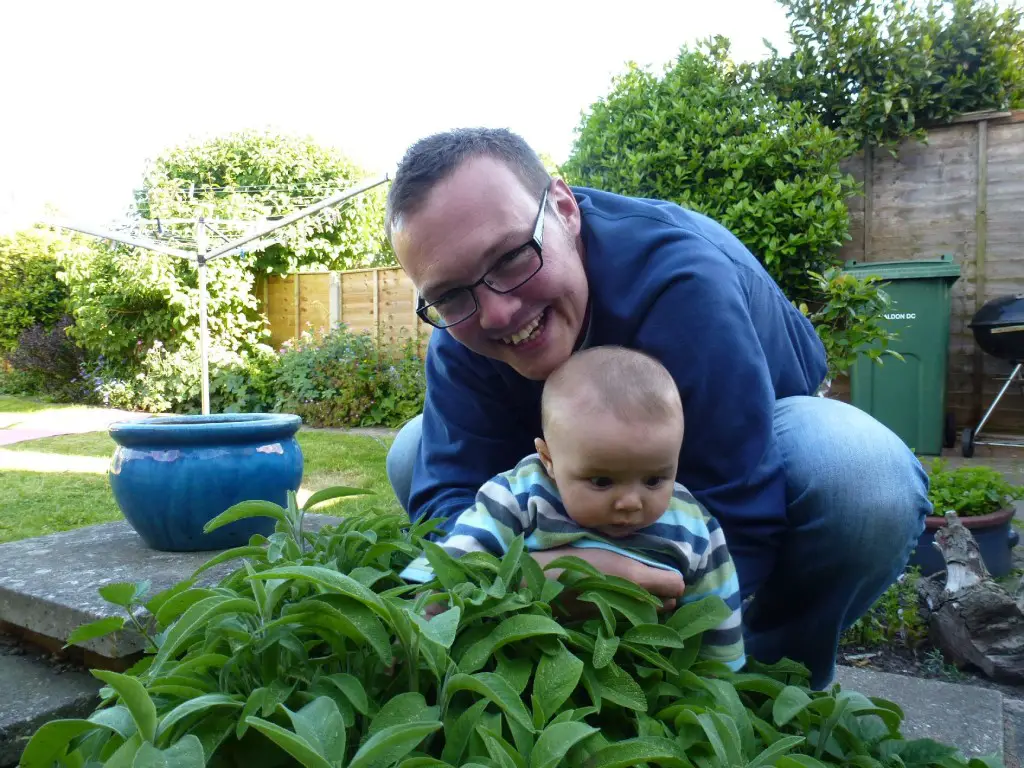 Of course, my favourite part of Lewis's veg growing indoctrination has been feeding him homegrown food. We began letting him play around with food in June, and after a cautious start, he gummed to death his first garden-grown mangetout on the night of the summer solstice.
He may or may not have said 'dad, this organically grown mangetout from the garden tastes so much better than the out of season alternatives in the supermarkets'.
Little finger foods like mangetout, carrots and cucumbers have been great fun to feed Lewis; cut up into bite size slices and left for him to suss out.
Gradually, we've weened Lewis, and he's eaten plenty of homegrown produce since. So far, Lewis has gobbled down (in various guises) leeks, pears, apples, peas, mangetout, squash, potato, carrot, cauliflower, parsnip, tomato, cucumber and melon.
Butternut squash has been my favourite veg to grow for Lewis. They keep for ages, and make a tasty snack mashed up with some parmesan grated over the top.
We bought the River Cottage Baby and Toddler Cookbook, which has allowed us to cook meals using produce from the garden that we can all eat. It's a great book, and I'd thoroughly recommend buying a copy.
Lewis is now happily walking, so hopefully 2014 will see him wandering down the garden to check out what I'm doing, and I'll be able to feed him veg straight from the plant. I've also bought him a brilliant Muddy Puddles all in one waterproof suit, so he'll be able to roll around on the allotment to his heart's content.
We've tried the suit out already during a unseasonably mild January afternoon, and he seemed very content!
I can't wait for this year's growing season. I appreciate it's a cliché, but growing for an extra mouth has added a whole new dimension to the GYO adventure, and I can't begin to articulate the joy I've experienced from feeding my son homegrown food from the garden.
Happy Birthday Lewis.
P.S. You'll be old enough to try the strawberries this year…
Tagged Lewis
Sign up to receive a RMS weekly bite size summary, featuring all posts from the previous seven days, hints and tips and other interesting snippets from the world of veg growing.